One after another, for hours on end, Senate Republicans rejected nearly a dozen Democratic amendments Tuesday to modify the impeachment trial rules, successful rebuffs that could very well have been the final nails in the coffin of Democrats' hopes for obtaining new evidence and testimony.
Democrats have acknowledged their ability to subpoena documents and witnesses that the White House denied to House impeachment investigators may have officially come and gone.
"Let's be real. There will be no 'when.' There will be no 'when,'" House Intelligence Committee chairman Adam Schiff of California, who's one of the seven impeachment managers, said during Tuesday's debate. "You think they're going to have an epiphany a few days from now and say, 'We're ready for witnesses?'"
Under the rules resolution by Senate Majority Leader Mitch McConnell (R-Ky.)—which, for the most part, mirrors the trial rules of former President Bill Clinton's impeachment—there is no guarantee for a final vote on witnesses or documents. There is only the assurance there will be a procedural vote that would allow them to debate the topic, something Democrats have labeled as an "unnecessary obstacle."
Republicans, including the president's defense team, support first proceeding with opening arguments and the lawmakers' question-and-answer period, at which point the trial "will proceed to the question of witnesses," as White House counsel Pat Cipollone said.
"A vote to delay is a vote to deny," Schiff said. "When they say 'when,' they mean 'never.'"
Eleven amendments posed by Democrats—10 of which were by Senate Minority Leader Chuck Schumer (D-N.Y.)—preceded debate and ultimate passage of the final rules resolution to stretch late into the night until nearly 2 a.m. Wednesday. Republicans successfully rebuffed every amendment. One of the amendments, proposed by Sen. Chris Van Hollen (D-Md.), would have guaranteed a final vote for documents and witnesses later in the trial.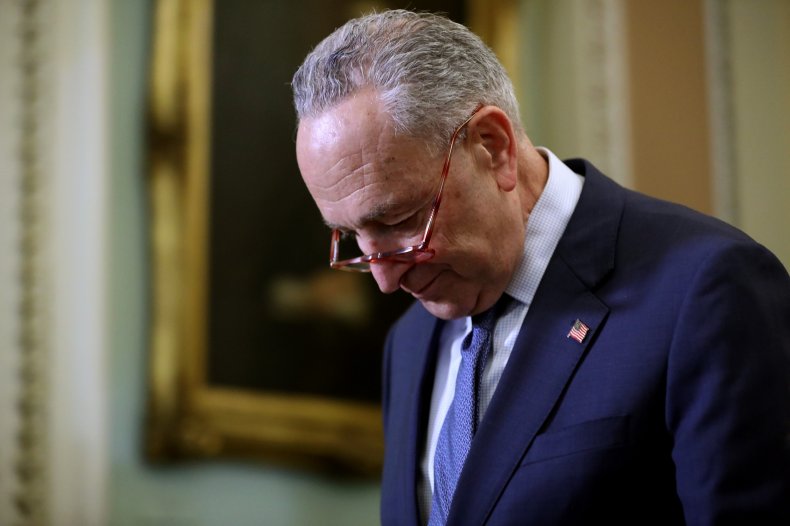 "We have all the material. They don't have the material," President Donald Trump told reporters Wednesday at the World Economic Forum in Switzerland, appearing to boast about Democrats' failed attempts.
"As a consequence, the impeachment trial of President Trump begins with a cloud hanging over it, a cloud of unfairness," Schumer told reporters at a press conference the same day. He said Democrats "will certainly try to find ways... to get direct votes on each witness and document once again after the arguments," but was unsure how or when that motion would occur.
To his credit, McConnell proved successful once again in keeping his caucus unified over the rules after making adjustments to curtail concerns privately levied by more moderate Republicans, such as Sen. Susan Collins of Maine.
Schumer rejected reports that Senate Democrats were quietly mulling over the possibility of exchanging witnesses, such as calling Hunter Biden—former Vice President Joe Biden's son, whose former ties to a Ukrainian gas company Trump was fixated on in his Ukraine dealings—in exchange for former national security adviser John Bolton, who is willing to testify.
"We don't need to have witnesses that have nothing to do with this, that're trying to distract Americans from the truth," Schumer said. "We haven't heard them wanting any witnesses at all."
The below chart, provided by Statista, shows the sentiment among adults in the U.S.—Republicans and Democrats alike—that new witnesses should testify in the president's impeachment trial.