'Impeachment': Who Was Vince Foster and What Happened to Him?
Impeachment: American Crime Story is finally here after almost three years of waiting.
There are 10 episodes in the series, which will air every Tuesday on FX. Matthew Floyd Miller portrays Vince Foster in Impeachment: American Crime Story, who was one of the key players in 1990s politics.
Newsweek has everything you need to know about Vince Foster and what happened to him.
Who was Vince Foster?
Vince Foster was an American attorney from Hope, Arkansas.
He served as deputy White House counsel during the first six months of the Clinton administration, between January 1993 and July 1993. Foster worked under White House Counsel Bernard W. Nussbaum (played Kevin Pollack).
He was a childhood friend of Bill Clinton (Clive Owen) and White House Chief of Staff Mack McLarty.
While studying law at Vanderbilt University Law School, he served as part of the Arkansas National Guard during the Vietnam War. He then transferred to the University of Arkansas School of Law, graduating in 1971.
Practicing mainly corporate law, Foster joined Rose Law Firm in Little Rock, Arkansas, and in 1974 became partner, according to The Washington Post, and was head of the Arkansas Bar Association.
As deputy counsel under the Clinton administration, Foster was tasked with vetting administration employees, preparing executive orders, overseeing international treaties and military force, and authorizing spending within the White House, among a range of other things.
Foster was also involved in overseeing Whitewater tax-related returns, the failed real estate entity that saw their partners in the investment, Jim McDougal and his then-wife Susan, serve time in jail on fraud charges and contempt of court, respectively.
In The Death of American Virtue: Clinton vs. Starr, Ken Gormley said Foster would work long hours, six or seven days a week, and was beginning to lose weight during his time as deputy counsel.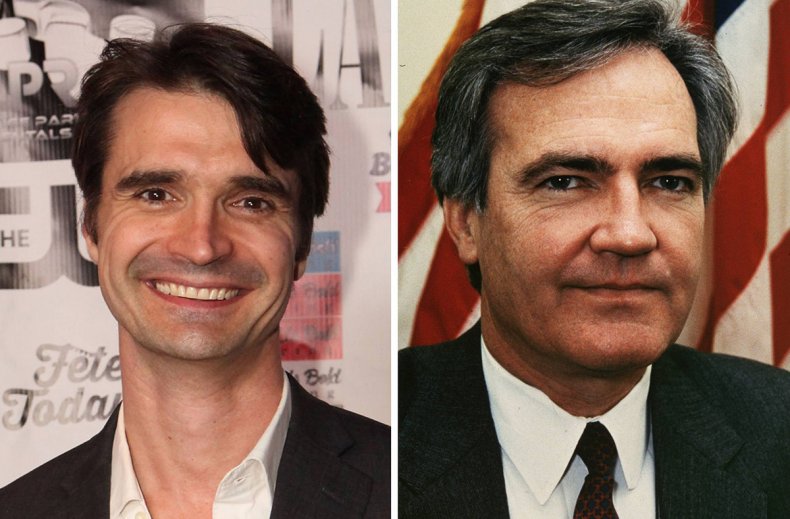 In May 1993, the White House travel office controversy occurred, when seven employees of the White House Travel Office were fired and replaced by friends of Bill and Hillary Clinton (Edie Falco), becoming the first major ethics controversy of the Clinton administration.
Many of the employees were eventually reinstated in other jobs in the White House and the Clinton associates were removed from their travel roles, but Foster found himself at the center of several critical Wall Street Journal articles in June and July 1993.
According to the Historical Encyclopedia of US. Independent Counsel Investigations, Foster had become worried he may have been called to testify.
Foster continued to struggle with criticism, weight loss, insomnia, and depression in the lead up to his death. In the Whitewater: The Foster Report, it is detailed Foster was prescribed anti-depressants over the phone by his Arkansas doctor, Dr. Larry Watkins.
Foster was found dead in Fort Marcy Park in Virginia on July 20, 1993. He was 48 years old.
What happened to Vince Foster?
Since his death in 1993, five official investigations have been carried out, looking into the cause of Foster's death. All five investigations have returned the verdict of suicide.
The shock of Foster's death unfortunately allowed for several conspiracy theories to surface, with some believing Foster had been deliberately killed.
Foster's death is often known as part of "Whitewater," a term used to cover controversies during the Bill Clinton administration. Kenneth Starr, the independent counsel who had been called to compile a report on the Whitewater real estate investments of Bill and Hillary Clinton, soon expanded his inquiry into numerous different areas, from Foster's death to the Clinton-Lewinsky affair, the focus of Impeachment: American Crime Story.
In 1997, Starr published Whitewater: The Foster Report, which concluded Foster committed suicide after years of speculation and a three-year investigation.
In the official report, Dr. Berman noted: "Mr. Foster was under an increasing burden of intense external stress, a loss of security, a painful scanning of his environment for negative judgments regarding his performance, a rigid hold of perfectionistic self-demands, a breakdown in and the absence of his usual ability to handle that stress primarily due to the impact of a mental disorder which was undertreated.
"In my opinion and to a 100% degree of medical certainty, the death of Vincent Foster was a suicide. No plausible evidence has been presented to support any other conclusion."
Foster was survived by his wife Elizabeth Braden and their three children Vincent III, Laura, and John.
Impeachment: American Crime Story airs Tuesdays at 10 p.m. on FX.
If you have thoughts of suicide, confidential help is available for free at the National Suicide Prevention Lifeline. Call 1-800-273-8255. The line is available 24 hours every day.
Correction 09/8/2021, 3:40 a.m. ET: The headline of this article was updated from "who is" to "who was".