#ImpeachTrump Trends on Twitter After Trump Blames 'Both Sides' for Charlottesville Violence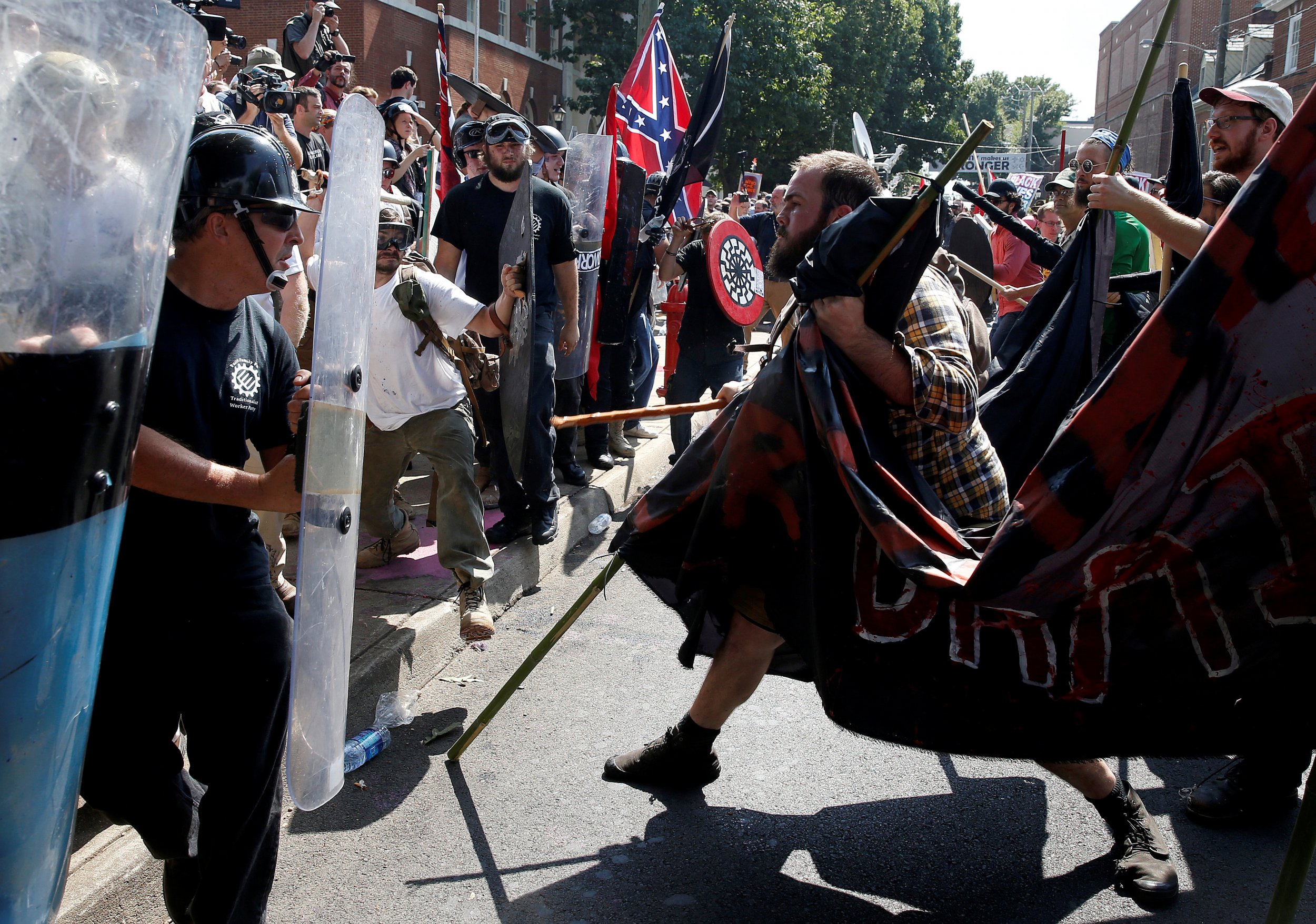 At a press conference Tuesday, President Donald Trump drew an equivalence between last weekend's violent neo-Nazi rally in Charlottesville, Virginia, with the counterprotesters who opposed them. His messages have united Republicans and many U.S. officials against him.
But after Trump blamed people "on both sides" for violence at the rally—which left one counterprotester dead and 19 injured after a member of the hard-right demonstrators rammed a car into a crowd of pedestrians—the #ImpeachTrump hashtag began trending Tuesday night and continued into early Wednesday.
"Trump may have done what no American president has done in decades: unite all Americans on what we stand for +what we won't," wrote Aaron Miller, a former George W. Bush administration diplomat, on Twitter.
Former Ku Klux Klan leader David Duke praised Trump's statements putting white supremacists on the same level as people who fiercely oppose them.
"There's no moral equivalency between racists & Americans standing up to defy hate & bigotry," wrote Arizona Senator John McCain on Twitter. "The President of the United States should say so."
Another Republican, Colorado Senator Corey Gardner, had stronger words. "Those assholes can go back to their cave, we don't want them in this country," he said during a town hall Tuesday.
After Trump's remarks, House Speaker Paul Ryan also spoke out. "We must be clear," he said. "White supremacy is repulsive. This bigotry is counter to all this country stands for. There can be no moral ambiguity."
Related: White supremacist David Duke thanks Donald Trump for slamming Antifa and leftists at press conference
The leader of the United States Marine Corps, Commandant General Robert Neller, wrote online that there is "no place for racial hatred or extremism in @USMC."
"Our core values of Honor, Courage, and Commitment frame the way Marines live and act," he said.
The Trump effect has been inspiring radical Christians in the U.S. military.
No Republicans were calling for Trump's impeachment. But on Wednesday morning online, the hashtag #ImpeachTrump was trending globally alongside #Nazis, #Supremacists, and #Charlottesville.
"To every member of Congress—harsh words are not enough. You cannot allow a neo-Nazi defender to remain in power. #ImpeachTrump," Beau Willimon, creator of the U.S. version of the political TV drama House of Cards, wrote online.
"Did I see Trump just go openly Nazi apologist? We. Are. In. Trouble. He is unfit for the job. He must be removed," wrote Malcolm Nance, a former senior U.S. Navy intelligence and counterterrorism officer.
Trump cannot be impeached or removed from office for his statements, however. The impeachment process requires some charge of high crimes or misdemeanors brought against him by the House.
But several cases that could result in articles of impeachment against the president are moving forward, including the Russia investigation probing whether the Trump campaign assisted Russian interference in the 2016 election.
There are also several cases moving forward in the courts challenging potential conflicts of interest that would violate U.S. law, including one involving the president's continued ownership of the Trump Organization, which presents opportunities for foreign governments to influence him through the company.
Nevertheless, Republicans appear to be turning on the president over his insistence on the moral equivalence of both sides of protesters in Charlottesville.
"One side is racist, bigoted, Nazi. The other opposes racism and bigotry," Trump critic and former GOP presidential candidate Mitt Romney wrote online. He said the two sides are from "morally different universes."