What is the Impossible Burger? By now you've likely heard your vegan friends ranting and raving about it, the hot new food that looks like a beef burger, smells like a beef burger and tastes like a beef burger but is not, in fact, a beef burger. The Impossible Burger is taking America by storm.
What Is The Impossible Burger?
The plant-based patty was launched by Impossible Foods Inc. to combat cruel animal agriculture and counter the severely high greenhouse gas footprint derived from animal agriculture and the production technology used to give consumers all their favorite animal meat, dairy and fish. Instead of taking the traditional tofu and bean route, Impossible Foods wanted to create something that would better the planet but still have many of the delectable qualities of we enjoy with animal meat—like juiciness, flavor and smell—as well as a higher nutritional value.
"Our team approached the challenge of creating better meat with the same blend of creativity and concentration, and many of the same tools and techniques, that biomedical scientists use to understand how our bodies work and to discover treatments for previously incurable diseases: Start with the hard fundamental research required to understand the basic principles and molecular mechanisms responsible for the flavors, aromas, textures and juiciness that make meat delicious and craveable; then, discover scaleable plant sources of the specific proteins and other nutrients required to reproduce the magic of meat," the company's mission statement said.
What the company came up with was the Impossible Burger.
Impossible Burger Ingredients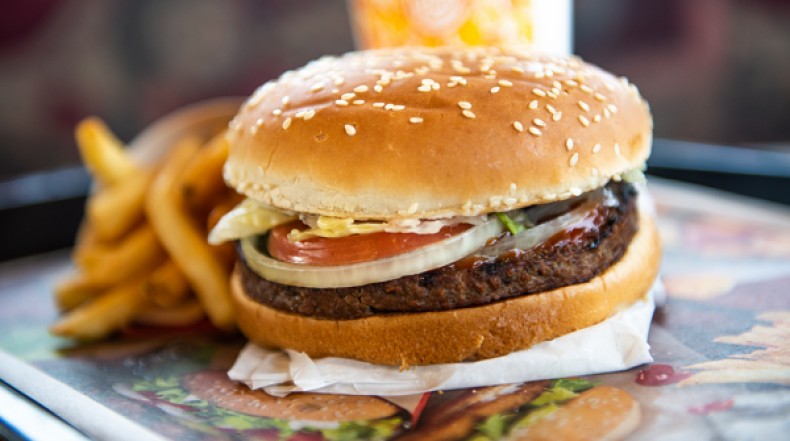 Created with 95 percent less land, 75 percent less water and 89 percent fewer emissions than animal burgers, the Impossible Burger is made from a genetically engineered protein derived from heme, an iron-containing molecule that is found in plants and animal muscle. Impossible Burger uses the heme found in soybeans and ferments it with yeast to create a heme protein similar to meat called soy leghemoglobin. It's heme that's responsible for the Impossible Burger's meat-like taste and red blood-like color. It contains iron and protein but no cholesterol. The company's new Impossible Burger 2.0, which was unveiled in early 2018, has 240 calories and contains 8 grams of saturated fat and 370 milligrams of sodium per 4 oz. serving.
Are there any other Impossible products?
The Impossible Burger is the main product Impossible Food boasts. However, that is changing. The company partnered up with Little Caesars to release Impossible Sausage, featured on Lil Caesars' newest Impossible Supreme pizza, which hit ovens in three states in May. The plant-based "sausage" is produced with the same heme ingredient as the Impossible Burger.
Where Can I Get An Impossible Burger?
While unavailable at grocery stores (for now), the Impossible Burger is featured on hundreds of menus in restaurants across the United States. By the end of 2018, Impossible Burgers were available in about 5,000 restaurants across all 50 states. There are more locations added everyday, and the easiest way to find out where to get an impossible burger near you is to use their store locator.
Burger King introduced the plant-based patties to its menu, initially launching the sale of the Impossible Whopper in St. Louis, Missouri in March. The fast-food company announced plans to extend the burger to chains in Miami, Florida; Columbus, Georgia and Montgomery, Alabama in early May. Burger King also said customers could expect to see the food item roll out on menus nationwide later this year.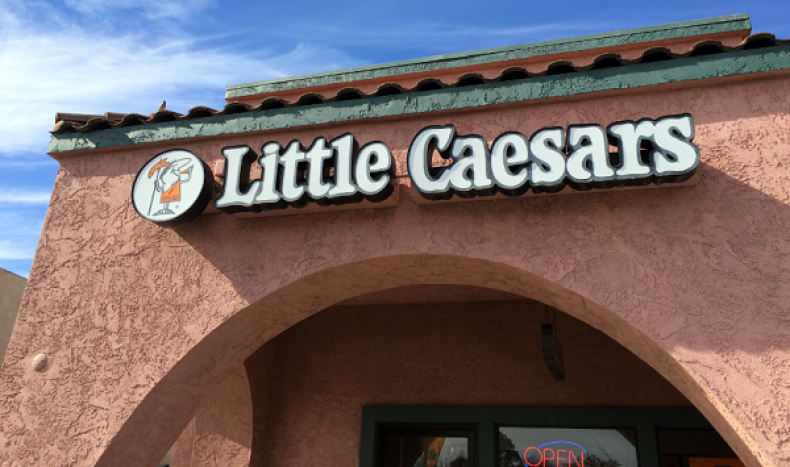 Impossible Foods' newest collaboration with Little Caesars is available at 58 pizza chains in Albuquerque, New Mexico; Fort Meyers, Florida; and Yakima, Washington. If all goes well with Impossible Supreme Pizza sales in those locations, the pizza may be added to menus in Detroit next.
Little Caesar's Chief Innovation Officer Edward Gleioch said the company wanted to work with Impossible Food to better accommodate customers as more and more people were turning to plant-based diets.
"We look at the interest in plant-based meats as long-term, not just the latest trend. Consumers are increasingly requesting plant-based alternatives to meat products. So, it makes good business sense," Gleich told Newsweek. "Surprisingly this isn't a small group of consumers on a specific diet as it was a decade or so ago. Now we're reaching a tipping point where there's widespread interest from customers that enjoy meat and don't intend to give it up completely, but on occasion want a plant-based alternative for perceived health, environmental and taste reasons. Impossible Foods creates products that deliver everything that meat lovers care about. It's been a natural fit."
Can I Buy Impossible Burger At The Store?
There are plans for the retail launch of Impossible Foods products for some time in 2019. Company CEO and founder Patrick Brown announced products would eventually hit grocery stores across the U.S. so people could cook with the meat at home.
"By far the No. 1 message from fans on social media is, 'When will I be able to buy and cook the Impossible Burger at home?' We can't wait until home chefs experience the magic and delight of the first plant-based meat that actually cooks and tastes like meat from animals—without any compromise," he said in a statement to Forbes in November 2018.