Imran Khan, the Taliban and Donald Trump: What Pakistan's New Prime Minister Means for Afghanistan
After more than twenty years in politics, Imran Khan has been sworn in as Pakistan's new Prime Minister. The former cricketer has promised to crack down on political corruption and address a looming economic crisis.
The country has a strained relationship with the U.S., complicated by the ongoing War in Afghanistan, and pundits have questioned the politician's ability to improve relations with the superpower.
U.S. President Donald Trump slashed security aid to Pakistan in January after calling the country a "safe haven" for terrorists in Afghanistan. He wrote on Twitter: "The United States has foolishly given Pakistan more than 33 billion dollars in aid over the last 15 years, and they have given us nothing but lies & deceit."
Khan has lambasted Trump personally, calling him "ignorant and ungrateful" for his statements on Pakistan. He has blasted the U.S. for using Pakistan as a "scapegoat" for its "failure in Afghanistan."
The new prime minister told told the Times of London in February that continued U.S. violence has fueled growth of the Pakistani Taliban, who are allied with the Afghan Taliban. Such views threaten to damage the already the peace process in Afghanistan, the New York Times recently reported. The country is still experiencing a war that began in 2001.
Back in 2011 Kahn told Newsweek, "We have to have dialogue with [the Pakistani Taliban], reach out to them… They have resisted every superpower in history. We need to give peace a chance to engage and win them over."
He has echoed this sentiment a number of times, calling for an office to facilitate peace talks back in 2013. He told the Times of London that "liberals" in favor of NATO's war on the Taliban were "thirsty for blood."
"They have absolutely no idea. They sit in the drawing room. They read the English-language newspapers, which bear very little resemblance to what is real Pakistan," he added. "I promise you, they would be lost in our villages."
In the same interview, he decried U.S. attacks in Pakistan. "American drone strikes in Pakistan must stop," he said. "It's butchery, and the true horror of it is hidden from the West." He's earned the nickname "Taliban Khan" for his views, the publication reported.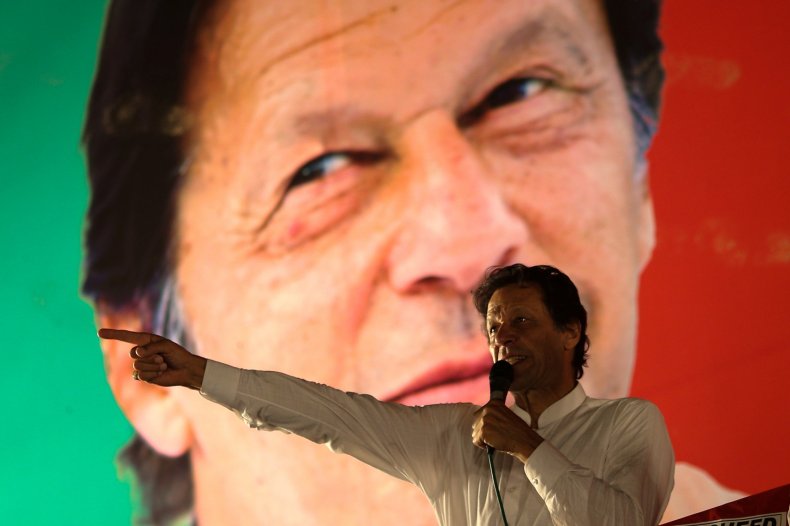 After July's election, Khan struck a somewhat more conciliatory tone with the U.S. During a speech he said: "With the U.S., we want to have a mutually beneficial relationship ... up until now, that has been one way, the U.S. thinks it gives us aid to fight their war ... we want both countries to benefit, we want a balanced relationship."
Although Khan may be a thorn in Trump's side, his new role may not affect the two countries' relationship, Laurel Miller, a a senior foreign policy expert at the RAND Corporation told the New York Times. "His ascension will have little impact on U.S.-Pakistani relations… The situation in Afghanistan, the nuclear issues—those are tightly controlled by the military establishment."
But Vikram Singh, a former top State and Defense department official in the Obama administration told the publication the counties still need to work together. "Each country resents its ongoing dependence on the other," he said, "but ultimately, the U.S. and Pakistan need to find ways to cooperate despite deep mistrust.
"I think Trump and Imran Khan would get along fine if they get the chance."
Correction: A previous version of this story incorrectly referred to Imran Khan as Pakistan's President. He is its Prime Minister.