Independent Senator Calls Out Mitch McConnell for Dismissing Bipartisan COVID Stimulus Deal: 'He's Gotta Listen'
Senator Angus King, an independent from Maine, criticized Senate Majority Leader Mitch McConnell for dismissing a bipartisan COVID-19 stimulus proposal unveiled Tuesday, saying the Kentucky Republican has "gotta listen" to members of his own party calling for urgent action.
The $908 billion legislation was put forward by a bipartisan group of four Republican and four Democratic senators along with King on Tuesday. The proposal was also endorsed by 50 members of the House of Representatives from the bipartisan Problem Solvers Caucus. But McConnell signaled that he plans to push forward with a significantly slimmer bill as millions of Americans continue to struggle financially while the pandemic continues to surge nationwide.
"We really tried to come to a middle ground and we got tired of waiting, frankly," King told CNN on Wednesday, discussing the bipartisan stimulus package. "And I don't understand what the Majority Leader's problem is," the independent said.
McConnell's "gotta listen and I'm hoping he's gonna listen to the members of his caucus saying, 'Look, we need to do something. It's urgent," King said. He pointed out that many Americans are going to be "losing" their current benefits from the federal government, as well as "their places to live" through evictions after Christmas. "Schools are going to have really serious problems. We've got to do something and we've put forward a good faith effort to make that happen," the lawmaker said.
Newsweek reached out to McConnell's press representative for comment but did not immediately receive a response.
Speaking to reporters on Tuesday, McConnell appeared to dismiss the bipartisan proposal. He said he was supportive of a "targeted relief bill including things we can agree on," insinuating that the bipartisan effort would not garner a "presidential signature" to become law.
In mid-November, McConnell said he was open to a $500 billion COVID-19 relief bill before the end of the year. The GOP Senate leader previously put forward a $500 billion proposal in September that garnered the support of most Senate Republicans but was blocked by Democrats—who support a significantly bigger package. McConnell again detailed a similar offer in mid-October.
The new bipartisan proposal would provide an extra $300 per week to unemployed Americans and $288 billion in funding to go to small businesses through the Paycheck Protection Program. It includes about $82 billion for education, $45 billion for transportation agencies, $26 billion for nutrition assistance and $16 billion to go to health care costs, particularly those associated with testing for COVID-19 and distributing pending vaccines. It would not include an additional stimulus check of $1,200 to most Americans, as was included in the bipartisan $2.2 trillion CARES Act passed in March.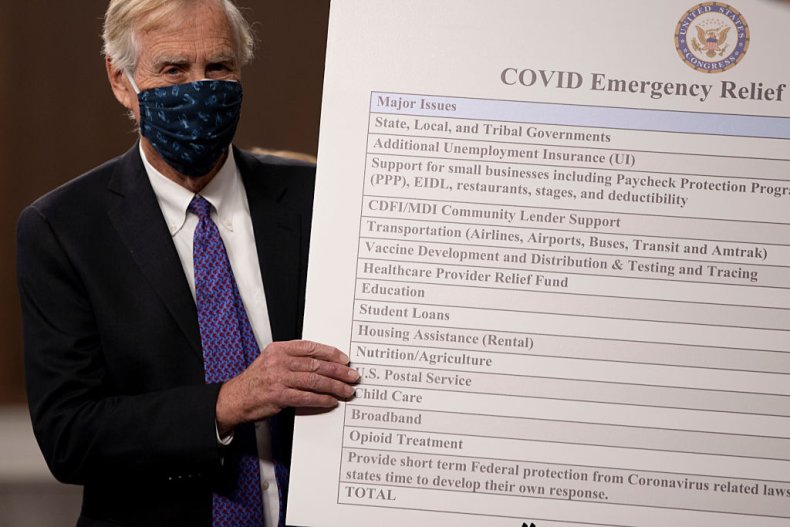 In addition to King, Democratic Senators Joe Manchin of West Virginia, Maggie Hassan of New Hampshire, Jeanne Shaheen of New Hampshire and Mark Warner of Virginia as well as Republican Senators Susan Collins of Maine, Bill Cassidy of Louisiana, Lisa Murkowski of Alaska and Mitt Romney of Utah signed on to the bipartisan bill. The effort was led by Collins and Manchin.
Republicans Collins and Murkowski raised concerns about McConnell's stance, suggesting that his smaller proposal would not be successful.