Mitch McConnell Draws Lawmaker Scorn After Suggesting Bipartisan Stimulus Bill Is Waste of Time
Senate Majority Leader Mitch McConnell (R-KY) faces criticism over suggesting a bipartisan proposal on further stimulus is a waste of time, after detailing a plan of his own and insisting the priority is something President Donald Trump will back.
It has been more than eight months since the last major COVID-19 relief package, the CARES Act, was signed by the president. A prolonged stalemate in attempting to secure a follow-up continues.
A group including Republican and Democrat lawmakers unveiled a $908 billion compromise proposal on Tuesday, in a bid to breach the impasse.
Asked about this pitch at a news conference, and the need for the House to pass something as well as the president to sign it, McConnell said: "We just don't have time to waste time. We have a couple of weeks left here. Obviously, it does require bipartisan support to get out of the Congress but it requires a presidential signature.
"This government is in place for sure for the next month. I think the place to start is are we actually making a law or are we just making a point.
"And I think the way you make a law for sure is you know you got a presidential signature."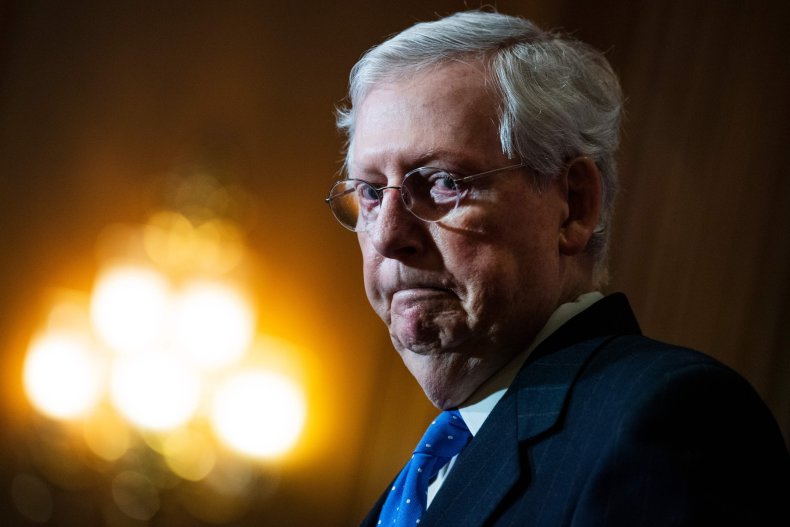 He added that there is agreement that "waiting until next year is not an answer," and calling for a "targeted relief bill including things we can agree on."
Responding to these comments, Sen. Tina Smith (D-MN) said the comments were "classic Mitch McConnell" and bemoaned his stance for blocking stimulus.
"NOBODY knows more about wasting time than McConnell," Smith tweeted.
"He had the Senate do nothing on COVID relief in November. Nothing in October. September. August. It's painful how long this has gone on. He refuses to negotiate with Democrats. And he wants to talk about wasting time?"
Smith added: "I have never seen a place like Mitch McConnell's United States Senate. It's like he owns it. If he doesn't like something, it's 'a waste of time' and that's the end of it."
Sen. Dick Durbin (D-IL) said the plan was not perfect but "a good one."
"While it may not be a perfect plan, it's a good one—and much better than nothing at all, which is the worst possible outcome & the one Senator McConnell seems to want," he tweeted.
In an interview with CNN he said the deal was crafted as a "middle ground" and a compromise, highlighting the spending demands of Republican and Democrat figureheads and that its topline fell somewhere in the middle.
"He's contracting out the responsibilities of the Senate and the House to the president of the United States, which is no way to conduct business in the United States Senate," Sen. Chris Van Hollen (D-MD) said on MSNBC.
"Especially right after this very positive development, a bipartisan agreement laying out a framework. As has been said, it doesn't have everything everybody wants. I see it as a stopgap measure to take us through these very tough winter months as the coronavirus is spiking as people are hurting, as a lot of the protections expire at the end of December.
"It would be absolutely shameful for the Congress to go home at the end of December for the Christmas holidays without providing additional relief to the American people."
He added: "Here we see Mitch McConnell pouring cold water on a bipartisan proposal from a lot of his own Senate members."
These comments come with a growing demand for something to be passed, with leaders on both sides taking heat over the lack of movement.
Republican lawmakers have been among those bemoaning the continued delay.
Rep. Tom Reed (R-NY), who previously suggested the Georgia runoffs were distracting from discussions on stimulus and is co-chair of the Problem Solvers Caucus, has hit out at leadership on both sides.
He called for "partisan bickering" to end for a package to be passed.
Sen. Rob Portman (R-OH) said he feels a COVID-19 relief bill needs to be passed before the end of the year.
"We need to pass a COVID19 relief bill now, before we adjourn for the end of the year," he said in a tweet.
He said it has been "a long time since we took action," and added: "It's time for us to act again."
While McConnell has been criticized for his comments on the bipartisan proposal, Democrat figureheads have also appeared unenthused by it.
Senate Minority Leader Chuck Schumer (D-NY) called it a "good effort." He added he and House Speaker Nancy Pelosi (D-CA) were awaiting a response from McConnell on a proposal they made on Monday.
Topline spend has previously been an issue, with Democrat proposals in both the form of the HEROES Act and an updated version worth around $2.2 trillion passing the House but facing rejection in the Senate.
McConnell has instead pushed for something in the $500 billion range. Democrats have argued such proposals do not meet the needs of the crisis.
Newsweek has contacted the lawmakers mentioned above for comment.
The debate comes with confirmed COVID-19 cases in the U.S. throughout the pandemic having surpassed 13 million, according to Johns Hopkins University figures.
The below graphic, from Statista, shows the nations with the highest numbers of confirmed cases based on figures as of November 30.