More Stimulus Relief Before Christmas Appears Slim as Congressional Leaders Show Little Enthusiasm for Bipartisan Proposal
Rank-and-file members of Congress are attempting to ramp up the pressure on leadership to cease their partisan jabs and return to the negotiating table to pass a coronavirus stimulus before lawmakers soon leave town for Christmas recess.
A coalition of Republican and Democratic senators, as well as the bipartisan House Problem Solvers Caucus, unveiled their own $908 billion proposal Tuesday. The group presented it as a middle-of-the-road compromise vital to curbing the economic pain felt by tens of millions of Americans as they head into the holiday season amid the COVID-19 pandemic.
However, there is still no current path forward for how any relief legislation becomes law before Congress leaves for the year.
Leadership from both sides of the aisle have yet to buy in to the bipartisan proposal as they work to avoid a looming Dec. 11 government funding deadline. And while Democratic and Republican lawmakers indicated to Newsweek that they could stomach the compromise, the far greater hurdles are still House Speaker Nancy Pelosi (D-Calif.), Senate Majority Leader Mitch McConnell (R-Ky.) and Senate Minority Leader Chuck Schumer (D-N.Y.).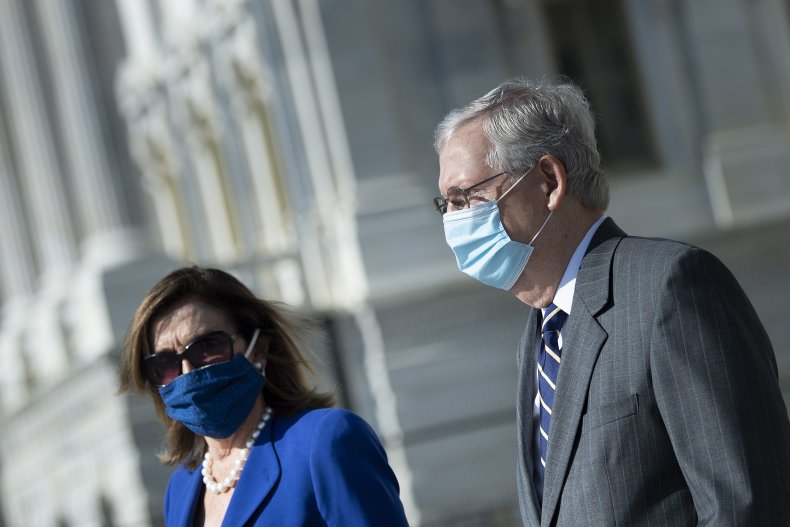 The nearly $1 trillion price tag is almost double the "targeted" $500 billion relief McConnell wants and less than half the $2.2 trillion that Pelosi and Schumer have demanded.
McConnell paid little attention to the new proposal and said he's more focused on discussions with the White House about what President Donald Trump would support. McConnell and other top Republicans were unmoved from their scaled-down $500 billion bill, which Democrats have already blocked twice. McConnell vowed to introduce a narrower proposal and proceeded to send GOP senators an even smaller $332 billion bill.
"We don't have time for messaging games, we don't have time for lengthy negotiations. The way you get a result is you have to have a presidential signature," McConnell told reporters after a private call with Republicans, in which he briefed them about Trump's position. "We don't have time to waste time."
Schumer called the bipartisan proposal "a good effort," but he seemed just as uninterested as GOP leaders. He told reporters that he and Pelosi were waiting for a response from McConnell about a new stimulus offer they made Monday night. No details about the offer were given.
"The obvious fact of the matter is the biggest impediment to getting an agreement is [McConnell's] refusal to negotiate," Schumer said.
Democrats, in particular, continue to place pressure on their leadership to budge from their hefty price tag to get something passed, as insiders say privately that Pelosi and Schumer will be hard sells. Pelosi's leverage has been undercut significantly—a notion the speaker vehemently denies—due to a loss of House seats and moderate Democrats urging her to strike a deal.
"It's not what Democrats wanted, it's not what we hoped for, it doesn't serve every need. But it's $908 billion more than $0," Rep. Dean Phillips (D-Minn.), a Problem Solvers member, told Newsweek. "You don't need a calculator to determine that."
Sen. Mark Warner (D-Va.) was among the senators who helped craft the package.
"It would be stupidity on steroids if Congress left for Christmas without doing an interim package as a bridge," he said.
Despite the renewed push, COVID-19 surging uncontrollably across the country and more than 10 million Americans set to lose jobless benefits the day after Christmas, the prospect for Pelosi, Schumer and McConnell to jump on board appear currently nonexistent. Leadership on both sides of the Capitol were aware of the proposal as it took form over Thanksgiving, but they remain unwilling to endorse it.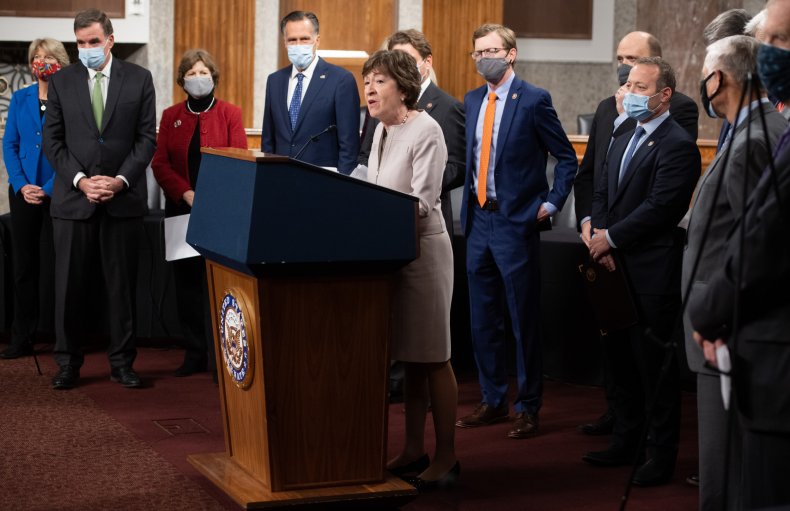 "It seems like to me it's pretty late to decide you'd rather have something than nothing," said Sen. Roy Blunt (R-Mo.), a leadership member. "The whole idea of not being willing to negotiate until you're down to the last week of negotiating time usually doesn't produce a very good result."
Only about a third of the $908 billion proposal—$348 billion—is new funding, while the rest is repurposed money from the CARES Act. That was welcoming news to Republicans who worried about more deficit spending, but not so much for Democrats. A second round of individual checks are also not included, another win for Republicans but a detriment to those struggling who were holding out hope for such cash assistance.
"I guess it's better than nothing, but it's certainly not enough," Sen. Jon Tester (D-Mon.) said.
Tester cited a lack of state and local aid, which would top out at $160 billion. The topic has been a major sticking point for Democrats and Republicans, the former of which prefers nearly four times the amount for state and local governments facing budget shortfalls while the latter favors none.
The bipartisan proposal also includes $180 billion in unemployment insurance, $288 billion for the small-business Paycheck Protection Program, $25 billion for renters, $4 billion for student loan deferments, $82 billion for schools and $16 billion for vaccine development, testing and tracing, among other things.
Pelosi and Treasury Secretary Steven Mnuchin spoke by phone on Tuesday for the first time since COVID relief talks broke down before the election. But while Mnuchin told reporters at the Capitol that he expected economic aid to come up, "the primary purpose is on government funding."
In a statement after their call, Pelosi gave no mention of the new bipartisan stimulus proposal. She only referred to the private offer made to McConnell, which was also provided to Mnuchin.
Those pushing for the bipartisan deal remain hopeful that their impending vacation, the surge of new COVID-19 cases and the American people will put the heat on leadership.
"I think that pressure is going to really get this to the floor for a vote," said an optimistic Rep. Josh Gottheimer (D-N.J.), co-chair of the Problem Solvers Caucus.