$500 Billion 'Targeted' GOP Stimulus that Excludes Checks Blocked by Senate Democrats
Another effort by Senate Republicans on Wednesday to approve a scaled-down stimulus measure just days before the election was defeated by Democrats in a partyline vote.
The "targeted" relief package, as Republicans labeled it, was part of a concerted effort to pin down Democrats on their "all-or-nothing" approach in the run-up to Nov. 3 and offer vulnerable GOP senators political cover in the final few days of their campaigns.
The same proposal was also blocked by Democrats last month. The vote came as House Speaker Nancy Pelosi and Treasury Secretary Steven Mnuchin continue to negotiate a comprehensive bill in the ballpark of $2 trillion—a price tag that many Senate Republicans have bemoaned.
The half-a-trillion-dollar GOP stimulus included more unemployment benefits, more than $100 billion to reopen schools, funding for testing and tracing, liability protections and small-business relief through the Paycheck Protection Program (PPP).
Senate Majority Leader Mitch McConnell accused his Democratic colleagues of doing "Speaker Pelosi's political dirty work."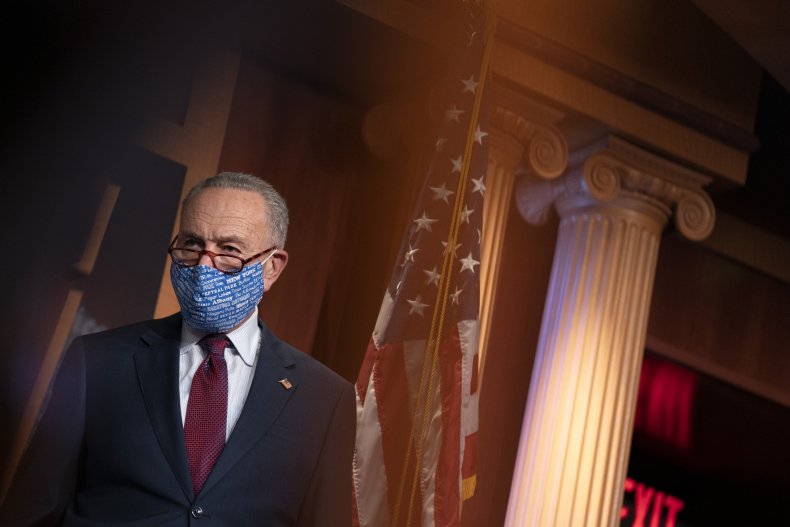 "It turns out there's a special perk to being a United States senator," the Kentucky Republican said. "When you actually support something, you vote for it. When you actually want an outcome, you vote for it."
"Strangely enough," McConnell added, "that's not what seems to be happening."
Notably, the Republican proposal excluded another round of individual checks, a provision that both Democrats and the White House will include in any future deal they strike. The reason they excluded a second $1,200 check, McConnell explained Tuesday, was because they wanted to keep the overall cost down and the unemployment rate did not warrant more direct payments.
"We thought about $500 billion was appropriate at this juncture," McConnell said. "No one would argue the economy is in good shape, but it's noteworthy that unemployment is about 8.4%, which is what it was for several years during the Obama first term."
Senate Minority Leader Chuck Schumer equated the vote to a "political stunt," which came a day after Democrats also rejected a standalone $250 billion PPP bill.
"All week, the Republican majority has scheduled stunt votes on supposed COVID relief bills that are all in reality designed to fail," the New York Democrat said. "It's clear why Leader McConnell is forced to do these stunts: A good portion of his caucus opposes more relief to the American people."
Pelosi and Mnuchin continue to talk on a daily basis, as both sides signal an agreement could be reached by week's end. But major outstanding issues remain, such as the total cost, and sticking points persist over liability protections, jobless benefits and aid for local and state governments.
The White House has offered as high as roughly $1.9 trillion while Democrats are holding firm around $2.2 trillion. President Donald Trump has suggested perhaps a package should be even more expensive, just weeks after saying he did not want a deal until after the election.
McConnell has reportedly told the president to hold off until after the election because of the proximity of the contest, the way it could fracture the GOP and the potential for it to complicate next week's vote to confirm Supreme Court nominee Amy Coney Barrett. White House chief of staff Mark Meadows on Wednesday refuted such reporting.
But even if negotiators can overcome their logjam and find a bipartisan solution in the coming days, it will almost certainly be too late to pass legislation before Nov. 3. And even if they could, McConnell has not agreed to hold a vote on a package before the election.