Small-Business Relief Bill from Senate Republicans Rejected by Democrats Amid Stimulus Talks
Legislation that would reauthorize the popular Paycheck Protection Program (PPP) to provide more small businesses with access to loans was met with resistance on Tuesday from Senate Democrats as they lobby for an expansive stimulus package.
A standalone bill to give more businesses relief, much of which is forgivable and helped companies nationwide stay afloat amid the economic fallout from the pandemic, received a mostly partyline vote, with five Democrats siding with Republicans.
The vote of 40-57 was not on final passage, but rather was part of a procedural maneuver by Republicans that forced Democrats to go on the record against the coronavirus business aid.
The roughly $250 billion proposal would have given more PPP loans to businesses that saw a 35 percent decrease in revenue this year over last and that have 300 or fewer employees. The bill would also expand the forgivable expenses to include things like supplier costs, coronavirus facility modifications and personal protective equipment, and it would simplify the loan forgiveness process.
The vote came as House Speaker Nancy Pelosi (D-Calif.) and Treasury Secretary Steven Mnuchin were engaged in intense negotiations over a broader stimulus package. Democrats decried the vote on PPP relief—a program they support but funding that they want included in a future package—as a "political stunt" aimed at offering vulnerable Republicans political cover just 14 days before the election.
Senate Majority Leader Mitch McConnell (R-Ky.) conceded that he did not expect Democrats to go along with their vote. The Senate will also vote on a "targeted" stimulus bill on Wednesday worth roughly $500 billion—far short of the $1.8 trillion proposed by the White House and the $2.2 trillion pushed by Democrats. The measure is expected to fail amid Democratic opposition, just as the same proposal did last month.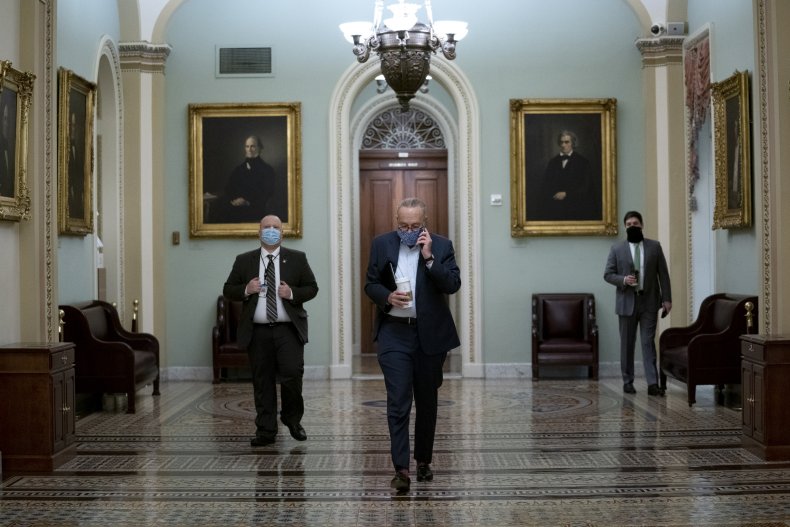 "We wanted to make the point to the American people that Senate Republicans believe another package is important," McConnell told reporters, "and we've crafted one that we think includes things that are not controversial."
A later effort by Democrats to force a vote on the House-passed $2.2 trillion Heroes Act 2.0 was rejected by Republicans.
Democrats remained largely united in their vote against the PPP bill, declining to budge from their demands for a comprehensive package that includes more expansive provisions like individual checks, unemployment insurance and money for state and local governments. Sens. Doug Jones (D-Ala.) and Gary Peters (D-Mich.), both of whom are vulnerable members up for re-election, voted with Republicans, as did Sen. Jeanne Shaheen (D-N.H.), Maggie Hassan (D-N.H.) and Mark Warner (D-Va.).
"A sham, a stunt if there ever was one," Senate Minority Leader Chuck Schumer (D-N.Y.) told reporters. "It's cruel, it's harsh and it shows a complete lack of leadership and caring for the suffering of the American people."
Though Pelosi initially marked Tuesday as the deadline to reach a deal with the White House and pass a broad stimulus before Election Day, she told Bloomberg News that if they remain at odds, talks with continue through Nov. 3. However, the idea of a package in the $2 trillion price range is giving Senate Republicans severe heartburn, with many leadership members indicating they would lack the necessarily support from GOP lawmakers to pass any legislation of that size.
Pelosi and Mnuchin spoke again by phone Tuesday afternoon for about 45 minutes and will talk again on Wednesday. No agreement was reached. Asked if the two sides can break the impasse by week's end, Pelosi said: "I hope so. That's the plan."
Pelosi Deputy Chief of Staff Drew Hammill said the Tuesday deadline enabled Pelosi and Mnuchin to "see that decisions could be reached and language could be exchanged, demonstrating that both sides are serious about finding a compromise."
"On several open questions, the Speaker and the Secretary called for the committee chairs to work to resolve differences about funding levels and language," Hammill wrote on Twitter.
White House Chief of Staff Mark Meadows, who has not been recently participating in negotiations with Pelosi, went on CNBC to say that they still remain roughly $400 billion apart from Democrats.
The Washington Post reported Tuesday that McConnell told his colleagues during a closed-door Republican lunch earlier in the day that he advised the White House against striking a compromise before the election. That's because, McConnell reportedly indicated, Pelosi was not negotiating in good faith, it could place Republicans in a tough spot just days before the election and a deal could complicate the upper chamber's plans to confirm Supreme Court nominee Amy Coney Barrett next week.
Correction: This story was updated to include the correct roll call vote.