Stimulus Deal Chances Quickly Disappear in Republican Senate as Deadline Nears
Even as House Speaker Nancy Pelosi and Treasury Secretary Steven Mnuchin have yet to reach a deal on another coronavirus stimulus package with Tuesday's self-imposed deadline rapidly approaching, Republicans in the Senate are showing little-to-no signs that enough of their members would support such an expensive relief measure.
The latest offer from the White House is $1.8 trillion. Pelosi and the Democrats are standing firm at $2.2 trillion—a $400 billion difference, 22% more than the White House offer. Democrats insist that the White House package excludes too many important elements of their proposal, including aid to cities and states.
GOP Senate leaders are doubtful they could muster the minimum support needed to pass such legislation before Election Day. Even if the entire 47-member Democratic caucus were to get on board with a proposal somewhere around the two price points, the Senate would still need 13 Republicans to join them.
"It would be hard," conceded Senate Majority Whip John Thune (R-S.D.). "To try to convince Republicans over here to be for it, when their natural instinct—depending on how big it is and what's in it—is probably going to be to be against it, I think we're going to have a hard time finding 13 votes for anything."
The White House is also aware of the heartburn among Republicans in the upper chamber for such costly legislation.
"The Senate Republicans have been very vocal in terms of their lack of support of a number that is even close to what the president has already supported in the $1.8 trillion range," White House Chief of Staff Mark Meadows said Monday.
Trump has been all over the map on the size and scope he prefers for another stimulus, at first vowing to reject any bill before the election before advocating Tuesday for an even bigger package than Democrats propose.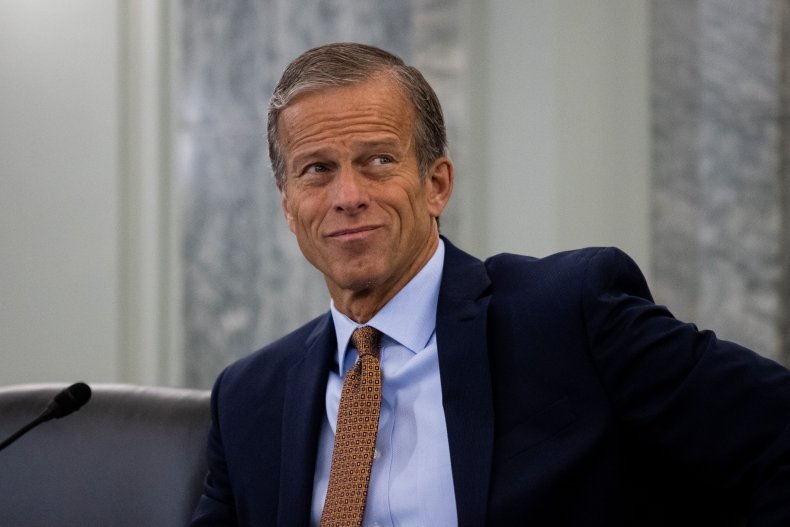 "I would be willing to go more because I think the government—we get the money back," Trump told Fox News. "It gets the money back anyway and it's better than unemployment and all the costs associated with the alternative."
"Not every Republican agrees with me, but they will," he continued. "I would rather go bigger than [Pelosi's] number."
Republicans and Trump have long rejected the $3.4 trillion Heroes Act that House Democrats passed in May, so it's unclear what sort of measure the president would be willing to get behind.
Negotiators consider end of day Tuesday to be the cut off to reach an agreement, if Congress hopes to pass something by Election Day on Nov. 3. And even if negotiators can somehow strike a deal—which remains unlikely, given the persistent hurdles—it remains to be seen whether Senate Majority Leader Mitch McConnell would support the package.
McConnell confirmed to reporters Tuesday afternoon that he would put any bill backed by the president on the floor for a vote, but he would not say whether he would back an expensive price tag.
McConnell is pushing forward with two votes this week on piecemeal proposals that Democrats will block from advancing to final passage. The first will be a standalone bill for more small-business aid under the Paycheck Protection Program (PPP). The second is a targeted $500 billion bill with money for schools, unemployment insurance and coronavirus testing and tracing.
Both will fail to muster the necessary 60 votes to advance to a final vote. Republicans hope the move will pressure negotiators while putting the spotlight on Democrats just two weeks before the election.
"We believe [they are bills] that represent the views of Republicans, and Democrats are attacking Republicans for not doing something on the coronavirus issue," Thune said. "The PPP issue is very popular, it's very bipartisan and what we're basically saying is, 'work with us, we can pass some things that everybody agrees on.'"
Washington's months-long failure to approve more bipartisan relief, particularly as millions of Americans remain jobless and are pleading for federal help amid dire warnings from economists to dole out more aid, is yet another example of the country's polarized leadership.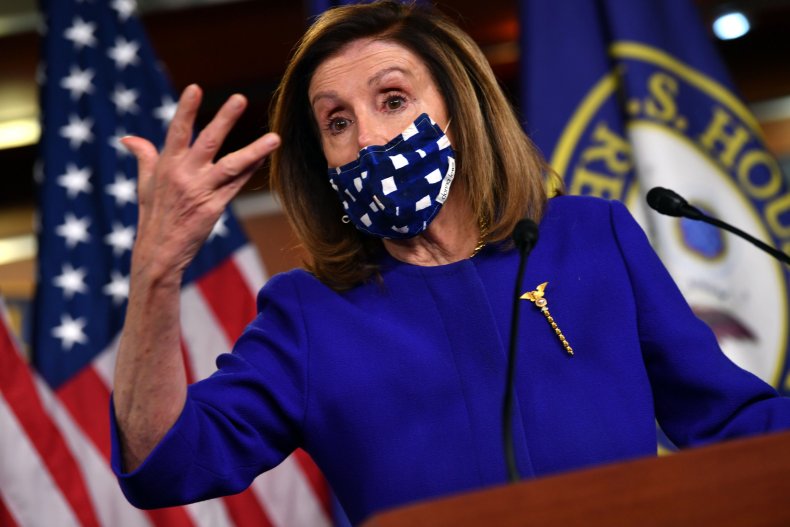 Pelosi and Mnuchin spoke for roughly 53 minutes on Monday, according to Pelosi Deputy Chief of Staff Drew Hammill. They "continued to narrow their differences," Hammill said, and on Tuesday they hope to "have clarity on whether we will be able to pass a bill before the election."
Though few details were offered about the outlying disagreements, prior major sticking points have been state and local funding and jobless benefits. The two will speak again Tuesday afternoon.
The White House's $1.8 trillion includes a second round of $1,200 checks, a $400 weekly unemployment boost and about $420 billion for state and local governments. Democrats' $2.2 trillion also includes checks but has $600 weekly jobless supplements and roughly $600 billion in state and local aid.
Republican Senate leaders doubt the viability of a $1.8 trillion bill among their own members—much less the feasibility of a deal that could be higher—and say the devil is in the details.
"If there's an agreement, I think we should try to put it before the election, but I'm skeptical that there can be an agreement," said Sen. Roy Blunt (R-Mo.), the No. 4 Republican. "It would depend on what was in it and how you spend it and lots of other things."
"[If] our members would vote for it," Blunt continued, adding a caveat, "I'd want to move forward."
This story was updated to include information from McConnell after he spoke with reporters.