Mitch McConnell Unveils Revised, Scaled-Back GOP Stimulus Proposal That Does Not Include Checks
Senate Majority Leader Mitch McConnell on Tuesday said that he wants to stick with a revised Republican, scaled-back stimulus bill. A leaked draft shows that the proposal does not include a second round of checks.
A draft of the new plan, circulated to Republicans and leaked to the media today, provides for another round of funding for the Paycheck Protection Program and liability protection for corporations. The framework came shortly after Treasury Secretary Steve Mnuchin and White House Chief of Staff Mark Meadows met with McConnell and House Majority Leader Kevin McCarthy to negotiate provisions and hold discussions on areas of relief that would get support from President Donald Trump.
The Senate GOP targeted relief draft includes an estimated $332 billion in small business relief, $105 billion for education to "help get students back," $31 billion for the development of vaccines and testing strategies, $16 billion for contact tracing, testing and surveillance in states, as well as $20 billion for further farm relief. It does not include a highly-anticipated second round of direct payments, unemployment benefits or aid to states that Democrats have repeatedly called for.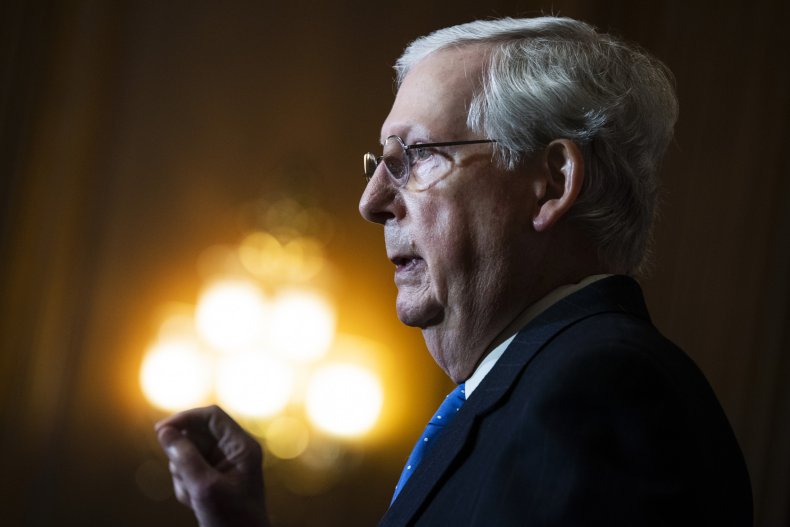 McConnell said that Trump would sign the bill, and additional assistance could be passed in the near future. However, the draft was only a modest revision of an earlier partisan plan that had already been blocked twice. Some Democrats, and one Republican, quickly moved to indicate resistance to McConnell's draft.
"If it's identical to what (McConnell) brought forth this summer then it's going to be a partisan bill that is not going to become law," said GOP Senator Susan Collins of Maine. "And I want a bill that will become law."
Trump previously urged Republicans to "go big" on another relief package, but McConnell shot down a new bipartisan proposal on Tuesday, saying that the targeted measure is his limit for now.
A coalition of Republican and Democratic senators, including Mitt Romney of Utah, unveiled the $908 billion proposal earlier today as a middle-of-the-road compromise to address the economic fallout of the pandemic as cases surged in most parts of the country.
The price tag was almost double the $500 billion "targeted" package proposed by McConnell and less than half of the $2.2 trillion that House Speaker Nancy Pelosi has demanded, but it fell flat with leaders from both sides of the political aisle.
"We don't have time for messaging games, we don't have time for lengthy negotiations. The way you get a result is you have to have a presidential signature," McConnell said. "We don't have time to waste time."
Senate Minority Leader Chuck Schumer called the plan "a good effort," but was largely uninterested.
"It's not what Democrats wanted, it's not what we hoped for, it doesn't serve every need. But it's $908 billion more than $0," Democratic Congress Dean Phillips of Minnesota, a Problem Solvers member, told Newsweek. "You don't need a calculator to determine that."
Newsweek reached out to Pelosi's office for comment.