India Gives Trump Warm Welcome as People Mark U.S. President's Visit With Cakes, Sand Sculptures and Paintings of His Face
Indians warmly welcomed President Donald Trump to their country on Monday—and marked the U.S. president's first official visit with cakes, sand sculptures and paintings of his face.
Trump was embraced on arrival in the country by India's Prime Minister Narendra Modi, who later introduced him to a raucous crowd packed into the 110,000-seater Sandar Patel stadium in Ahmedabad for a welcome rally on Monday.
Thousands more lined his motorcade route to the stadium, with many sporting shirts that bore Trump's face, hoping to snap a picture of the president on their smartphones.
Following the rally, Donald Trump and first lady Melania Trump headed to the Taj Mahal—and were greeted again by crowds waving tiny Indian and U.S. flags on the way from the airport to the iconic landmark. Large cut-outs of Donald Trump and Modi were put up along the route in Agra, the Associated Press reported.
But even Indians who won't catch a glimpse of the president and first lady during the whirlwind two-day visit commemorated it in creative ways.
Artist Sudarsan Pattnaik made a sand sculpture depicting Donald Trump and his wife on Puri beach in India's eastern state of Odisha. The sculpture features a message saying "Welcome to India" written below the Taj Mahal. Jagjot Singh Rubal painted a portrait of Trump in Amritsar, in Punjab state, ahead of his arrival in the country.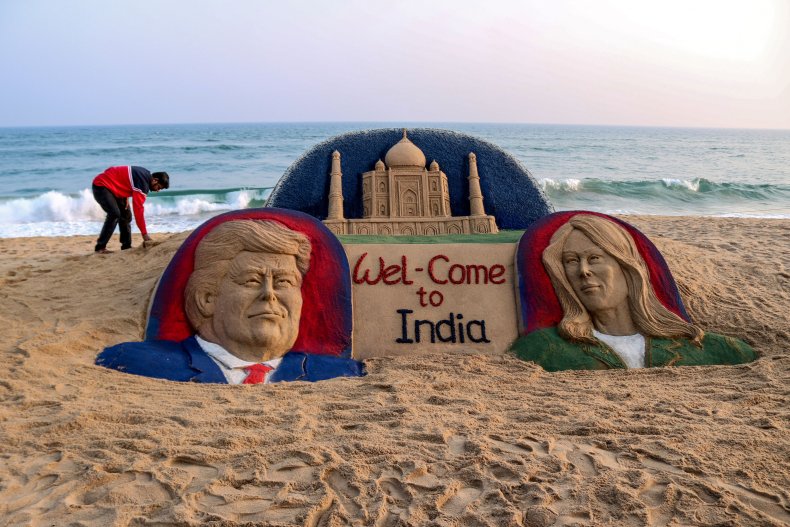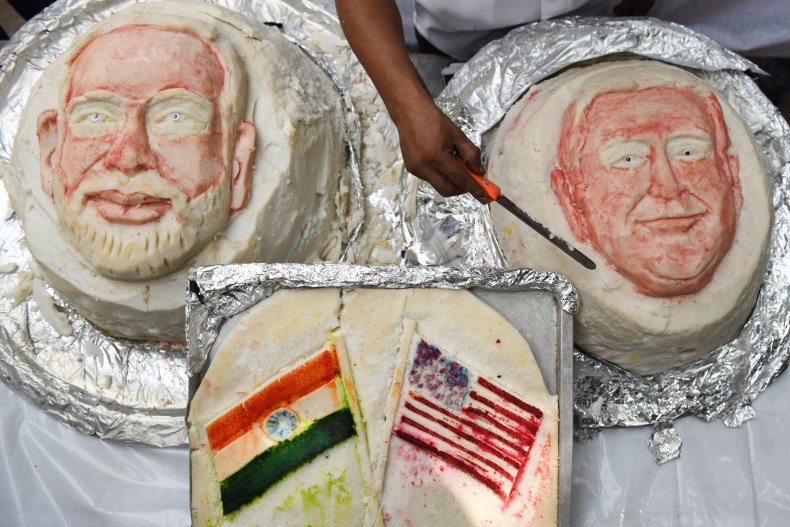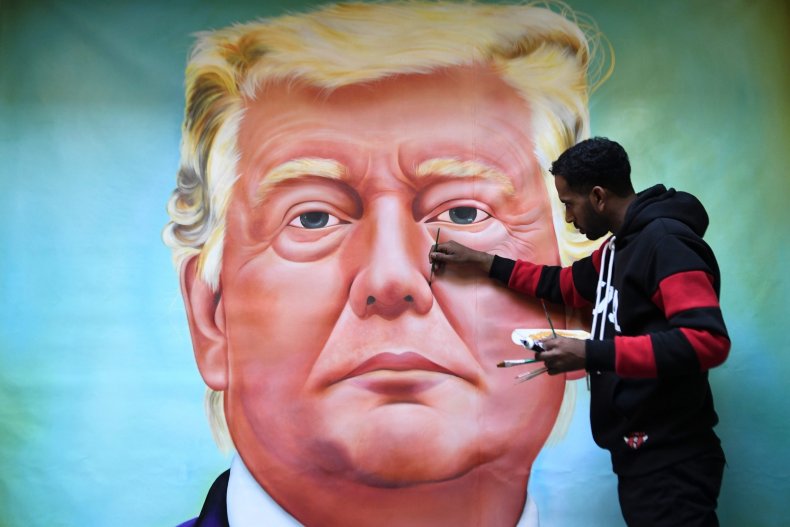 In Chennai, the capital of the southern state of Tamil Nadu, a man carved a savory cake made of rice known as idili in the shape of Trump's face. Meanwhile, schoolchildren in the country also donned masks of Trump and Indian Prime Minister Narendra Modi's faces to mark the visit.
But although the welcome was far warmer than that afforded to Trump during visits to other foreign countries, it wasn't without some unrest.
Anti-Trump protests broke out in cities across the country, including in New Delhi, Kolkata, Hyderabad and Guwahati, the Associated Press reported. Meanwhile, police used tear gas and smoke grenades to disperse a crowd when violence broke out during protests over a new citizenship law ahead of Trump's visit to the city.
Demonstrators in Kolkata burned a cut-out of a cartoon Trump and carried banners calling Trump a "warmonger," "imperialist" and "gangster."
Protesters also burned an effigy of Trump as they took to the streets in the city of Siliguri, shouting slogans and waving banners.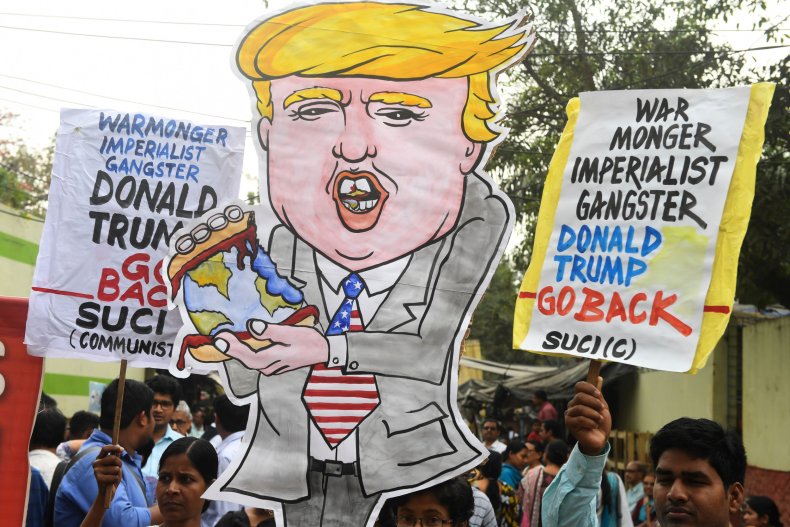 But eager fans, who began queueing at 4 a.m. to get into the brand new stadium in Ahmedabad for the "Namaste Trump" rally, according to AFP, showed no signs of the unrest.
They roared as Trump and Modi entered the world's largest cricket stadium for the rally—a reciprocation of the "Howdy Modi" event held in Modi's honor when he visited the U.S. last year. But many were seen leaving the stadium while Trump was still speaking.
This infographic, provided by Statista, shows President Donald Trump's approval rating among Indians from 2016 to 2019.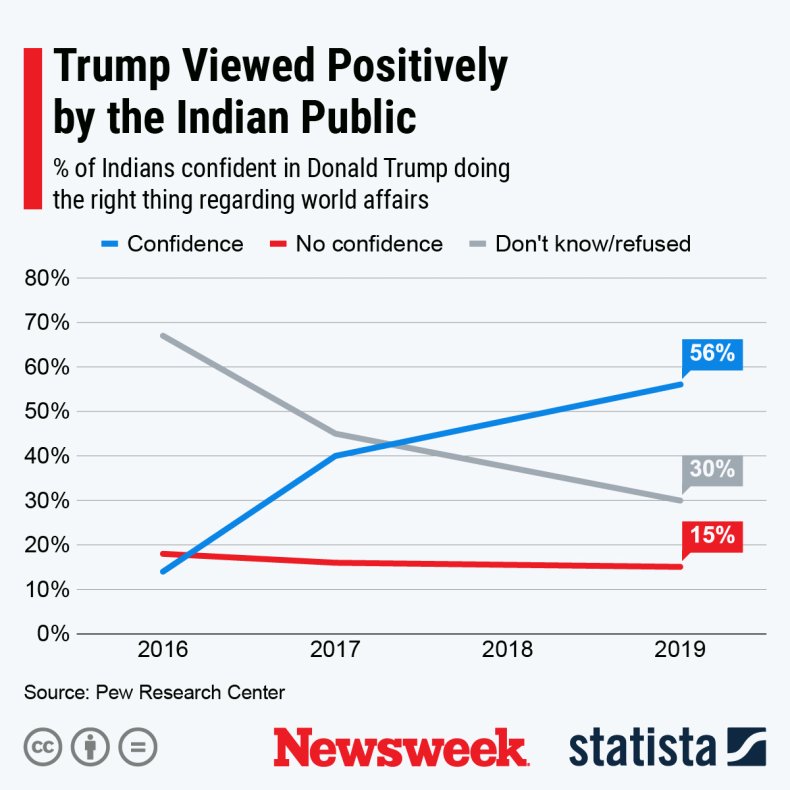 Correction: This article previously said Chennai is the capital of the eastern state of Tamil Nadu. Tamil Nadu is located in the south of the country.
This article previously referred to Guwahati as Gauhati, the former name for the city.