India-Pakistan Conflict Intensifies After Indian Army Promises Revenge For Alleged Beheading of Soldiers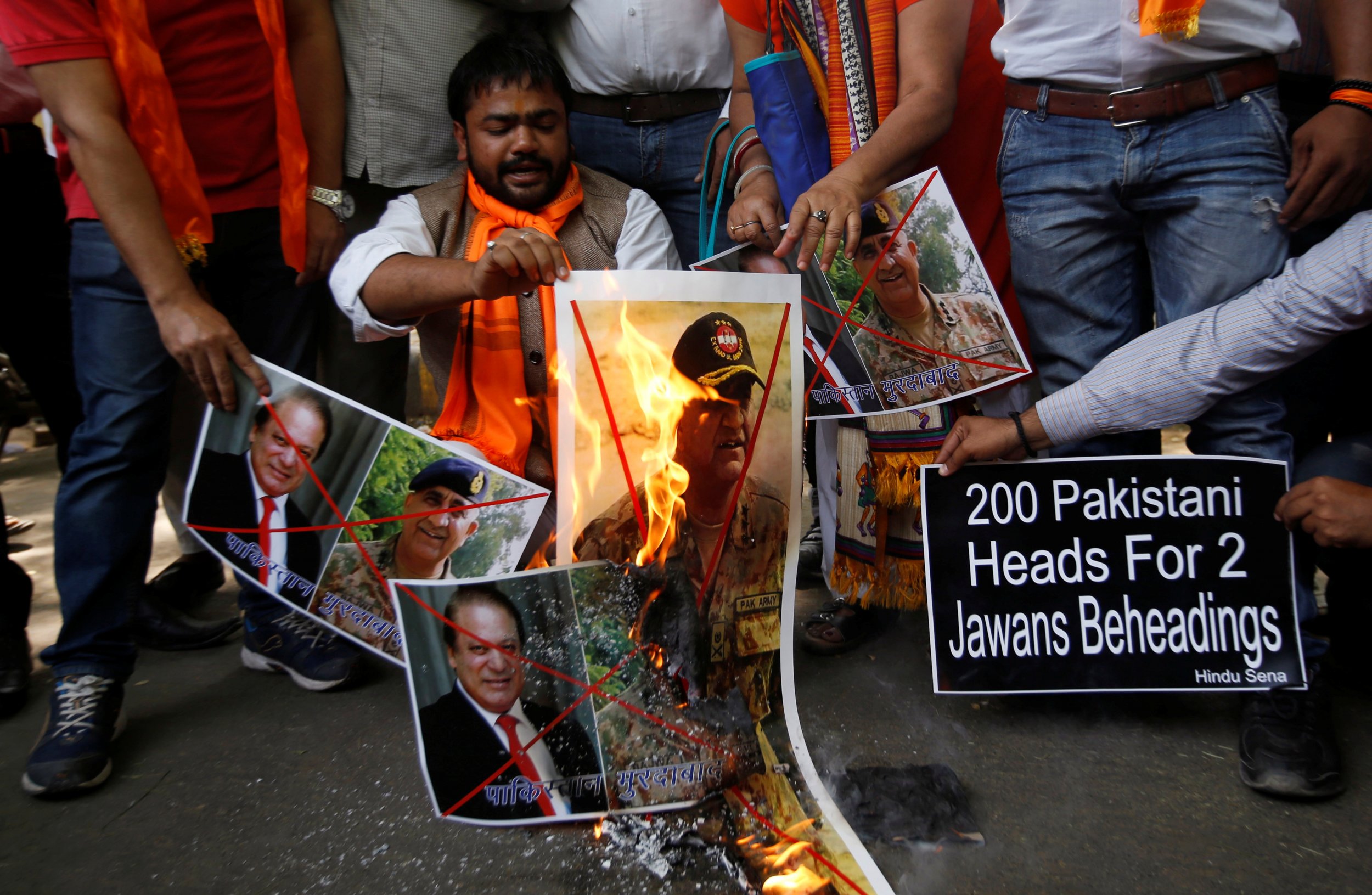 India summoned Pakistan's high commissioner Wednesday as tensions between the two nuclear neighbors continued to rise following an alleged beheading of two Indian soldiers. India has claimed that Pakistani forces were responsible for the killing and mutilation of two members of its security forces Monday across the Line of Control that has long divided the contested region of Kashmir.
Related: India: Kashmir Bans Social Media Sites After Protests
Although Pakistan has denied the allegations, India has claimed it has "concrete evidence" and has vowed revenge.
"We have proof it was carried out by the Pakistan army," external affairs ministry spokesman Gopal Baglay said at a briefing Wednesday, according to The Times of India. "We have demanded from Pakistan that whoever from their Army was behind this incident be punished."
Baglay confirmed that Pakistan High Commissioner Abdul Basit had been summoned by India's Foreign Secretary Subrahmanyam Jaishankar to register the country's protest over the killings.
"He, of course, denied that the Pakistani army was involved, but assured he will convey contents of our demarche to his government," Baglay said. "The foreign secretary conveyed India's sense of outrage at the killing and mutilation of Indian soldiers by Pakistan army personnel. This was an extreme act of provocation."
The two countries have been in conflict over Muslim-majority Kashmir since the partition of India in 1947 following British rule. Both countries claim the Himalayan region but rule it only in part. A 2003 cease-fire has been punctured in recent months by sporadic cross-border attacks, with India repeatedly blaming Pakistan for attacks on its personnel by militants.
The latest escalation in tensions began after an attack on an Indian army base last September, which India blamed on Pakistani militants and retaliated with "surgical strikes" across the Line of Control.
India has again vowed to retaliate for the latest incident.
"I do not want to say what we will do," Vice Chief of Army Staff Sarath Chand was quoted as saying by Indian news agency the Press Trust of India (PTI). "Instead of speaking, we will focus on our action at a time and place of our choosing. They [Pakistani army] have said it was not done by their forces. Then who did it? Their people came to our area and did it. They will have to take responsibility and face consequences for it."
Separately, the director general of military operations, Lieutenant General AK Bhatt, said the alleged beheading warranted "unequivocal condemnation and response."
To attempt to cool the dispute, China had been seen as a possible mediator. Beijing now has a particular interest in the region due to its investment in a collection of infrastructure projects in Pakistan known as the China-Pakistan Economic Corridor. However, China Wednesday denied it has any plans to mediate the dispute, stating instead that it should be "settled bilaterally," according to the PTI.