India vs. Pakistan: As War Threats Loom, Here's How the Nuclear Rivals' Militaries Compare
India and Pakistan have once again threatened to descend into war after a recent exchange of hostilities across their mutually disputed border, and the state of their armed forces has captured international attention.
Following the suicide bombing two weeks ago that killed more than 40 Indian troops and was claimed by a Pakistan-based Sunni militant group, the Indian air force on Tuesday conducted strikes on what it said were jihadi camps across the contested Line of Control in the Kashmir border region. The following day, Pakistan reportedly downed two Indian MiG-21 jets, arresting the pilot of one, while India claimed to have destroyed a Pakistani F-16.
The actual events of the past couple of days remain hazy, as contradictory statements have emerged from both sides, but the heightened risk of a greater conflict was clear. Pakistani Prime Minister Imran Khan struck a conciliatory tone, promising to release the captured Indian pilot as "a peace gesture."
His Indian counterpart, Narendra Modi, however, has been notably silent amid the recent crisis, saying only that "India will fight, live, work and win as one" at a press conference that made no mention of negotiations to cool down the heated feud.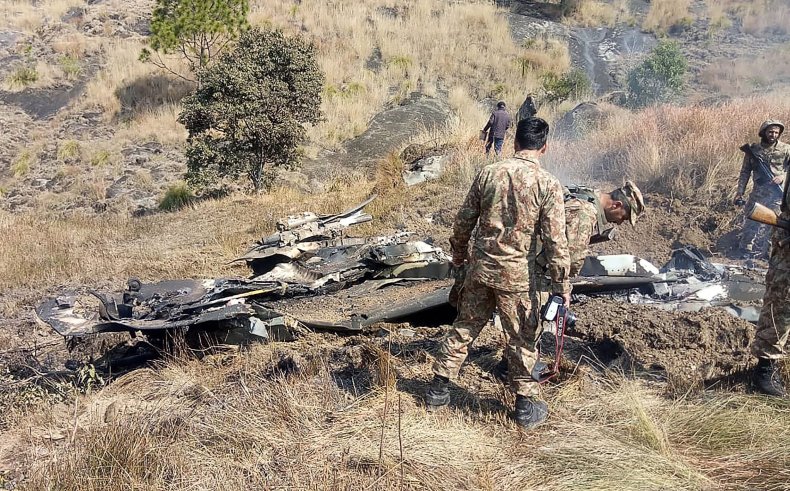 The South Asian rivals, divided by the bloody 1947 partition of India, command two powerful militaries armed with nuclear weapons that remain a constant source of concern for international powers. Pakistan was believed to have a nuclear stockpile of about 140, with India having an estimated 130, according to the Federation of American Scientists.
Neither nation was a signatory to the 1968 Treaty on the Non-Proliferation of Nuclear Weapons, and both were among the most recent nations to test their weapons of mass destruction, followed only by North Korea. India and Pakistan both have methods of delivering strategic strikes by land and air, but the former was part of an even more exclusive club, being one of only five powers to have a nuclear submarine capable of launching nuclear-capable missiles up to 435 miles away. The others are the United States, Russia, China and France.
New Delhi far outspends Islamabad on defense, devoting some $48.4 billion to its rival's $9.7 billion, according to the Lowey Institute's 2018 Asia Power Index, which ranked India fourth and Pakistan 14th in terms of strength and influence. India, the world's second-largest population, also outnumbers Pakistan in terms of manpower with 2,798,800 military and paramilitary forces versus 935,800.
Citing figures compiled by the Institute for International and Strategic Studies, Al Jazeera reported Thursday that India has 3,565 battle tanks, 3,100 infantry fighting vehicles, 336 armored personnel carriers and 9,719 pieces of artillery. Pakistan has 2,496 tanks, 1,605 armored personnel carriers and 4,472 artillery guns, including 375 self-propelled howitzers.
In the air, India could mobilize 814 combat aircraft, nearly twice that of Pakistan, which has 425. India also has a much larger fleet, including an aircraft carrier, 16 submarines, 14 destroyers, 13 frigates, 106 patrol and coastal combatant vessels and 75 combat-capable aircraft. Pakistan, which has much less access to the sea, commands nine frigates, eight submarines, 17 patrol and coastal vessels and eight combat-capable aircraft.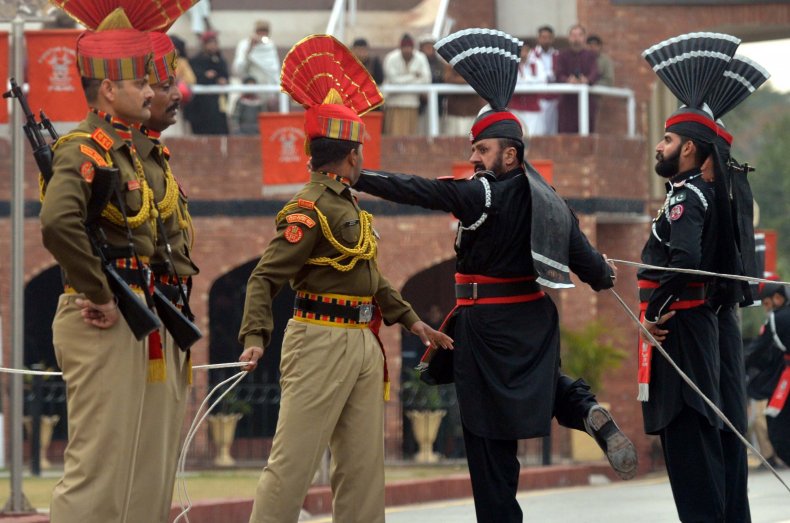 Global Firepower's 2018 rankings placed India fourth in terms of overall military capabilities, behind only the U.S., Russia and China. Pakistan came in 17th, below Israel and above North Korea—the two other nuclear-suspected nations that have refused to sign the Nuclear Non-Proliferation Treaty.
As for international allies, the two countries were split by a Cold War–era rivalry between Russia and China. Moscow and New Delhi have long enjoyed close ties that were demonstrated by India's recent purchase of S-400 surface-to-air missile defense systems in defiance of Washington's sanctions. Beijing has invested heavily in Islamabad, seeing it as a vital node in the global One Belt, One Road initiative.
Russia and China have called for calm and restraint, as has the U.S. In remarks that followed his Hanoi, Vietnam, summit with North Korea, President Donald Trump told reporters that his administration has been in contact with India and Pakistan. He said that current tensions were hopefully "going to be coming to an end" and that peace was "probably going to be happening."