Indiana Makes Not Wearing Mask a Class B Misdemeanor, Punishable by 6 Months in Jail
The Governor of Indiana has announced all residents and visitors in the state will be required to wear face coverings such as masks in public or risk facing a criminal charge.
Governor Eric Holcomb is due to sign an Executive Order which will mean a statewide mask requirement would take effect in Indiana on July 27.
Those who don't follow the new order could be charged with a Class B misdemeanor, which is punishable by a fine and up to six months in jail.
Holcomb said that by "masking up, we can and will save lives and slow the spread of COVID-19" in the state.
The mandate will require everyone over the age of 8-years-old to cover their faces at all indoor spaces, public transport and vehicle services such as taxis, as well as outdoor public spaces when you can't socially distance from those who you do not live with.
Face coverings will be required in schools for students in third grade and above, as well as all teachers, other school staff and visitors.
Exceptions will be made for medical purposes, disabilities, exercising, eating and drinking.
While failure to wear a mask will be considered a misdemeanor offense, Holcomb assured that the "mask police will not be patrolling Hoosier streets."
He told a press conference: "We are going to continue to try to appeal to Hoosiers to do the right thing."
In a statement, Holcomb said that the enforcement of the face coverings will instead focus on educating those on the scientific benefits of wearing a mask through the outbreak.
Holcomb said a penalty can be levied under the authority of state law, but local governments may impose more restrictive guidelines.
The move has been met with opposition by officials throughout the state.
Martinsville Police Department Chief of Police Kurt Spivey said refusing to wear a mask in public "does not constitute a crime or an enforceable action by the police" and no officer will be dispatched to calls solely complaining of an individual not wearing one.
Spivey instructed residents to call the state or county health departments to file complaints about people not wearing masks, rather than calling police.
He also suggested that businesses or organizations may refuse service to someone not covering their face and ask them to leave. If the individual refuses when asked, they can be reported for committing criminal trespass.
Attorney General Curtis Hill said Holcomb should call a special legislative session to consider a statewide mask mandate, rather than issuing an executive order.
"Scientists tell us that wearing face masks is an effective means of helping prevent the spread of the novel coronavirus that causes COVID-19," Attorney General Hill said in a statement.
"The wisdom of wearing masks—or of laws requiring such measures—is not the issue here. Rather, the issue is whether we are following the proper and constitutional processes for enacting laws and whether we are respecting the distinct roles of each branch of state government."
Newsweek has contacted Holcomb's office for comment.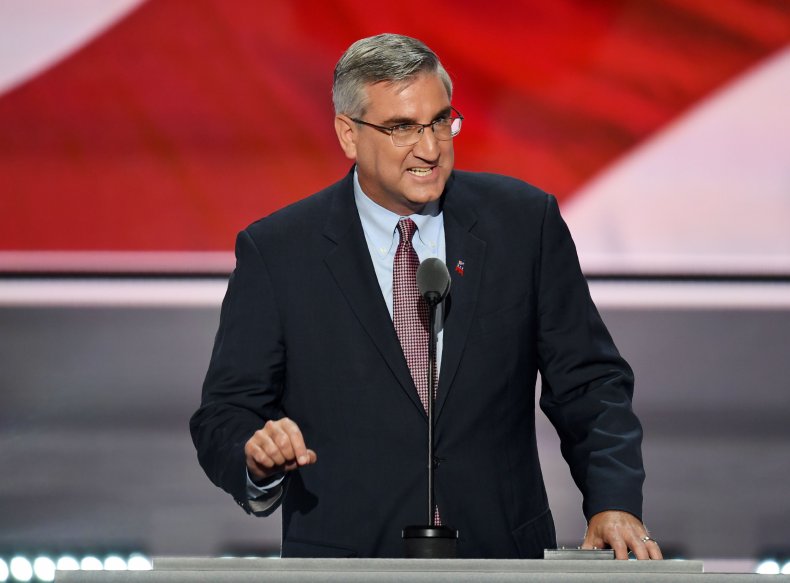 Holcomb said requiring masks in public is about "lives and livelihoods" as well as ensuring the state can remain open as guidelines continue to be lifted.
"I want to stay open. I want to continue to not just make sure that it's safe to go back, whether it's school or it's work. But that we have the ability to get our economy still moving," Holcomb said.
There are more than 58,700 confirmed cases of COVID-19 in Indiana, with at least 2,700 deaths according to Johns Hopkins University. More than 1.2 million people have managed to recover from the virus in the U.S.
The chart, provided by Statista, shows the percentage of Americans who say they now wear a mask in public.