Indiana Police Dept Fires Officer Who Participated in Neo-Nazi Internet Chat
An Indiana police department on Saturday announced that one of their officers had been fired for participating in a neo-Nazi internet chat forum in 2016.
In a press release, Chief Patrick Flannelly said the Lafayette Police Department's official Twitter account was tagged in a tweet on Friday night that contained information about Joseph Zacharek, a recruit officer. The tweet alleged that Zacharek participated in a an online neo-Nazi chat forum called "Iron March" four years ago.
"Our Internal Affairs Division opened an immediate investigation to determine if this report was credible," Flannelly said. "The investigation has determined that Zacharek did participate in this online forum and that the information that was provided to LPD was accurate and credible."
Zacharek's employment was terminated amid the probe, according to the police chief, because his "comments were not in harmony with the spirit of cooperation and inclusion in the community that the Lafayette Police Department values."
Lafayette Police Department Lieutenant Matt Gard told Newsweek on Saturday that the investigation is still ongoing even though the employee has been terminated. "Our next goal will be to determine if this information was something we could have publicly discovered on our own, but currently it does not appear that way," Gard said.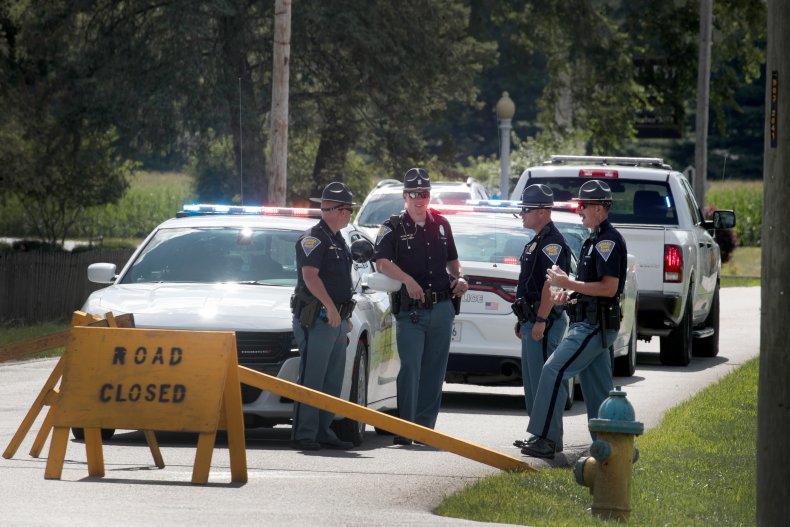 The ousted officer was hired this June and has been working in a training environment. He hasn't been exposed to the public.
"The Lafayette Police Department conducts very thorough and complete background investigations on all potential employees, which includes a complete review of personal social media accounts," Flannelly said. "While this information may not have been accessible through our investigative processes, we are appreciative that it was brought to our attention."
Zacharek's firing comes days after an Ohio officer was terminated from his position for flipping off Black Lives Matter protesters at the Cleveland presidential debate on September 29. Corporal Michael Spuzzillo was let go from the department after attending a pre-disciplinary hearing on October 14, according to local news.
The ousted officer violated Shaker Heights Police Department orders because of an "inability to control" his impulsivity," Police Chief Jeffrey N. DeMuth said in a letter.
"Your actions undoubtedly risked the safety and well being of your teammates and the citizens in attendance at the protest," DeMuth said. "A disregard for the mission of the police department, the culture of the city you work in, and the overall national climate have brought an unmistakable and immeasurable embarrassment to the department and city."
From New York to California, tens of thousands of protesters have taken to the streets to demand substantive action against alleged police brutality and systemic racism. The ongoing unrest was sparked by the death of George Floyd in police custody on May 25.