Indiana Inmate Stabs Prison Officer to Death, Leaves Another in Serious Condition
A prison officer in Indiana has died after being stabbed by an inmate during an attack that also left another staff member in a critical condition.
The inmate assaulted the two correctional officers at the Indiana State Prison in Michigan City at around 2:40 p.m. on Friday in a common area, Indiana State Police Sgt. Ted Bohner said in a press release.
Both officers were rushed to St. Anthony's Hospital in the city. One was pronounced dead and the other is in a serious condition, according to the statement. Their identities have not yet been revealed by police.
Tymetri Campbell, 38, an inmate at the Michigan City Prison, faces several preliminary charges, including murder as the investigation continues.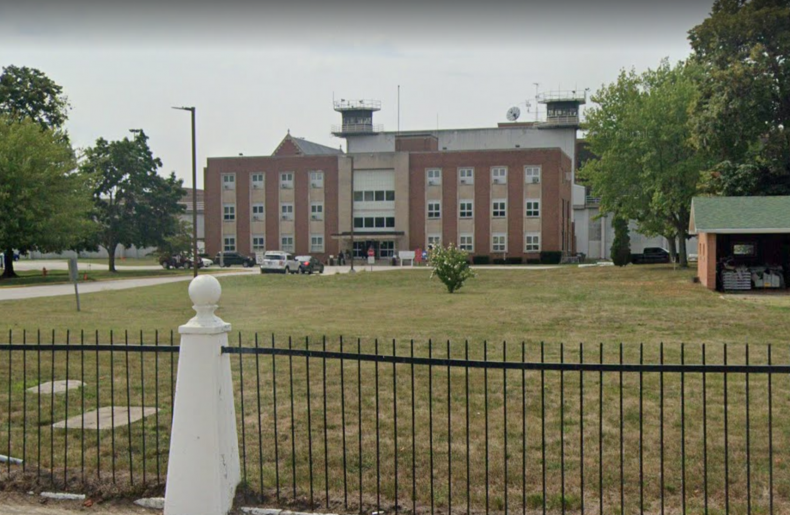 Formal charges stemming from this incident have yet to be filed, according to the local news station WRTV.
The Indiana Department of Correction (IDOC) said in a statement: "Indiana State Police is investigating an incident involving the lethal stabbing of one staff member and stabbing injuries sustained by a second staff member at the Indiana State Prison. Our thoughts and prayers are with our staff and their families. No further information is being released at this time."
Campbell is serving a sentence for three counts of murder out of Marion County, Indiana, according to the IDOC website.
He was arrested in Peoria, Illinois, by U.S. Marshals in 2002 in connection to the drug-related murders of three men in Indianapolis, Wish TV reported.
Campbell allegedly gunned down brothers Keith and Karl Resnover, 45 and 46, on September 17, 2002, according to the broadcaster. Another man, 26-year-old Anthony P. Johnson, also was found dead several hours later.
It comes days after an inmate died in the wake of being struck by a detention officer during a fight in a prison in Houston, Texas.
The Harris County Sheriff's Office said a detention officer reported an inmate had attacked him inside the Harris County Jail, located at 701 San Jacinto Street, at around 6:45 p.m. on Tuesday.
"The Detention Officer reported that he struck the defendant, a man in his early 20s, in self-defense, causing the defendant to fall to the floor," the sheriff's office wrote in a thread on Twitter.
The inmate was taken to the medical clinic at the jail, the sheriff's office said. He returned to his cell after being evaluated by staff.
But on Wednesday afternoon, the inmate was found unresponsive in his cell, the sheriff's office said. He was transported to an area hospital, where he was pronounced dead at around 1:30 p.m.
Earlier this month, three prison guards were charged Thursday with official misconduct in connection with abuse at a New Jersey women's prison, state Attorney General Gurbir Grewal announced.
"Shortly before midnight on January 11, more than 2 dozen officers at Edna Mahan women's prison forcibly removed inmates from their cells," Grewal said in a tweet. "As alleged in today's charges, the inmates were beaten and pepper-sprayed, in violation of state law and prison policy."
Luis Garcia, one of the officers involved in the cell extractions, was charged with striking a victim approximately 28 times without justification. Sergeants Amir Bethea and Anthony Valvano, two supervisors involved in the incident who oversaw the officers, were charged with official misconduct and tampering with public records.
If convicted of official misconduct, all three officers could face a mandatory minimum sentence of five years in prison.
Last year, an inmate at a prison in the Brooklyn area of New York died after he was pepper-sprayed by staff.
According to the U.S. Bureau of Prisons, officers at the Metropolitan Detention Center responded to an incident involving inmate Jamel Floyd at around 10 a.m. on June 2, 2020.
Floyd, 35, had barricaded himself inside his cell and was breaking his cell window with a metal object. Floyd is said to have become "increasingly disruptive" and had the potential to harm himself and others.
Pepper spray was then deployed against the inmate while staff removed him from the cell.
Medical staff were called to assess Floyd. He was found unresponsive and medical personnel worked to save his life.
Emergency Medical Services were also called and the life-saving procedures continued. Floyd was then taken to hospital, where he was pronounced dead.