India's Top Science Adviser Warns of 'Inevitable' Third Wave as Country Grapples With Soaring COVID Cases
India's top scientific adviser said on Wednesday the nation should brace for an "inevitable" third wave of coronavirus, as soaring infection rates grip the world's second-most populous country.
"A phase three is inevitable, given the higher levels of circulating virus but it is not clear on what time scale this phase three will occur. We should prepare for new waves," K VijayRaghavan, the Indian government's principal scientific adviser, said at a press conference Wednesday.
He added: "Scientists of India and all over the world are working to anticipate these kinds of variants and act against them rapidly by early warning and developing modified tools. It's an intense research program, happening in India and abroad."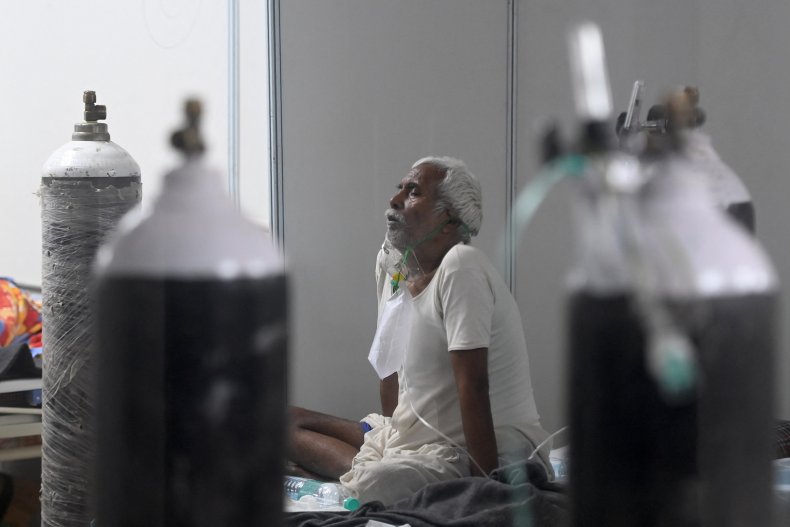 The top scientist's comments come as India added over 40,000 new COVID-19 cases and confirmed 3,780 deaths on Wednesday, according to data from India's Health Ministry. Hospitals and front line workers are overwhelmed and struggling to access supplies amid oxygen shortages, as local leadership looks to government officials to criticize their handling of the deadly surge.
According to the United National Development Report 2020, India's second wave is worse than its initial peak in September 2020 because state health officials did not plan for a resurgence of cases in a country that has only one hospital bed for 2,000 people, Business Insider reported. In addition, Reuters reported that a forum of scientific advisers organized by the government warned Indian officials in early March of a new and more contagious variant, but the federal government did not react by imposing effective restrictions that would curb the spread of the virus.
India's health ministry reported that the nation's death toll has now surpassed over 200,000. As bodies pile up, crematoriums have had to turn families away due to lack of space.
VijayRaghavan was forward-thinking in the press conference, though, speaking to the nation's pending battle with the virus' inevitable variants. He said that while vaccines are currently effective against all known variants, "new variants will arise all over the world" as well as India.
"Immune evasive variants and those which lower or increase disease severity will arise going ahead," VijayRaghavan said. "Variants are transmitted same as [the] original strain. It does not have the properties of new kinds of transmission. It infects humans in a manner that makes it more transmissible as it gains entry, makes more copies and goes on, same as the original."
The nation has vaccinated about 16 million people, according to the health ministry, but major cities have struggled to keep up with demand for shots and even been forced to close vaccination sites while resources are restocked. Misinformation has also caused confusion about the shots: the Serum Institute, the world's largest vaccine manufacturer, clarified on May 3 that media reports incorrectly suggested the government hadn't ordered new vaccine since March.
"To say that fresh orders have not been placed by Government of India is not correct," the company said in a statement.
Business Today reported that at the country's current inoculation rate, vaccinating 70 percent of all Indians—the herd immunity threshold—would take 2 years and 9 months.
Newsweek has reached out to the Serum Institute for comment.