Mumbai, India's Most Populous City, Closes COVID Vaccine Sites After Running Out of Shots
As the country toils with a surge of infection, India's most populous city has stalled COVID-19 vaccinations starting Friday due to low supplies.
Mumbai's government announced that 94 vaccination centers in the city would be closed from Friday through Sunday due to "non-availability of vaccine stock," according to a tweet the Brihanmumbai Municipal Corporation (BMC) posted Thursday evening.
"All efforts are being made to make more stock available & resume the drive," BMC's tweet reads. "We urge Mumbaikars to cooperate with BMC."
In the city of roughly 12 million people, the weekend vaccination drive was scheduled to start May 1 and was open to individuals aged 18 to 44. The statement from BMC said that vaccinations for this category are now likely to be postponed unless fresh supplies arrives.
"We were told on Wednesday night that we would get around 75,000 vials of vaccine. With such a low supply, the BMC opened only some vaccination centers while others were kept closed [on Thursday]," Suresh Kakani, additional municipal commissioner said in BMC's statement, according to Yahoo News.
"Out of the total stock, we have used up some 50,000 vials till this evening. If we do not get more doses, we will have to suspend the vaccination drive," Kakani said earlier Thursday. According to data from the Maharashtra Health Department cited by Yahoo News, only 26,610 people had received a shot as of Wednesday.
"Please wait till we have adequate vaccine stock and you can get your jab without having to stand in long queues. We will continue to put out more details," Ashwini Bhide, additional municipal commissioner, said in a tweet on Thursday. Bhide urged residents to wear a two face coverings, adding that all senior citizens in Mumbai should not stand in long lines for vaccines and those who had already received one dose should not worry because they are "reasonable protected" from infection.
"Vaccine is in short supply just for now," Bhide wrote. "But be rest assured [that] all 45+ years citizens [will] eventually get vaccinated."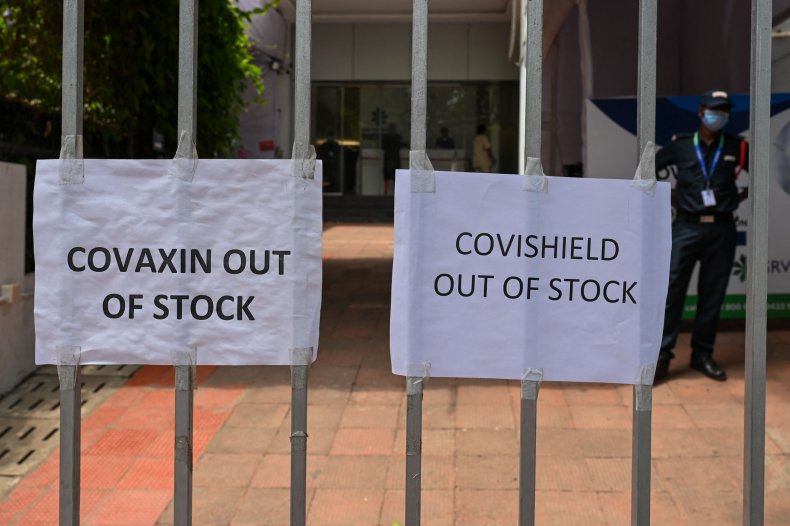 The stalled vaccinations comes as India's Supreme Court noted the country's health care system had reached a "breaking point," NBC News reported. The high court said Friday that retired health care workers could be asked to return to work to relieve the system and urged for a "national immunization policy" to provide shots for the poorest residents.
The court also said that politics should not trump a humanitarian response, according to Time Now News. Indian Prime Minister Narendra Modi encouraged Indians to participate in the elections in West Bengal despite the current public health situation, saying in a tweet Wednesday: "I call upon people to cast their vote and enrich the festival of democracy."
Meanwhile, Modi's home state of Gujarat announced it would begin a vaccination drive for residents aged 18 to 45 in the hardest-hit areas on Saturday, Reuters reported.
And as the nation's health infrastructure reaches a critical point, more people are scrambling to get a shot. One official said to Yahoo that people were initially hesitant to get the vaccines but amid spiking numbers of COVID-19 deaths, vaccination centers have been overwhelmed with long lines. India recorded 357,000 new daily infections and over 3,000 daily deaths as of Friday morning, according to the New York Times tracker. These numbers are considered an undercount because many people are dying without ever getting tested.
"What we are seeing is nothing short of an apocalypse," Dr. Farah Husain, head of a COVID-19 ICU unit at Lok Nayak Hospital in New Delhi, told CNN on Friday morning. "We've had patients rushed—being rushed in. Almost wards getting filled up overnight—90 patients in less than 12 hours."
Mumbai is not the only city in India to run out of vaccine, and only about 9 percent of the nation's 1.4 billion people have had a dose, Reuters reported. Delhi's chief minister told residents not to show up for vaccines on Saturday because supplies had yet to arrive, meanwhile Karnataka state postponed an adult vaccine drive intended to start Saturday.
The international community has started to step up relief efforts. The U.S. is sending over $100 million worth of supplies to India and has redirected 20 million AstraZeneca vaccines to India, Reuters reported. An initial batch of Russia's Sputnik V vaccine is set to arrive on Saturday.
Earlier this week, U.S. Secretary of State Antony Blinken announced that Americans delivered a first round of support to India: "Just as India came to our aid early in the pandemic, the U.S. is committed to working urgently to provide assistance to India in its time of need."