College Failed to Tell Indigenous People of Human Remains, Sacred Items
More than 250 boxes filled with skeletal remains from dozens of indigenous tribal ancestors and sacred artifacts were discovered in the University of North Dakota's (UND) basement earlier this year, university officials announced Wednesday.
UND is required to report any Native American human remains or sacred items it has encountered to a federal committee. Despite the 32-year-old Native American Graves Protection and Repatriation Act (NAGPRA) law, current university officials only learned of the items this year.
Native News Online reported the remains dated back to the 1940s through the 1980s, and some could have been seized directly from sacred burial mounds. The university is now working to repatriate the remains and items.
The discovered artifacts include headdresses, war bonnets and a ceremonial pipe, according to UND. Since the discovery, tribes have assisted the university with moving the remains and items to a temperature-controlled location and have begun conducting necessary spiritual practices.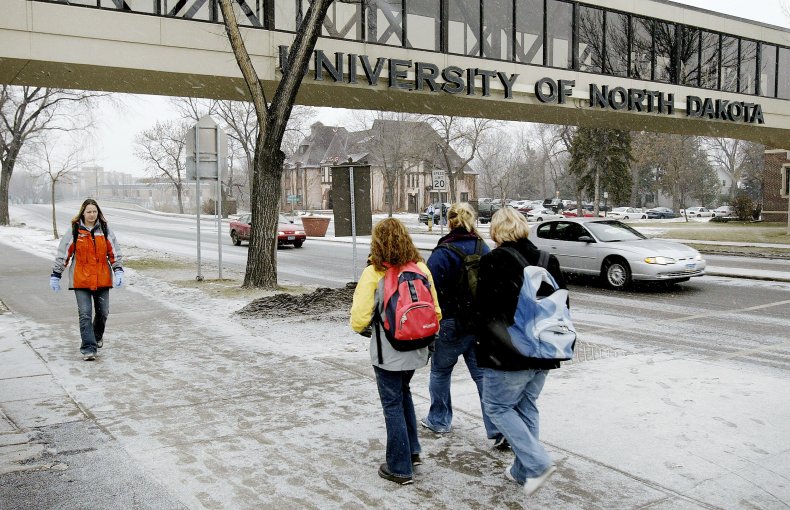 "When the federal law known as the Native American Graves Protection and Repatriation Act (NAGPRA) was approved in 1990, the University had a responsibility to return ancestors and sacred objects to their tribal lands. Although this effort inexplicably fell short at UND, we are fully committed to righting this wrong," UND President Andrew Armacost said in a statement.
"On campus, we have formed a NAGPRA Compliance Committee to work with tribal representatives in guiding our repatriation efforts, explaining cultural protocols, and assisting us in meeting the requirements of state and federal laws."
Native News Online reported that school faculty discovered the remains and cultural items stored in the basement of a "derelict anthropology building" while searching for a missing sacred item. UND Professor Laine Lyons (Turtle Mountain Band of Chippewa Indians) said she and fellow staff immediately alerted the university of its findings.
"At that moment, my heart sunk into my stomach," Lyons told the outlet. "It was at that moment that I knew we were at another institution that didn't do the right thing."
Lyons said she wondered how the incident happened as the law requires UND to catalog items and report to a federal committee. Armacost said that the noncompliance was "inexplicable."
The university is beginning the process of returning the remains and objects to indigenous communities.
"Our primary goal now is to work diligently until all ancestors and sacred objects are returned home, regardless of how long it takes," Armacost said in his statement. "Upon learning of this discovery, we reached out immediately to representatives from a half-dozen tribal nations. That number has now grown to thirteen and will continue to expand."
Tribal nations requested the university withhold an announcement on the discovery until initial communications with the involved communities were complete.
"We didn't want a lot of media until we came up with a solid plan," Sisseton Wahpeton Oyate tribal historic preservation officer Dianne Desrosiers told Native News Online. Sisseton Wahpeton Oyate is one of five North Dakota tribes involved in consultation with the university. "We were able to get [the remains] and move them to a secure area without a whole lot of fanfare."
The university has hired Native American Graves Repatriation and Protection Act (NAGPRA) consultant Jim Jones (Leech Lake Band of Ojibwe) to begin cataloging and researching tribal affiliations for each ancestor and object. The process could take years, according to Armacost's statement.
UND also launched a repatriation webpage to explain the process of returning the items and remains to tribes. The webpage provides on-campus support for students and staff impacted by the discovery.
Newsweek reached out to Indian Affairs Commission Executive Director Scott Davis for comment.