Indonesia Tsunami: Locals Warned of More Waves After Volcano Begins Erupting Again, as Death Toll Reaches at Least 373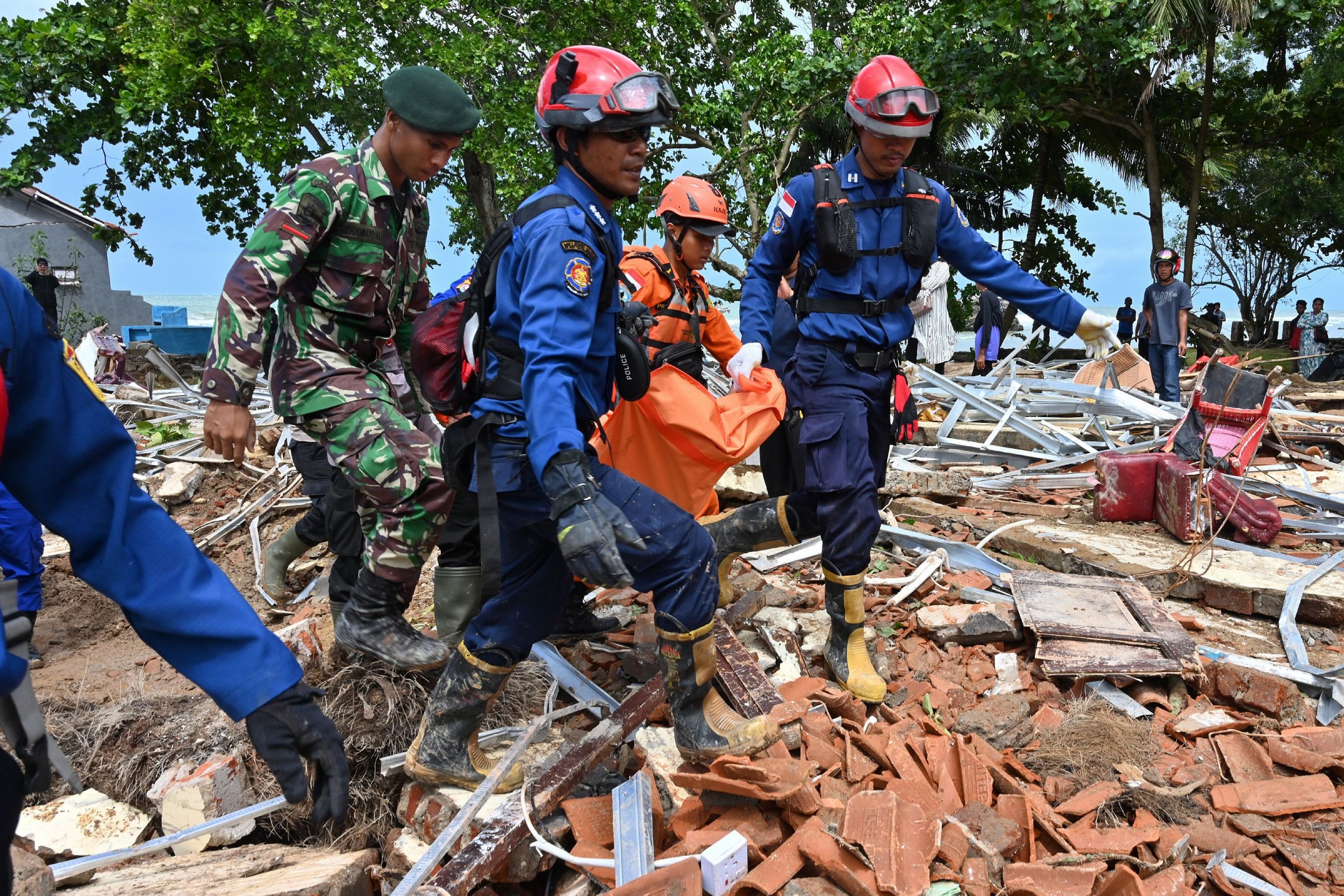 Indonesians have been warned to stay away from coastal areas amid fears that the erupting Anak Krakatau volcano may cause further tsunamis after giant waves killed hundreds on Saturday.
As of Monday afternoon, at least 373 people were believed to have died this past weekend when a tsunami caused by the volcano's eruption swamped coastal towns on the islands of Sumatra and Java, the BBC reported. At least 128 were reported missing, and 1,400 people were reported injured.
Related: Tsunami hits Indonesia: Hundreds killed after Krakatoa erupts, waves strike beaches
The giant waves are thought to have been caused by undersea landslides, triggered by the partial collapse of the volcanic island. On Sunday, the volcano—which sits in the Sunda Strait between Java and Sumatra—began erupting again, sending ash and smoke high into the air.
Sutopo Purwo Nugroho, the head spokesman for Indonesia's disasters agency, warned that further tsunamis were likely. "Recommendations from [the] Meteorology, Climatology and Geophysical Agency are that people should not carry out activities on the beach and stay away from the coast for a while," he said.
Saturday's tsunami hit coastal towns at around 9:30 p.m. as residents celebrated a local holiday. Though the volcano—which emerged from the crater left by the enormous eruption of the Krakatoa volcano in 1883—has been erupting since mid-June, there was no advance tsunami warning.
Sutopo explained on Twitter that the country's early warning system was set up to monitor earthquakes, not undersea landslides or volcanic eruptions.
He also admitted that Indonesia's early warning system had not been operational since 2012 due to a combination of a lack of funds, vandalism to buoys and technical faults. "Indonesia must build an early warning system for tsunamis that are generated by underwater landslides & volcanic eruptions… [Landslides] triggered the 1992 Maumere tsunami and the Palu 2018 tsunami," Sutopo wrote.
While authorities warned of the continued danger, emergency services were still battling through blocked roads to reach the hardest-hit communities. At least 57 people are still missing, and the death toll is expected to rise.
More than 600 homes were damaged as well as some 60 shops and 420 vessels, The Guardian reported. Kathy Mueller from the International Federation of Red Cross and Red Crescent Societies told Agence France Presse that the death toll would likely rise as emergency teams developed a clearer understanding of the disruption.
"The situation, and the death toll, will remain fluid over the next days and even weeks," she told the agency, noting that aid workers were preparing for the possible outbreak of disease in the areas affected.