Industry on HBO has come to an end with multiple characters' futures hanging in the balance as they found out about their futures in the firm. No one's future, however, looked as uncertain as that of Robert (played by Harry Lawtey), last seen rather erratically driving his motorbike after bailing out of his interview with a bloody nose caused by (according to him), "anxiety."
One thing is for certain, however: Viewers will get to find out what the future holds for Robert and the rest of the cast. Industry has already been renewed for Season 2, and its creators Mickey Downs and Konrad Kay are already in discussions about what will happen next.
Speaking to Newsweek via Zoom from his parents' home in Oxford, Lawtey says that he thinks there are only two ways his character can go in the future: up to salvation or down to damnation. Which one it is entirely depends on where he might be heading at the end of the finale.
"We definitely leave Robert in a place of uncertainty. I think he is questioning himself and questioning his position at the bank," Lawty said. "Yes, hopefully, those questions are to be answered [in Season 2].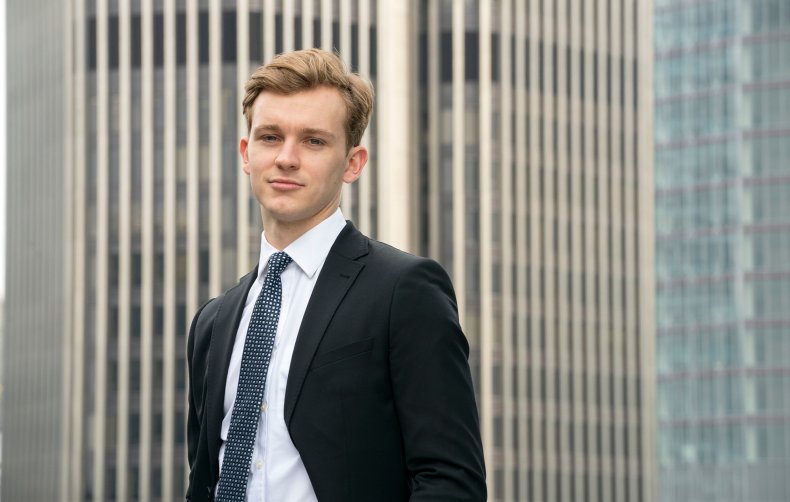 "It could go on in two ways. First and foremost, we do not really know whether he has been kept on by the bank. So, that decides everything, [but] he is going to go up or down in a big way, I think. He does not do anything while half-measures. So, he is either going to continue to spiral into something very despondent and something possibly quite dangerous for him. Because if he carries on, on the course that he is on, it does not look good."
Alternately, he could get the job, and finally start to fix some of his problems. Lawtey aid of this, "if he is able to do that, how high can he go? Can he really be successful in this environment? Can he really compete with others even though in himself he is insecure about his own personal disadvantages? Could he be a success at the bank? I think it is going to be big either way."
Speaking of his character's (literally) bloodsoaked meltdown, meanwhile, he said: "I think in that moment it is probably his nose bleeding for some other more dubious reasons. But also given my understanding of Robert, I will not be surprised if that is something that happened as a child and he has just quickly recalled it in a useful way. That is probably some very shy, sensitive thing that you used to do as a kid."
However, as of yet, he is uncertain whether his character got the job or not, with some wanting to fire him for being fairly useless, especially compared to his co-workers like Harper (Myha'la Herrold), while others want to keep him on because he is essentially male, white and (fairly) straight.
Per Lawtey, having to conform to this image is what has caused so many of Robert's problems. He said: "I always thought of Robert as a person, who despite his more unlikable qualities, his bravado and his arrogance and his sheer kind of confidence. I think behind all that. It is a young person who is still working out who he wants to be.
"Ultimately, I think a person who has been let down in his lifetime, by several people who maybe should not have done and who had more responsibility to him than they should. I think hopefully there is little glimpses of that throughout the series. I would love to have the opportunity to explore that more."
The show, of course, could be hinting that it is widening its scope for Season 2 as it follows people like Gus to new roles after his epic brush-off of the entire financial system in his interview.
In a previous interview with Newsweek, meanwhile, Industry creators Downs and Kay said of Season 2, "we always think about it. You think about it even before we started filming season one. We were thinking about what these characters could be in a longer timeframe."
Lawtey said that conversations have started about what Season 2 will look like. He said: "I have not had any firm conversations. But I spoke to the writers and they said they assured me that they have got sort of big plans for the direction they are going to take in. So, I am still not in the know yet. But I am excited to see what they come up with the show."
Industry Season 2 is coming soon to the BBC and HBO. All eight episodes of Season 1 are streaming now on HBO Max.