'Inexcusable Failure': Obama Ethics Chief Slams Biden for Not Evacuating More Afghan Allies
Former President Barack Obama's ethics chief slammed the Biden administration Sunday for failing to adequately plan evacuations to rescue more of America's Afghan allies—as Taliban insurgent forces entered the capital city of Kabul and tightened their grip on Afghanistan.
"The evacuation of Afghans who supported the US should've cast a wider net and been better planned. That's an inexcusable failure of this administration. When images of executions start spreading, let's also remember that Trump wanted to invite Taliban warlords to Camp David," tweeted Walter Shaub, who served as director of the U.S. Office of Government Ethics between 2013 to 2017.
In a rapid advance that has apparently stunned the White House, the Taliban has captured at least 26 of Afghanistan's 34 provincial capitals in less than two weeks. Just four days ago, U.S. defense officials had predicted that it would take Taliban insurgents between one to three months to isolate Kabul and take it over.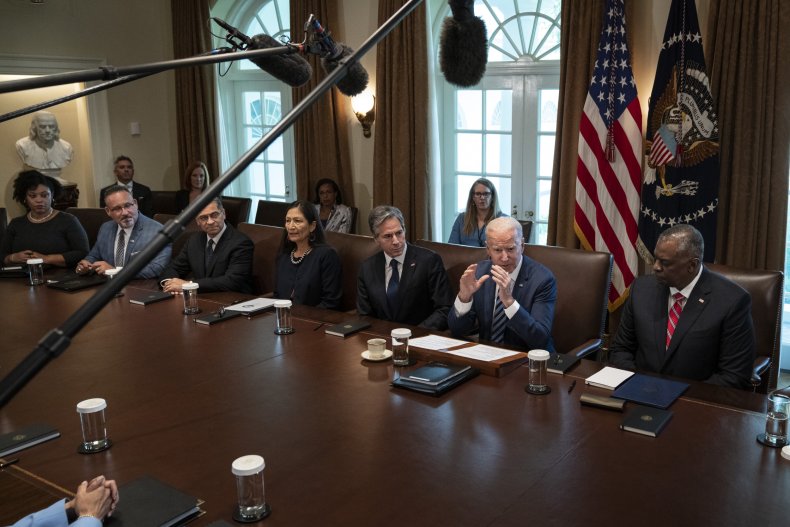 As Taliban forces enter Kabul, a slow-moving U.S. effort to evacuate Afghan allies has developed into a humanitarian crisis, with the Biden administration scrambling to rescue and relocate thousands of at-risk Afghans affiliated with the U.S. government.
Responding to the crisis, Biden increased the number of troops being deployed to assist "an orderly and safe drawdown" to 5,000 on Saturday.
Department of State spokesperson Ned Price said Friday that about 1,200 Afghans have been evacuated to the U.S. under "Operation Allies Refuge," with some heading to Virginia and others being transported directly to U.S. hosts.
The Biden administration has committed to rescuing and relocating 4,000 additional vulnerable Afghans who are waiting on their visa paperwork to be finalized before they flee, according to The Washington Post.
Thousands of others who are still in the early stages of their applications face increasingly grim prospects. With the Taliban retaking territory faster than anticipated, many have doubted the administration's ability to rescue all allies given the narrowing timeframe.
In a letter on June 4, a bipartisan group of 21 lawmakers urged Biden to "immediately" evacuate the thousands of Afghans who have worked with the U.S. government, saying they were "increasingly concerned" that he had not yet directed the Defense Department be mobilized to protect Afghan partners from Taliban retribution.
"If we fail to protect our allies in Afghanistan, it will have a lasting impact on our future partnerships and global reputation, which will then be a great detriment to our troops and the future of our national security," they wrote.
Newsweek reached out to the White House for comment.