'Inexcusable' Trump Impeachment Vote Earns Republican Rep. Tom Rice Censure by S.C. GOP
The South Carolina Republican Party voted to censure one of its own members on Saturday, Representative Tom Rice, for his vote to impeach former President Donald Trump earlier this month.
The symbolic move offers a formal criticism of Rice's decision to impeach Trump for a second time over his role in inciting a violent attacked on the U.S. Capitol on January 6.
The state GOP said Rice's impeachment vote "betrayed" his party's constituents by falling in line with "unprincipled Leftists."
"In the first and most consequential vote of the new session, Mr. Rice sided with (Democratic House Speaker) Nancy Pelosi and the unprincipled Leftists by voting to impeach the President, betraying the Republican voters that supported Mr. Rice enthusiastically during the last two election cycles," the censure resolution said, according to The Post and Courier.
Rice, a Myrtle Beach Republican starting his fifth term in Congress, has also received some backlash directly from constituents in his district. In his first phone town hall after voting to impeach Trump, a voter from his district called the decision "inexcusable."
"Next time around, I don't think you're going to get elected," said the constituent, according to CBS News. "I'm not happy with you. And I certainly won't vote for you again. So if you can figure out some way to redeem yourself, I'm all ears."
Drew McKissick, the chairman of the South Carolina GOP, said that Saturday's censure resolution was meant to show that the party "wholeheartedly disagrees" with Rice's decision.
"Congressman Rice's vote unfortunately played right into the Democrats' game, and the people in his district, and ultimately our State Executive Committee, wanted him to know they wholeheartedly disagree with his decision," he said in a statement.
The measure was ultimately approved by a voice vote, with 43 members in favor of the resolution, zero against it and two abstaining, The Post and Courier reported.
In response to the vote, Rice defended his position to impeach Trump and criticized the GOP for "cowering" before the former president.
"I think the South Carolina Republican Party has forgotten its own creed that says 'I will cower before no man save my God.' It seems to me they are cowering before Donald Trump," Rice told The Post and Courier.
"If the president who did what Donald Trump did that day and sent a mob to stall Congress and the result was an attack on the legislative branch of the United States Government, that is a clear violation of the constitution," he continued. "It's absolutely a high crime or misdemeanor. I don't care if the president that does that is Republican or a Democrat, I'm voting for impeachment."
In an interview with ABC 15 published on January 26, Rice added that "it would have been so easy" to go along with fellow Republicans and vote against Trump's impeachment, but that he instead chose to "defend the constitution."
"I don't take an oath to Donald Trump. I don't take an oath to the Republican Party. I take an oath to defend our Constitution and that's what I will do," he said.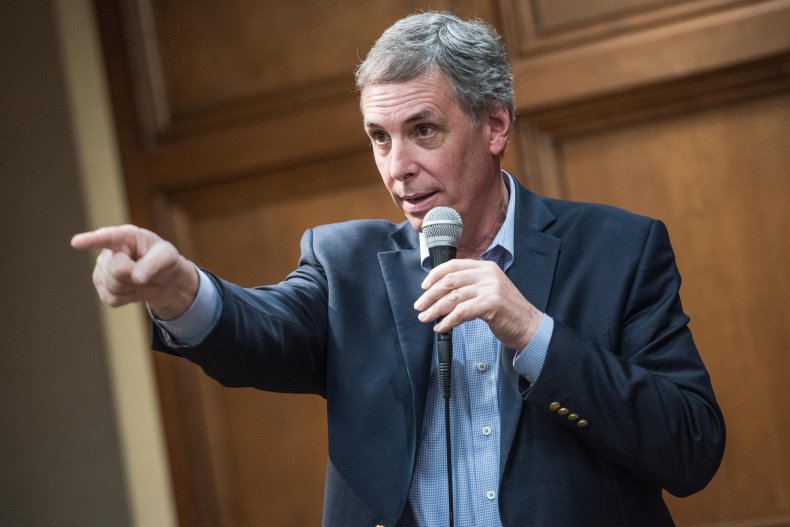 Though Saturday's censure resolution does not come with any further punishments, the move symbolizes a consistent divide between Trump loyalists and those who stand against him.
The last time the South Carolina GOP voted to censure an elected official came over 10 years ago, when they approved one for then-governor Mark Sanford after he admitted to traveling to Argentina for an extramarital affair, The Post and Courier reported.
But South Carolina is not the only state to support reprimanding officials who split with Trump.
Last week, the Arizona GOP voted in favor of similar resolutions for former U.S. Senator Jeff Flake and Cindy McCain, the widow of the late longtime U.S. Senator John McCain, for criticizing Trump.
Wyoming Representative Liz Cheney, the No. 3 House Republican, has also faced broad blowback in her state over her vote to impeach Trump, and Republicans in Massachusetts are seeking to censure Governor Charlie Baker for his support in impeaching the former president.
Rice's decision to vote for impeachment ultimately came as a shock to state Republicans, due to his history of supporting Trump.
"This is the kind of thing you've come to expect from Nancy Pelosi and the Democrat leadership, but it was really disappointing to see any Republicans approve of it, participate in it in any shape, form or fashion, and I think it plays into the Democrats' game," McKissick said, according to The Post and Courier.
Newsweek reached out Rice's office for additional comment. The South Carolina GOP did not offer a comment beyond its official statement.