Influencer Marketing Companies Have a Moral Obligation to #StopAsianHate | Opinion
As the country grapples with growing anti-Asian racism and violence—following the tragic shooting in Atlanta—many are starting to learn more about Asian American history.
In her book, The Making of Asian America, author Erika Lee wrote about the first recorded Chinese woman who arrived in the U.S. Her name was Afong Moy and she was 19 years old. She was brought on a trading vessel in 1834 by traders Nathaniel and Frederick Carne to promote the goods they were selling.
Afong was advertised as a "beautiful Chinese Lady" and put on display in an exhibition salon for eight hours a day. Her bound feet were "the source of great fascination of men and women alike" who paid 50 cents to view her. Her story is an important reminder that Asians were commodified for white consumption and financial gain since the beginning of this nation. That objectification continues today. Afong Moy was America's first Asian influencer.
From the early days of fashion blogging, women of Asian descent like Aimee Song and Wendy Nguyen were among the most successful. They amassed millions of followers and were able to monetize their online presence through affiliate programs. Each time a customer buys something after clicking a referral link from their websites, the bloggers makes money, as do the networks that track commissions. I used to work for rewardStyle, one of the most well-known influencer marketing companies.
Last Friday was a Virtual National Day of Action and Healing, but looking at rewardStyle's Instagram account LIKEtoKNOW.it—which has more than 3.7 million followers—it was business as usual. They are just one of many powerful companies online who choose to remain silent. The glaring omission may have gone unnoticed by others in the blogging community, but for me—a Korean American adoptee who left the influencer marketing space in favor of racial equity work—the indifference is palpable.
Following George Floyd's murder, a Black influencer named Tiffany Turner Moon called out rewardStyle on its noticeable silence. As many echoed Moon's sentiment, mounting pressure led the company to finally issue a statement.
"We are proud to lock arms with you and will not tolerate racism within our community," rewardStyle wrote. "We will continue to listen and use our platform to support you as you have always supported us."
It is surprising, given last year's commitment, that they have not used their platform to support Asian Americans. To be fair, rewardStyle did include a photo of an Asian American man in a collage during the National Day of Action last Friday. The Instagram story, which linked to their shoppable app's website read: "Currently Trending: Fanny Packs." The tone deaf content might have been humorous if lives were not at stake while profits were being made. Is it too much to ask for one informative #StopAsianHate educational post before returning to regularly scheduled fashion content?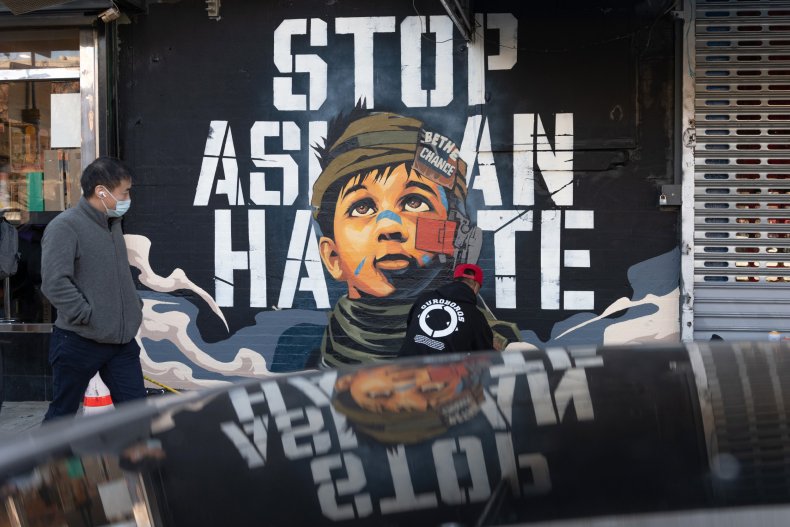 The request may seem small to some, but I know the potential weight it would carry. Not only could rewardStyle reach their 3.7 million Instagram followers with a message of solidarity, they would also be modeling allyship for content creators, each with their own extensive audience, as well as the "global network of 5,000 retail partners" the company boasts.
What a waste of influence.
In 2018, clothing brand Revolve came under fire for the lack of diversity in their #RevolveAroundTheWorld campaign. They did feature a significant number of Asian American bloggers in their events, which may explain why so many in the fashion influencer space are slow to speak out against anti-Asian racism or realize it even exists. This conditional proximity to whiteness and enforcing stereotypes like the model minority myth contribute to the historic invisibility of Asian struggles.
While representation is important, it is not enough to dismantle systemic racism. People must learn about the history of anti-Asian racism and the violent crisis it has led to today. We need white people to help amplify those messages. What better place to start than on the Instagram profiles of influencers who already have massive audiences? Who is more equipped to incentivize them to speak out than companies who help them earn income? Brands must do better so that bloggers feel equipped to do the same.
Revolve learned from its 2018 controversy and posted a statement last week to their 4.6 million Instagram followers that read, "We are incredibly saddened to see the violent attacks and hate crimes happening against the AAPI community across the country. We stand with you and we are united in the fight against racism."
Caring about people's lives and using a company's online influence are not mutually exclusive. We need a combination of both to #StopAsianHate.
Stephanie Drenka is the communications director for Dallas Truth, Racial Healing & Transformation. She is a Korean adoptee writer and 2021 Public Voices Fellow of The OpEd Project.
The views expressed in this article are the writer's own.