Infowars' Alex Jones Spreads Blame, Then Calls for Unity: 'We Need to Not Have a Civil War'
Conspiracy theorist Alex Jones, host of the far-right Infowars broadcast, has spread blame for the recent sedition charges laid against members of the Oath Keepers militia. In the same recent broadcast, he then quickly pivoted to making a call for unity, stating, "We need to not have a civil war."
In his broadcast, Jones asked why Ray Epps—an ex-Marine present during the January 6, 2021, Capitol riots—wasn't arrested.
Epps was caught on video telling people during the riots to "go into the Capitol." Conspiracy theorists allege that Epps was an FBI informant and that his name was removed from the FBI's Capitol Violence Most Wanted list, even though he wasn't charged with a crime.
Earlier this week, the House Select Committee on the January 6th Attack said that it had interviewed Epps, who told the committee that he has never been a law enforcement agent or acted on behalf of a law enforcement agency, the committee said.
Despite this, Jones said that because Texas Republican Senator Ted Cruz brought up Epps during a Senate hearing, the Department of Justice (DOJ) retaliated by arresting Stewart Rhodes, the founder of the far-right militia group, the Oath Keepers.
On Thursday, the DOJ charged Rhodes and 10 other militia members with the rarely-used seditious conspiracy. The DOJ alleges that they acquired firearms and armor in a conspiracy to "oppose by force the lawful transfer of presidential power" between then-President Donald Trump and then-President-elect Joe Biden on January 6, 2021.
"We've asked, 'Why isn't Ray Epps being arrested?'" Jones said in a recent broadcast. "And that's really what's happening here. Stewart Rhodes has been indicted for doing absolutely nothing and not calling for breaching the Capitol, to cover up for Ray Epps, because Senator Ted Cruz and others brought it up in Congress as was one of the top trending stories on Google and Twitter and Facebook and Instagram."
Jones then mentioned the hundreds of people arrested for allegedly participating in the January 6 riots, referring to them as "political prisoners" before blaming "the left" for trying to cause a "new civil war."
Jones said, "And so we have hundreds of people still in solitary confinement, we have political prisoners. We have the whole system running on domestic terrorism in 2022, and the elections coming up and the left trying to cause a new civil war, in their own words."
Jones' comments about the riot suspects being "political prisoners" echo those of other far-right politicians like Republican Georgia Representative Marjorie Taylor Greene. Greene and others contend that many of the arrestees were merely participating in a political protest rather than committing treason, insurrection or sedition.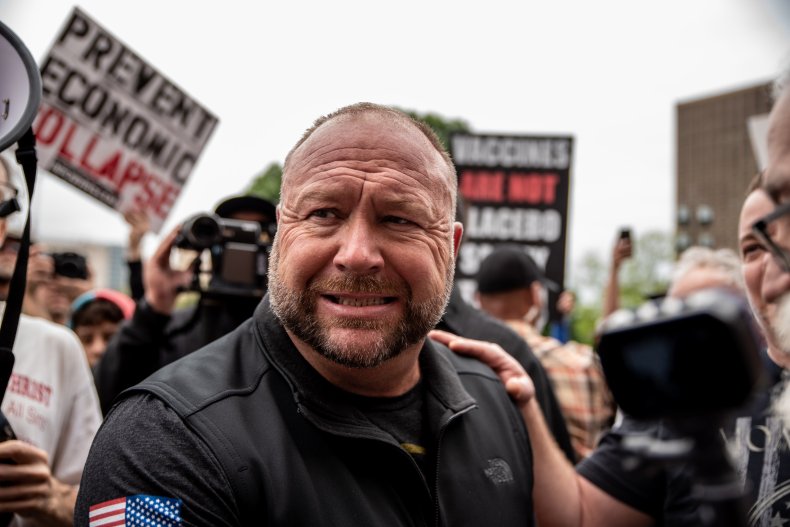 It's unclear what Jones meant when he said, "We have the whole system running on domestic terrorism in 2022," or which Democrat he believes has invoked "civil war, in their own words" recently.
Nevertheless, he continued, "This is crazy. We need peace. We need to come together and we need to not have a civil war in America."
On Tuesday, Jones was arrested in Texas for driving while intoxicated, the Travis County Sheriff's Office told The Wrap.
On Wednesday, six new families personally affected by the 2012 Sandy Hook Elementary School shooting filed defamation suits against Jones in Connecticut's Superior Court.
Shortly after the Sandy Hook massacre, Jones claimed that the shooting—which left 26 people dead, including 20 children ages 6 and 7—was a "false flag" hoax organized by the government to justify the confiscation of people's firearms. He said scenes from the shooting were re-created using "green screens" and that the children who died in the shooting and their parents were all fake "crisis actors."
The parents soon faced harassment and death threats from Jones' followers.
Jones has claimed on Infowars that the government is controlling the weather; Democratic politician Hillary Clinton runs a child sex ring out of a D.C.-area pizza restaurant (something known as Pizzagate); that the transgender rights movement is a plot to allow people to have sex with their cars; and that millions of undocumented immigrants illegally voted in the 2016 presidential election (echoing a baseless claim repeated by then-President Trump).
Newsweek contacted Jones for comment.