'Politics Is Evil': Marjorie Taylor Greene Says Prisons 'Torturing' January 6 Rioters
Georgia Representative Marjorie Taylor Greene proclaimed that "politics is evil" when discussing her recent visit to people jailed in D.C. in connection to the January 6 Capitol riot.
The Republican congresswoman made her comments while speaking to Steve Bannon on the former White House strategist's War Room podcast, also issuing a plea for Christians to go visit the jailed rioters.
"I'm calling on you Christians," Greene said. "If you're a Christian, get up, get off of your knees, depend on your faith in God, let him do the work that put your feet moving forward."
"Being a Christian means walking the walk, and that means you need to show up," she continued. "You see, you have to call and you have to show up in person. Go visit people in jail. They should never have to languish there. Demand to visit people like the January 6 defendants."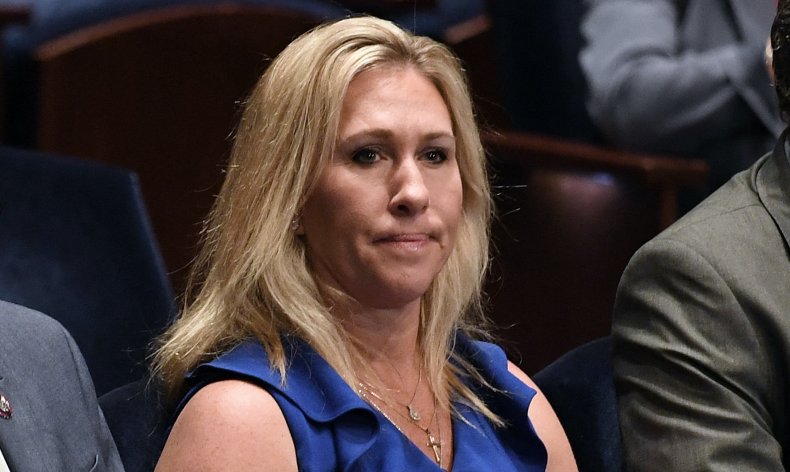 Greene recently visited those jailed in connection with the riot at the U.S. Capitol. During her conversation with Bannon, she called the inmates "political prisoners" and "patriots."
When Newsweek asked Greene her thoughts about the motives of the January 6 rioters, Greene responded, "I have one question for you. How many of these men were charged with insurrection?"
Greene also proclaimed, "Politics is evil" on the podcast, alleging that the U.S. government is "abusing," torturing, and committing "human rights abuses" against the inmates. She claimed that the inmates are facing conditions worse than those faced by the "terrorists" detained in Guantanamo Bay.
"Those men and those jailed that I met with last night are more patriotic than every single American in this entire country because they still love this country while the federal government is abusing them," Greene told Bannon.
"You should be outraged and disgusted that our government...wants to tear them down and beat them because they sing the national anthem every night at 9 p.m." she added.
In a series of tweets about her visit to the D.C. jail, Greene wrote, "I've never seen human suffering like I witnessed last night.... I'll never forget hearing their screams."
"They are suffering greatly," she continued. "Virtually no medical care, very poor food quality, and being put through re-education which most of them are rejecting."
In her conversation with Bannon, Greene expressed surprise that one inmate was allegedly unable to acquire medically necessary gluten-free meals without paying additional fees. She also claimed one inmate's meal of chili macaroni was "completely inedible and dangerous," "tasted and smelled of cleaning supplies" and contained pubic hair.
Jail officials told her, "All items are cooked and followed by recipe cards. No other items are added to the meals," Greene said.
She wrote on Twitter that she is "beginning a plan for real prison reform."
Those arrested in connection to the January 6 riot were suspected of trespassing on Capitol grounds while attending a protest-turned-riot. Several arrestees have said they were following the orders of former President Donald Trump to stop Congress from "stealing" the 2020 election by certifying now-President Joe Biden's win.
Trump's former attorney general, his former head of U.S. cybersecurity infrastructure, as well as multiple statewide audits and 60 court cases by Republicans, have all concluded that there's no evidence that the 2020 election was stolen.
Five people died during the January 6 riot and roughly 140 police officers were injured. The police injuries include a broken spine, a lost eye, lost fingers, brain damage, and multiple cases of PTSD. Two Capitol Police officers have died by suicide since the riot.
While ransacking the Capitol, the rioters shattered windows while trying to access congressional chambers, smeared feces in a hallway and stole computer equipment, potentially constituting a national security breach.
In Greene's past social media comments, she has advocated for violence against House Speaker Nancy Pelosi and former President Barack Obama, said that an airplane never hit the Pentagon during the September 11 terrorist attacks, accused former Secretary of State Hillary Clinton of slicing off a child's face and wearing it, and many other conspiracy theories.
Bannon has previously called for the beheading of FBI Director Chris Wray and federal infectious diseases expert Dr. Anthony Fauci.
On January 20, Trump pardoned Bannon from federal charges of conspiracy to commit mail fraud and money laundering. The charges stemmed from the We Build the Wall campaign, a $25 million GoFundMe crowdfunding campaign to help Trump construct a border wall between the U.S. and Mexico. Trump had originally claimed that the Mexican government would pay for the wall.
Bannon himself was alleged to have used over $1 million from the campaign for his own personal benefit. He was arrested for the charges in August 2020. He pleaded not guilty.