Infowars and other companies owned by Alex Jones are reportedly considering filing for bankruptcy after relatives of children of the Sandy Hook shooting brought lawsuits against the conspiracy radio host.
According to Bloomberg, Jones sought Chapter 11 protection for three of his companies, including conspiracy website Infowars, in Southern Texas.
The three companies each have estimated liabilities of $10 million, according to filings seen by the network.
Under the U.S. Bankruptcy Code, a successful case filed under Chapter 11 would allow the debtor to continue to operate their businesses and, with court approval, borrow money.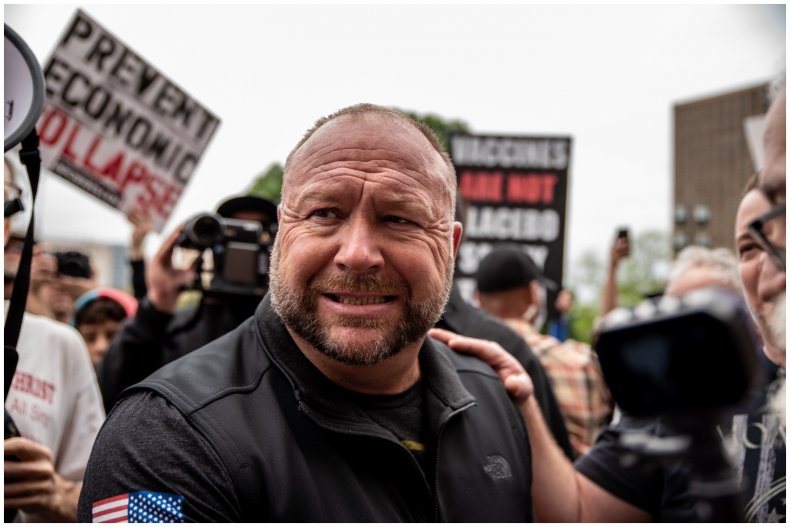 Last year, a defamation lawsuit in Connecticut ended in Jones being found liable after the radio host made false claims the 2012 shooting was a hoax and was motivated by a gun control agenda.
Another trial will determine how much Jones will have to pay, and the radio host was also found liable in three other lawsuits in Texas.
Newsweek has contacted Jones' legal team for comment.
The controversial radio host made repeated bogus remarks in the aftermath of the Sandy Hook shooting where 20 children and six staff members were killed, claiming that it was staged by politicians and that grieving parents were "crisis actors."
In previous court filings, seen by Newsweek, Jones' lawyers said their client did not dispute that the Sandy Hook shooting happened, but argued relatives were acting to "silence" his free speech.
Jones' Lawyer Norman Pattis previously told the Associated Press: "I had the impression watching the attack on Mr. Jones that this trial will be about something far greater than what happened at Sandy Hook.
"The trial's going to be about ordinary people's ability to say I'm not buying it, I want to raise questions, I want to draw my own conclusions."
Jones originally missed depositions, citing health issues, but Connecticut judge Barbara Bellis said there was insufficient evidence to prove he was not well enough to attend court.
In March, Bellis ruled Jones would be fined $25,000 and another $25,000 for each weekday he did not appear for questioning.
Newsweek previously reported Jones paid fines $25,000 and an additional $50,000 before he started to appear for questioning.
The deposition Jones later complied with was not over jail time, but for the upcoming trial that will determine how much money he owes in damages to the families.
Last year, Jones was found guilty "by default" after his lawyers produced insufficient evidence requested by the plaintiffs.
Earlier this year, families suing Jones rejected a settlement offer of $120,000 each and called it a "transparent and desperate attempt by Alex Jones to escape a public reckoning under oath with his deceitful, profit-driven campaign against the plaintiffs and the memory of their loved ones lost at Sandy Hook."