InfoWars Host Owen Shroyer Faces Charges Related to Capitol Riots
InfoWars host Owen Shroyer is facing charges for his alleged participation in the January 6 Capitol riots. Videos from that day show Shroyer within a restricted area of Capitol grounds.
On August 19, FBI special agent Clarke Burns filed criminal charges against Shroyer. The charges are for knowingly entering or remaining on restricted grounds without lawful authority as well as disorderly conduct on Capitol grounds.
Shroyer was already on a "deferred prosecution agreement" (DPA) for disrupting a December 9, 2019, House Judiciary Committee meeting. The meeting's officials were receiving evidence in the impeachment inquiry of Republican President Donald Trump for abuse of power. Recording the meeting with a smartphone, Shroyer jumped up and shouted during the proceedings. Officers removed him and then placed him under arrest.
The DPA required Shroyer to never again demonstrate within Capitol grounds nor to "disturb the orderly conduct of any session of the Congress." Since the January 6 riot effectively disrupted the certification of now-President Joe Biden's Electoral College victory, Shroyer's alleged involvement violated the DPA's conditions.
At the time of the riot, the DPA was still in effect because Shroyer hadn't completed the 32 hours of community service that it required. In February, he submitted a form showing that he had only completed 30 hours.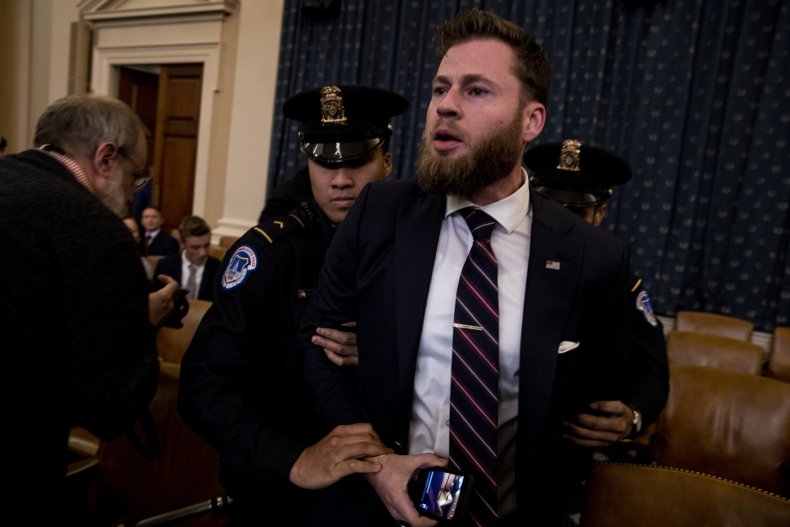 Shoyer announced his awareness of the Capitol riot charges during his Friday InfoWars broadcast. "I plan on declaring innocence of these charges because I am," he told viewers.
Shroyer hosts the program War Room with Owen Shroyer onInfoWars, a far-right news outlet. InfoWars has been banned on Facebook, Twitter, Apple, Google Play, YouTube, Vimeo, Spotify, PayPal, Pinterest, Mailchimp and LinkedIn. The bans have largely been due to the outlet violating terms of service agreements regarding "discriminatory and hateful content."
A video posted on Infowars showed Shroyer speaking at a rally in downtown D.C. on January 5. In his speech, he said, "Americans are ready to fight. We're not exactly sure what that's going to look like perhaps in a couple of weeks if we can't stop this certification of the fraudulent election...We are the new revolution! We are going to restore and we are going to save the republic!"
Paperwork from the DC Superior Court showed that Shroyer didn't appear for a Friday hearing about his December 2019 arrest. The judge set another hearing for September 23, Buzzfeed News reported.
Trump supporters invaded the Capitol on January 6 seeking to overturn the results of the 2020 election. Five people died during the insurrection and roughly 140 police officers were injured. The police injuries include a broken spine, a lost eye, lost fingers, brain damage and multiple cases of PTSD. Four Capitol Police officers have died by suicide since the insurrection.
Ransacking the Capitol, the rioters shattered windows while trying to access congressional chambers, smeared feces in the hallway and stole computer equipment, potentially constituting a national security breach.
Newsweek contacted the FBI for comment but did not hear back in time for publication.