The Infowars host sentenced to prison this week for his role in the January 6, 2021, Capitol riot wants his appeal to be heard by the U.S. Supreme Court.
"We believe that this is an important enough case to make it to the Supreme Court, and maybe that's where we prefer this case ends up, is at the Supreme Court because we believe it is that big of a free speech issue," right-wing host Owen Shroyer told viewers and listeners on Tuesday.
Shroyer, who never entered the Capitol building during the attack, was sentenced to 60 days in jail earlier in the day for "amping up" the mob with chants that furthered the riot at a sensitive moment. He has said that he plans to appeal the sentence and that if the appeal is denied, it would be almost as shocking as the sentence itself.
"You kind of stand out as a unique case," D.C. District Judge Timothy Kelly told Shroyer during the sentencing. Shroyer, who shadowed his boss Alex Jones on January 6, 2021, faced misdemeanor charges related to the riot and this year pleaded guilty to breaching restricted grounds.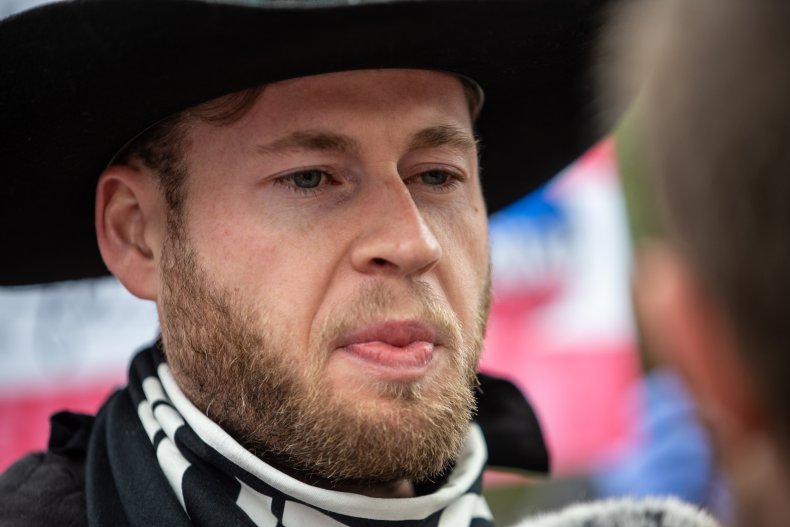 Prosecutors argued that while he never entered the Capitol, many of those who listened to him did. They also pointed to an agreement Shroyer signed in 2019 after he interrupted a congressional hearing. He agreed not to use "loud, threatening or abusive language, or to engage in any disorderly or disruptive conduct, at any place upon the United States Capitol Grounds."
The sentence, which was half of the 120 days that the Justice Department asked for, has caused fierce debate, with some arguing that it wasn't long enough and others criticizing the sentence as a violation of free speech.
"The Court held that Mr. Shroyer's protected speech was 'relevant offense conduct' warranting imprisonment. This is shocking," lawyer Norm Pattis, who represented Jones in the Sandy Hook lawsuit, told Newsweek. "Mr. Shroyer did trespass. He pleaded guilty to that. But punishing a journalist for his speech and 'disinformation' is shocking." Pattis is also representing January 6 defendant Edward Lang in his appeal to the Supreme Court.
Responding to Shroyer's sentence, GOP presidential candidate Vivek Ramaswamy said, "There is no greater threat to the First Amendment than the use of police power to silence political dissent.
"Yesterday a man by the name of Owen Shroyer was sentenced to prison for *speech*, not violence, on Jan 6—for marching around the Capitol, using a bull horn, & shouting things like '1776!' No violence. Didn't enter the Capitol. That's it," Ramaswamy wrote on X, formerly Twitter, on Wednesday. "On Day 1 [of a Ramaswamy presidency], I will pardon all non-violent Jan 6 protesters & political prisoners."
As he led a crowd toward the Capitol that day, Shroyer yelled into a bullhorn: "Democrats are posing as communists, but we know what they really are: They're just tyrants; they're tyrants. And so today, on Jan. 6, we declare death to tyranny! Death to tyrants!"
But while many online have portrayed Shroyer as a political prisoner or called the sentence outrageous, others have argued that he should face an even longer imprisonment.
"After his sentencing, Shroyer pathetically claimed that he is a 'martyr for free speech,' proving that he feels no remorse," Occupy Democrats, a Democratic political organization, posted on X. "This man deserves much more prison time than he received. That said, it's only a matter of time before a traitor like this breaks the law again. Next time he does, they need to throw the book at him."
Liberal internet personality Brian Krassenstein voiced his support for the sentence, writing that Shroyer may "never entered the building, but guess what! He broke the law so he will go to prison."
Citing the 2019 agreement Shroyer made, Krassenstein said, "he broke the agreement and now will face prison time. If you don't like it, blame Shroyer for breaking his agreement, not law enforcement, prosecutors or the judicial system."
On Tuesday, Shroyer suggested that he has a strong case to appeal because he was allowed out on probation while he tries to fight the two-month sentence.
"The government was kind of biting their cheek," he said. "They are going to allow me to not be incarcerated and remain under my strict probation during the appeals processing, the same probation I've been under.
"Now again, this could all change, like the wind could change directions, right? And so when that happens, they'll set a date that I have to turn myself in and the rest we'll learn from there."