InfoWars and QAnon Content Still Proliferating on Apple and Google Despite Bans
The Google Play Store and the Apple App Store are continuing to host QAnon and InfoWars content despite having banned the content months or years earlier.
Unofficial apps featuring the content are offered by both app stores, according to a review published Wednesday by left-leaning watchdog group Media Matters for America.
The QAnon conspiracy theory claims that former President Donald Trump is waging a secret war against a Satanic child sex trafficking ring controlled by Democrats, while the InfoWars platform often features host Alex Jones promoting QAnon and other far-right conspiracy theories.
The Google App Store features apps called the UNOFFICIAL Podcast player for Infowars, UNOFFICIAL Online live streamer for Alex Jones and The Alex Jones Radio, despite the platform banning the official InfoWars app last year.
The app UNOFFICIAL Podcast player for The X22Report hosts the QAnon podcast X22 Report despite a similar ban on QAnon content last year, while an app for the show Edge of Wonder TV also promotes that false conspiracy theory.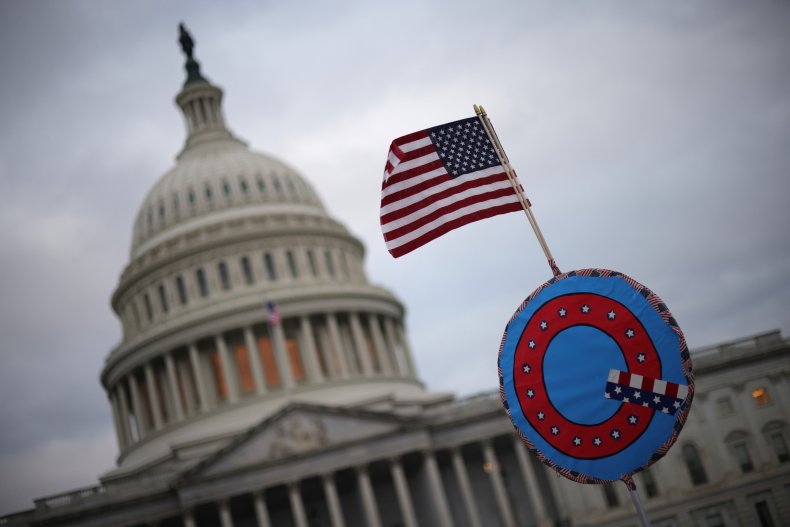 Media Matters uncovered at least five other QAnon apps that are currently available on the Google store and have been downloaded thousands of times, hosting the shows RedPill78, SGT Report, And We Know, TruReporting and Truth and Art TV.
The hosts of RedPill78 were present at the U.S. Capitol as rioters violently stormed the building on January 6—an incident they would later call a "staged event." A broadcast on the day before the deadly riot featured one of the hosts telling fans "I would die for President Trump."
Although Apple banned InfoWars and QAnon content from its App Store in 2018, several apps on the store also continue to feature the content.
An app for the X22 Report, a podcast that has repeatedly featured QAnon references and spoke positively of the "patriots" who forced their way into the Capitol, was listed at 105 in the top 200 news apps available—higher than many apps featuring legitimate news sources.
The QAnon show Destroying The Illusion is also available on the App Store, along with apps hosting And We Know, TruReporting and SGT Report.
The app TruthSeeker, available on both the Apple App Store and the Google Play Store, touts itself as a resource for those who "don't buy the line fed by MSM" while citing InfoWars host Jones as a source for "real news" and offering feeds of Jones' podcasts.
Although Jones has promoted pro-Trump conspiracies like QAnon and Pizzagate for years, a 2019 video of the host leaked on Tuesday by the Southern Poverty Law Center showed him privately commenting that he was "so sick" of Trump and wished he never met the former president.
Newsweek reached out to Google and Apple for comment.