Oklahoma Inmate Escapes Prison, Manhunt Underway
A manhunt is underway after an inmate escaped from a prison in Oklahoma.
Frank Logan, 56, unlawfully left the Oklahoma State Reformatory in Granite and is at large, the Oklahoma Department of Corrections (ODOC) said in a news release.
Logan was missing from the facility's 6 p.m. inmate count on Sunday, prompting officials to launch an immediate search and initiate escape procedures.
ODOC investigators along with state and local law enforcement are currently working to recapture Logan, the department said.
Logan was serving multiple sentences, including a 60-year sentence for escape from confinement, officials said. He also has convictions for burglary and kidnapping.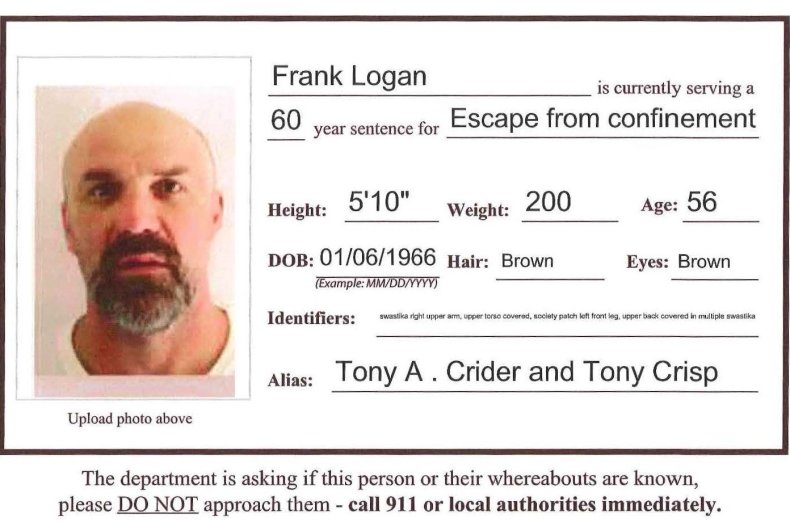 Logan is described as a white male who is 5 feet 10 inches tall, weighing 200 pounds. He has low-cut, balding hair and a goatee and swastika tattoos on his upper right arm and upper back as well as a tattooed torso.
He is affiliated with the United Aryan Brotherhood, officials said, and also goes by the aliases Tony A. Crider and Tony Crisp.
The Oklahoma Department of Corrections has been contacted for additional comment.
Logan's escape comes after a dozen prison employees were suspended in Mississippi earlier this year after failing to appropriately report the escape of a convicted murderer.
The staff members reportedly waited over a day to tell the state's Department of Corrections that Michael Floyd Wilson, who was previously sentenced to two consecutive life sentences for murdering two people, had escaped from the Central Mississippi Correctional Facility on February 13.
Authorities apprehended Wilson, who is known as Pretty Boy Floyd, around 130 miles from the facility two days after his escape.
Mississippi Department of Corrections spokesperson Leo Honeycutt said: "We dropped the ball because we didn't know he had escaped."
Also in February, two inmates died after escaping from a prison in North Carolina, robbing a convenience store and leading police on a chase.
Tobias Carr, Timothy Sarver and another inmate, Johnny Brown, reportedly escaped from the Sullivan County Jail through an air vent accessible in the ceilings of their cells that led them to the roof. Sarver and Carr died in North Carolina after their vehicle was disabled in Wilmington during a multi-jurisdictional chase, the Sullivan County Sheriff's Office said.
Anyone who sees Logan or knows of his whereabouts is urged to call 911. Anyone with information can also contact the Department of Corrections Fugitive Warrants Division at 405-425-2570 or toll free at 866-363-1119.
Update 3/28/22, 9:25 a.m. ET: This article has been updated with additional information.