Top aides and Democratic leaders are distancing themselves from New York Governor Andrew Cuomo after a report issued last Tuesday by New York State Attorney General Letitia James detailed the claims of 11 women who alleged sexual harassment at various points over the past seven years.
Following the report's release, top Democratic officials, including President Joe Biden, House Speaker Nancy Pelosi, and Senate Majority Leader Chuck Schumer have called on the three-term governor to resign. Several of Cuomo's aides in Albany have also distanced themselves from the embattled governor,
Additionally, a poll from Quinnipiac University found seven out of 10 New Yorkers think he should resign from office because of the allegations.
With his inner circle shrinking, Cuomo has not made any public statements about his future plans, only addressing the situation in a video denying the allegations last week. With the investigation still ongoing, which includes the potential of criminal charges being filed against the governor, there are several possibilities for Cuomo's future.
Longtime Democratic strategist Hank Sheinkopf spoke with Newsweek about what he feels is next for the governor.
Resignation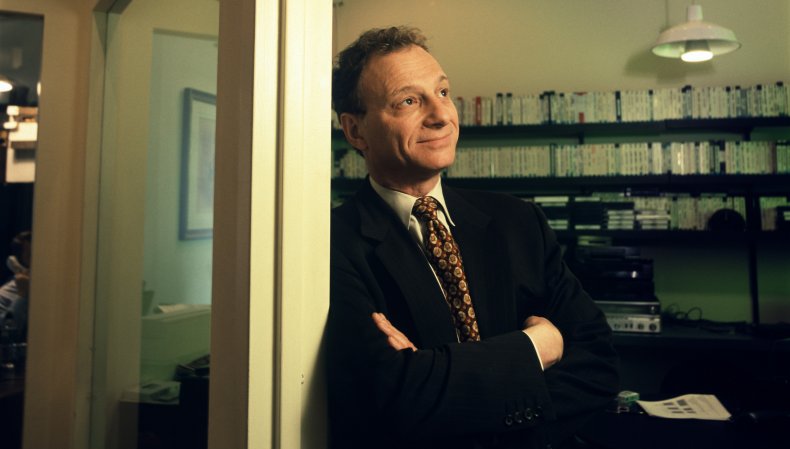 News of the potential harassment charges broke last March, at the same time when Cuomo was also being accused of underreporting the number of state nursing home deaths related to COVID-19, Cuomo said he would not bow to "cancel culture" and resign.
Despite renewed pressure following the attorney general's report, Rita Glavin, Cuomo's lawyer, told CNN this past Saturday that she was "not aware of the governor having plans to resign."
"Expecting him to quickly resign, shows a lack of respect, indicates a lack of understanding of who Andrew Cuomo is," Sheinkopf told Newsweek. "He hasn't given up in his entire life."
Besides a loss during his campaign for governor in 2002, Sheinkopf said Cuomo has largely succeeded in the challenges he's undertaken. Sheinkopf said in Cuomo's mind he's positioned himself "as the doer of all good things," meaning, according to Sheinkopf, Cuomo likely cannot understand why this inquiry is going on when his intent, in his mind, was to do nothing wrong.
Despite Cuomo's intentions and public statements, U.S. Senator Kirsten Gillibrand (D-N.Y.), U.S. Rep. Alexandria Ocasio-Cortez (D-N.Y.), and New York House Judiciary Committee Chair Rep. Jerrold Nadler have joined Biden, Pelosi and Schumer in calling for his resignation. Melissa DeRosa, one of Cuomo's top aides in Albany, resigned from her role this past weekend.
Avoiding an impeachment inquiry by resigning could both spare Cuomo further political humiliation and protect him from further scrutiny into his handling of the alleged manipulation of COVID-19 nursing home death data. If Cuomo refuses to voluntarily leave office though, impeachment could be a likely next step.
Impeachment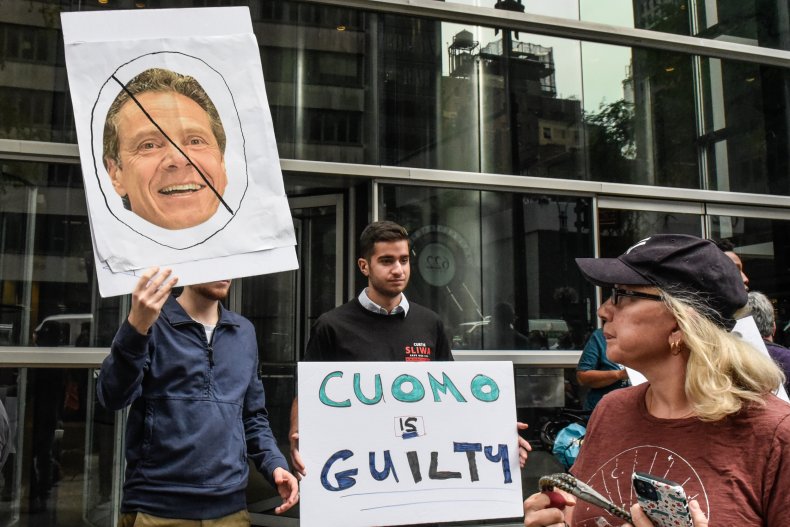 At least 86 members of the New York State's Assembly's 150-member body have said publicly or told the Associated Press they favor impeachment, according to reporting from the Associated Press. It takes a simple majority to initiate the impeachment proceedings.
Following the passing of an impeachment resolution, the state would convene the state Senate for a trial of impeachment. On this court sit members of the state senate and seven judges from the New York Court of Appeals. According to NY1, Cuomo would have to temporarily step down as governor during the impeachment trial, with Lieutenant Governor Kathy Hochul stepping in as acting governor. Cuomo would then have at least 30 days to prepare his defense before the trial began.
According to the Associated Press, nearly all 63 members of the state Senate have called for Cuomo to step down or be removed. It would take 46 votes in the State Senate (a two-thirds majority) to convict the governor.
"By saying it's even considering doing it, it means the (legislature) has no choice," Sheinkopf told Newsweek. "They prefer for him to leave, but he's never done anything that people prefer. He's always done what he wanted to do."
In an exchange with NY1, Assemblyman David Weprin, who sits on the judiciary committee, said official action would not be taken until at least Friday, August 13 after 5:00 p.m., as the committee ensured it would review and documents submitted by the governor's team prior to that deadline.
Sheinkopf sees Cuomo's likely, and perhaps only, option forward as fighting the impeachment case through the courts. An impeachment has not occurred in New York State since the 20th century. Sheinkopf guesses Cuomo's legal team will look at that case as they move forward.
Criminal Charges
A criminal probe could further fuel and complicate an impeachment inquiry. In her report, James said she uncovered evidence that Cuomo violated both state and federal laws in his alleged harassment against the 11 women listed.
District attorneys in Manhattan, Nassau, Oswego and Westchester counties all have announced they were opening criminal investigations into the governor exploring alleged harassment that occurred in each of their areas of jurisdiction.
If tried and found guilty, Cuomo could face potential jail time. In an interview with CBS over the weekend, Brittany Commisso, Cuomo's former executive assistant who was one of the 11 women featured in the report, said she filed a criminal report, saying, "What he did to me was a crime."
Beyond the personal consequences for Cuomo, Sheinkopf speculates the criminal proceedings will deepen the pressure for lawmakers to proceed with impeachment.
"The announcement of a criminal case would certainly add fuel, politically, to the impeachment," Sheinkopf told Newsweek. "Why? Impeachment is many ways a political process, but the law is the law."
Reelection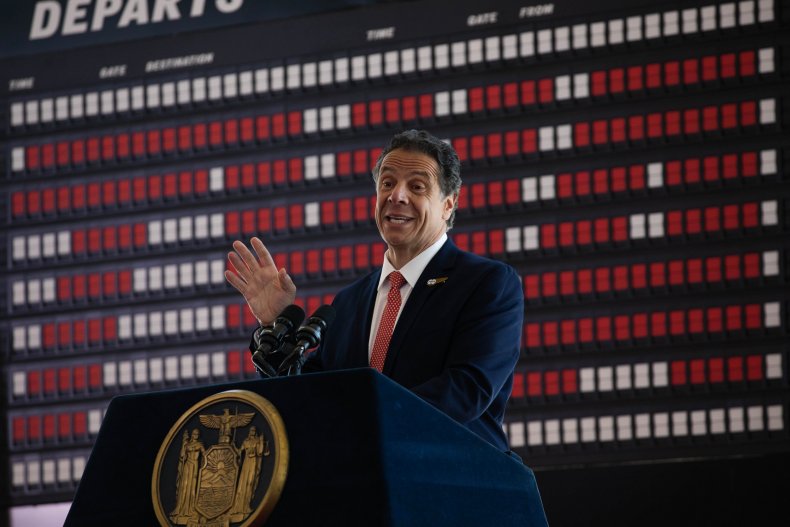 If Cuomo is not impeached and removed from office and he is not found guilty in any potential criminal proceedings, he could run for a fourth term as New York's governor. If does, a long line of challengers, both Democrat and Republican, await him.
The potential Democratic challengers who have expressed public interest in running include New York City Mayor Bill de Blasio, State Senator Alessandra Biaggi, New York City Comptroller Scott Stinger and New York City Public Advocate Jumaane Williams.
Potential Republican candidates who have considered a run for governor include U.S. Rep. Lee Zeldin, Newsmax contributor Andrew Giuliani, podcaster Derrick Gibson, Lewis Country Sheriff Mike Carpinelli and former Westchester County Executive Rob Astorino.
Sheinkopf said in a regular year, the ruling party often suffers in the midterm elections. With a slim majority in the House, Democrats could very well lose their majority, especially as crime rates rise and Biden's approval rating has dropped. The inquiry into Cuomo will not help their chances.
"He was America's governor. He was the front piece of the Democrats saving the nation from Trump during COVID," Sheinkopf told Newsweek. "If you are savior you must also be punished when you have failed to save."