In-N-Out Burger Rejects Ron DeSantis Pitch to Move to Florida
Fast food chain In-N-Out will not be taking up an offer from Florida Governor Ron DeSantis to set up a presence in the Sunshine State following a spat with San Francisco authorities over non-compliance with a COVID mandate.
In October, the chain's only restaurant in the city was shut for several days after the company refused to adhere to rules requiring them to check that customers dining indoors had proof of vaccination against the coronavirus.
DeSantis, who continues to wage battles against COVID mandates in his own state, made a pitch to the owner, Lynsi Snyder-Ellingson, for the chain to set up its headquarters, or open a restaurant in Florida, Fox 13 reported.
DeSantis' spokesperson Christina Pushaw told Newsweek the phone call was not a formal offer but a "preliminary conversation" in which the governor "expressed that he is willing to help in any way possible if In-N-Out is considering an expansion to Florida in the future."
"Like California, Florida has world-class farms and ranches to supply the fresh ingredients that In-N-Out requires for its supply chain, but unlike California, Florida is a great place to do business without government-imposed medical tyranny," Pushaw said in an emailed statement.
The chain is headquartered in Irvine, California, and has 371 locations mostly across the Western U.S.
In a statement, In-N-Out's chief legal and business officer Arnie Wensinger said a "phone call was at the request of Gov. DeSantis and the primary purpose was to establish a business relationship.
"While we are thankful for the gracious invitation, In-N-Out Burger has no plans or intention to expand operations or move its corporate headquarters to Florida."
The San Francisco Department of Public Health told Newsweek it had issued a final notice of violation and a notice of closure on October 14 to the chain's outlet on Jefferson Street, for noncompliance with the city's Safer Return Together Health Order.
The restaurant reopened days later, but only for takeaway and outdoor dining.
Wensinger condemned the closure and called the city's COVID requirements a move to "segregate" customers based on vaccine documentation, calling them "unreasonable, invasive, and unsafe."
"We refuse to become the vaccination police for any government," Wensinger said at the time.
This prompted Florida Chief Financial Officer Jimmy Patronis to tweet: "If California doesn't want @innoutburger then Florida will be glad to take them. In the Sunshine State we support our businesses!"
Patronis then sent a letter to the firm touting its business-friendly environment, Click Orlando reported.
"We won't chase you out of the state like California State Assemblywoman Lorena Gonzalez did to Elon Musk when she launched vulgarities at him on Twitter," he wrote.
This referred to the Tesla founder's suggestion that an insult from the lawmaker spurred him to shift his company's headquarters to Texas.
This week, DeSantis said he would continue his fight against the Biden administration's COVID-19 order requiring businesses with more than 100 staff to implement vaccine mandates or have unvaccinated workers get tested from January 4.
"Nobody, no cop, no firefighter, no nurse, nobody should be losing their jobs because of these jabs," he told a news conference.
Newsweek has contacted In-N-Out for comment.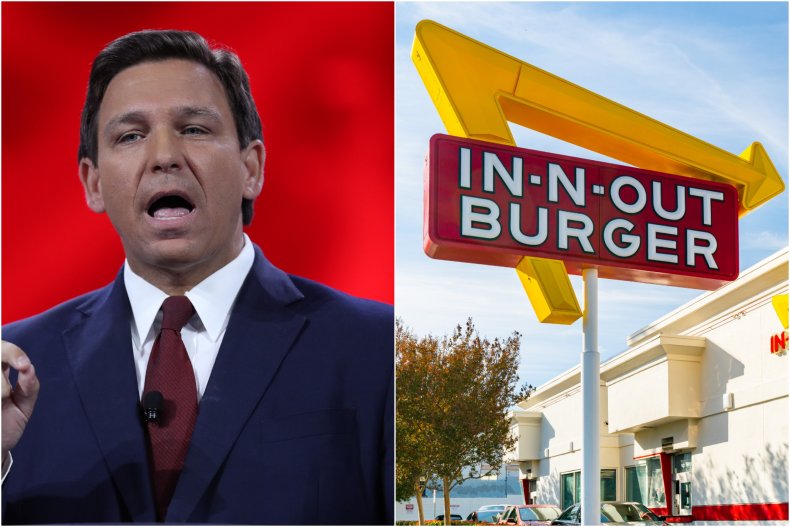 Update 11/12/21, 5:00 a.m. ET: This article was updated to add a new image.
Update 11/12/21 11:01 a.m. ET: This article has been further updated to include a statement to Newsweek by Governor DeSantis' office.