Inside the 'Hotel' for Homeless Dogs—Art, Toys, Treats and Luxury
There is a new hotel in Cumberland, Rhode Island, that stands out for its vibrant decor, cosy rooms and creative comforts.
However, if you are thinking that you might want to give it a try, you are out of luck ...to check in you need four legs and a tail.
The New England Humane Society are behind the Hotel for Homeless Dogs, which is designed to give the animals a premium experience while they stay at the shelter.
Susan Joseph, executive director of the society tells Newsweek that the dogs "are treated as guests, not shelter dogs."
The hotel, which was completed at the start of this year, has been thought through on every level, even down to the fact that it smells of cinnamon and other spices to add warmth to the space.
Joseph explains: "From the second you walk in the door, the smell is different. We work really hard on smelling like a warm home environment.
"So everyone who walks in the door says it smells better than their house."
Classical music is played to the dogs in the evenings, with party music throughout the day.
Additionally, there is bespoke artwork and the painted walls are designed to coordinate with this.
Residents at the hotel even have luxury rooms, with double bedding. Joseph reveals: "We built custom beds to elevate them up off the floor.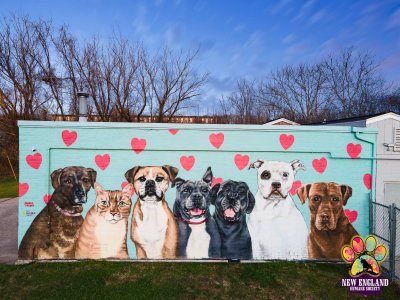 "We provide then with high-end bedding; an actual dog bed on top so they are off the floor with a really comfortable bed to sleep in.
"Then we give them blankets and we give them stuffed animals—they have better beds than my dogs."
Four-legged guests at the hotel get at least two walks a day, according to the hotel that is staffed by volunteers and funded through donations.
There is also a turfed play area for the pets to enjoy which includes a ball pit and couple of bins full of toys.
Joseph says that the dogs are also exposed to a variety of activities: "Some volunteers will take them for ice cream, some volunteers will take them to McDonald's, some take them swimming, sometimes they just go for rides."
The animals are also given a variation of food so they do not get bored of their diet and Joseph explains: "We have somebody who, every week, comes in and fills our freezer with all kinds of yogurt and frozen and sweet potato treats."
She says: "Animal welfare and animal care can and should look like this."