Inside the Secretive Private Screening of Anti-Biden Movie, 'My Son Hunter'
Some of Hollywood's politically conservative insiders — a small group in famously liberal Tinseltown — gathered Wednesday for a secretive invitation-only screening of My Son Hunter, a film that promotes the accusation that President Joe Biden profited from his son's allegedly dubious dealings with foreign powers.
Among those attending the gathering at a private screening room in Los Angeles were Lois & Clark: The New Adventures of Superman star Dean Cain and Nick Searcy, star of TV's Justified. Some others said they did not want their attendance revealed, fearing it might hurt their careers.
The secrecy underlined what right-wingers say is an atmosphere of fear over expressing conservative views in Hollywood.
"I don't believe any voice should be held down in America, as the left is doing," the film's director Robert Davi, a veteran tough guy actor, told Newsweek. "In Hollywood today, most conservatives are afraid to speak up. That has got to change."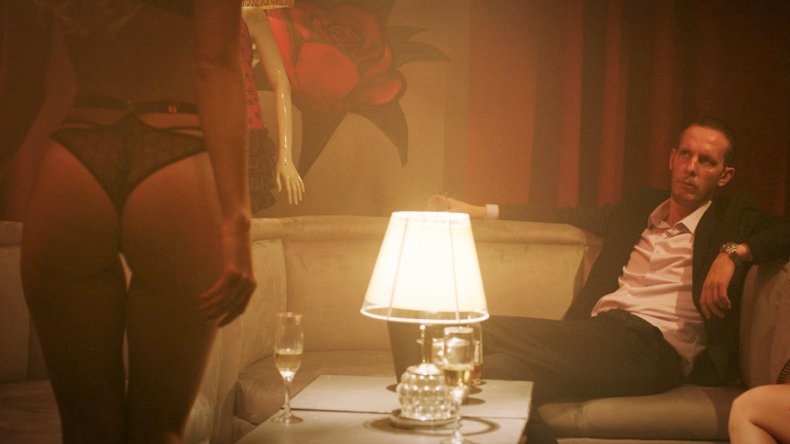 The crowd-funded film, to be streamed by right-wing Breitbart News, is based largely on the story of the "laptop from hell" that Hunter Biden mistakenly abandoned at a repair shop and which allegedly included emails that conservatives say are proof that then-Vice President Biden profited from his son's "influence peddling."
The episode over the laptop, which also contained images of Hunter Biden using drugs and cavorting with women, is at the center of conservative accusations of a coordinated cover-up by Big Tech and mainstream media in the run-up to Biden's election 2020 victory over former President Donald Trump.
"This Hunter Biden situation is a story that needs to be told, and it hasn't been by the mainstream media. This is unprecedented. The media was in bed with Joe Biden and wanted the last election to go a certain way," Cain told Newsweek.
President Biden and Hunter Biden did not respond to requests for comment on the movie or the laptop. No evidence has emerged of wrongdoing by the president. Hunter Biden has repeatedly asserted his innocence of accusations and his father has said he is "confident" that his son did not break the law, the White House has said.
Absent at the screening of My Son Hunter were the glitz and glamor associated with the standard movie premiere. There was no red carpet, and attendees dined on popcorn and water, rather than the usual martinis and sushi. The stars of the film weren't there. Nor was the director, who addressed the crowd of around 70 people via Zoom.
One producer at the screening, whose credits include Game of Thrones, The Bourne Legacy and Moneyball, asked that his name not be used. He told Newsweek, "I really enjoyed the film. It's a shame I can't tell most of my colleagues about it, though. Hollywood is in such a hyper-cancel mode today."
The online trailer for My Son Hunter has been viewed more than 2.6 million times and has prompted scorn from liberals. The Guardian's Emma Brockes called it "a piece of political porn dedicated to animating the wildest fringes of Trump chat-room banter."
Commenting after seeing the trailer, James West of Mother Jones wrote: "As incredulous as I was, I'm sorry to confirm it's real." Summarizing, West wrote: "Pass the popcorn, and then the vomit bag."
Left-wingers have also criticized Gina Carano over her starring role as a fictional Secret Service agent who does the bulk of the speaking directly to the audience. Carano was famously fired from Disney's The Mandalorian for posting on social media that Nazis "made their neighbors hate" Jews and asking "How is that any different from hating someone for their political views?" Disney said the post was "abhorrent and unacceptable."
Hunter Biden is played by British actor and conservative activist Laurence Fox, who lost his bid for mayor of London on a platform that included opposition to "extreme political correctness."
Hollywood has long been seen as leaning to the left. The Hollywood Reporter reported in 2018 that of more than $4 million in federal donations from top Hollywood executives and entertainers, 99.7 percent went to Democrats and Democratic-leaning political action committees or organizations.
Humor
My Son Hunter is a narrative film and is intentionally humorous, including animated interludes and characters speaking directly to the audience in a technique similar to the hit TV show, The Office. At Wednesday's screening, the audience chuckled at the start of the film where a disclaimer says: "This is not a true story. Except for all the facts."
Attendees at the screening gave the movie a standing ovation and praised producers Phelim McAleer and Anne McElhinney for their courage to make it.
Newsweek was among the few news outlets to attend Wednesday's event.
In an early scene, the film pokes fun at the media by showing a 2019 Black Lives Matter disturbance with cars and buildings ablaze while — thick smoke notwithstanding — a news anchor reports on the "mostly peaceful BLM protests" and implores the on-scene journalist to ask those participating about their "feelings."
The story is largely told through the eyes and ears of a Trump-hating protester, a college student who earns a living by stripping and partying, mostly with Hunter Biden. The stripper, says Davi, is a composite.
The film frequently mocks liberal sensibilities. In one scene, a nightclub manager introduces herself by proclaiming, "My pronouns are 'he' and 'him' to you, but 'she' and 'her' to your sister."
In another scene, the stripper, dubbed "Kitty" and played by Emma Gojkovic, is seen with a club bouncer, typing away on a laptop to research her new friend, Hunter Biden.
"I can't seem to find anything but positive stuff on the Bidens," she says. "That's because you're using Google and the mainstream media," says the bouncer, played by Nigerian soccer star Franklin Ayodele, making his acting debut.
When the bouncer instructs her to use an alternative search engine, she accuses him of being a white-supremacist conspiracy theorist, prompting him to respond: "Yeah, Kitty, I'm the Black face of white supremacy," a reference to a Los Angeles Times opinion article that used the descriptor against Larry Elder during his failed bid to supplant Gavin Newsom as governor of California.
The movie also makes fun of media "fact checks" and of journalists it alleges refuse to tell stories that might harm liberals. After gathering first-hand intel about alleged White House corruption from her relationship with Hunter Biden, Kitty attempts to pitch what she has learned to a reporter, who dismisses her as a "Trump-supporter" and adds that if he were to write a story, "You really think that Twitter, Facebook, Google are gonna not ban it outright?"
Meta CEO Mark Zuckerberg said last week that both Facebook and Twitter had limited the spread of news about Hunter Biden's laptop ahead of the 2020 election before its authenticity was verified.
As end credits roll on My Son Hunter, about a dozen actual news clips from CNN, MSNBC and other outlets have their anchors calling the laptop "Russian disinformation," and the film informs its viewers that "Seventeen months after the election, The New York Times admitted the laptop and emails contained in it were genuine."
Beyond the reported contents of the laptop, Davi told Newsweek that he viewed all available video of Hunter Biden and read his autobiography, Beautiful Things: A Memoir. He said he had not reached out to Hunter Biden.
Alleged Infiltration
Davi accused Biden's attorney, Kevin Morris, of "infiltrating" the set of My Son Hunter while it was being filmed in Serbia.
Davi alleged representatives of entertainment industry lawyer Morris claimed to be shooting a documentary about Hunter Biden in Serbia. According to emails reviewed by Newsweek, the production team were asked for imagery of Davi directing, as well as of Fox and of the actor playing Joe Biden — John James of Dynasty fame.
"I was suspicious from the beginning," Davi told Newsweek. "Something was awry. Why did they take a private jet all the way to Serbia? And a month earlier, Hunter Biden was also in Serbia at the same hotel I was now staying in. It was an interesting set of circumstances."
Morris did not respond to Newsweek's request for comment.
The movie, shot with more than $2.5 million raised in a crowdfunding campaign, will be streamed by Breitbart News at MySonHunter.com beginning September 7, marking Breitbart's foray into film distribution, with more to come, Breitbart CEO Larry Solov told Newsweek.
"Since our announcement, it's wild how many people have approached us with projects. We'll continue to keep a special look out for projects that would otherwise be denied mainstream, establishment distribution for political reasons," Solov said.
At the website where the movie is available for pre-order, a disclaimer reads: "Warning: This motion picture contains sex, prostitution, drugs, cronyism, money laundering, more sex, a laptop from hell, Chinese spies, Ukrainian businessmen, the Chinese Communist Party, the selling out of America, the Big Guy, Corn Pop, more sex, additional drugs, and ... family."
McAleer, and his co-producer wife, McElhinney, are former journalists from Ireland who connected with the late, conservative entrepreneur Andrew Breitbart shortly after moving to the U.S. a few decades ago.
"We are dedicated to telling the stories the mainstream media suppress. It's another example of immigrants doing jobs Americans just won't do anymore," McElhinney said in an interview with Newsweek. "We live in L.A. and make movies because of Andrew Breitbart; it's perfect we are distributing the movie on a platform he created. He saw the culture war being won by the left and wanted that to change. This movie is an important part of that war."
Director Davi, who is best known as an actor who played villains in License to Kill, Die Hard and Goonies, said his inspiration from an artistic perspective were the films American Hustle, The Wolf of Wall Street and Fear and Loathing in Las Vegas.
"My Son Hunter is important on several levels. One is addiction, which is a crisis affecting every family. There's also the troubled father-son relationship and the alleged corruption and influence peddling, all told from the point of view of a 25-year-old, left-wing activist who's a stripper," Davi said. "Rob Reiner told Bill Maher he doesn't know if the laptop story was buried by the media. Why doesn't the left know this? This is like a Shakespearean tragedy."
After the film, McAleer and McElhinney playfully quizzed the audience on what they had learned, rewarding those who gave correct answers odd gifts, like a bong or a block of cheese. Then Davi appeared on the screen to offer more serious thoughts.
"If we're worried about being canceled, we should just give up the country today," he told a man who asked if the actors and crew who made My Son Hunter worried that their participation might cost them work.