Zuckerberg Criticizes Twitter Over Hunter Biden's Laptop on Joe Rogan Pod
Meta CEO Mark Zuckerberg has criticized Twitter for how the social media site handled a controversial news story about a laptop belonging to Hunter Biden, President Joe Biden's son.
Zuckerberg spoke to Joe Rogan on his podcast on Thursday about how Facebook and Twitter had reacted to an article from The New York Post about the laptop ahead of the 2020 presidential election.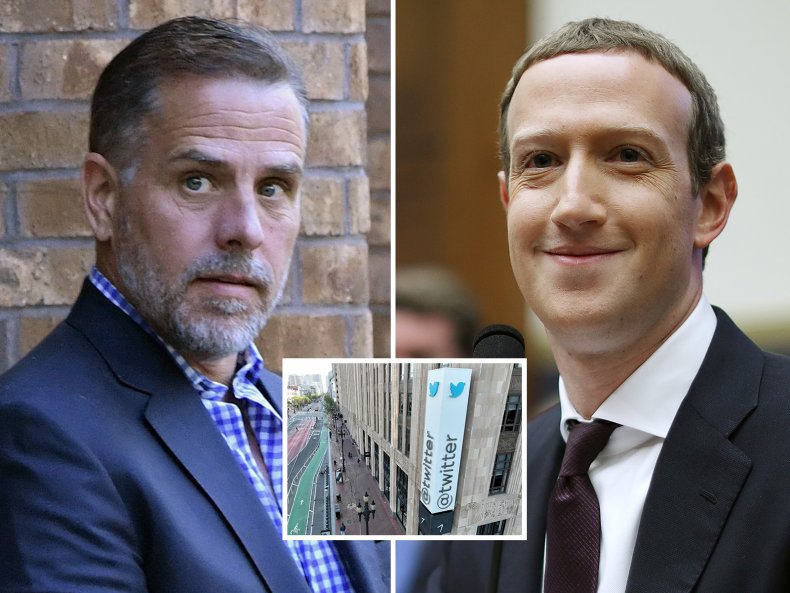 Both social media sites limited the spread of the article, but Twitter went further than Facebook, preventing users from sharing the story and briefly suspending The New York Post's account.
Rogan asked Zuckerberg if he regretted Facebook's reaction to the story and limiting its reach.
"Yeah, it sucks," Zuckerberg said. "It turned out, after the fact, the fact-checkers looked into it. No one was able to say it was false."
"I think it sucks, though, in the same way that probably having to go through a criminal trial but being proven innocent in the end sucks," he said.
Zuckerberg also noted the different approach Twitter had taken and appeared to criticize the social media company.
"Our protocol is different than Twitter's. What Twitter did is they said you can't share this at all. We didn't do that," Zuckerberg said.
"For the—I think—it was five or seven days when it was basically being determined whether it was false, the distribution on Facebook was decreased, but people were still allowed to share it," he went on. "You could still share it, you could still consume it."
Zuckerberg argued that Facebook's approach to the story was "pretty reasonable" and compared it to Twitter.
"Obviously, this is a hyper-political issue, so depending on what side of the political spectrum, you either think we didn't censor enough or censored it way too much, but we weren't sort of as black and white about it as Twitter," he said.
Newsweek has asked Twitter for comment.
There was significant controversy about The New York Post's laptop story in October 2020—a few weeks before the presidential election—and questions were raised about the authenticity of emails reportedly found on the computer.
More than 50 former senior intelligence officials said in a letter at the time that the laptop story "has all the classic earmarks of a Russian information operation," and certain Democrats also suggested it was disinformation.
Some Republicans argued the emails showed evidence of questionable business dealings that may have involved then-former Vice President Biden. No evidence has emerged of wrongdoing by the president.
The laptop was one of three dropped off at a Delaware repair shop run by John Paul Mac Isaac in 2019 but never picked up from the store. Mac Isaac looked at the contents of the laptop and believed some of it to be scandalous.
Mac Isaac contacted the authorities but also provided a hard drive containing the laptop's contents to Robert Costello, a lawyer for former New York Mayor Rudy Giuliani, who shared it with The New York Post.
The New York Times and The Washington Post were later able to verify some of the emails on the laptop but not all of them, while no evidence has emerged that the laptop was part of a Russian operation.
Many conservatives reacted with anger at Facebook and Twitter's actions surrounding the laptop story, and it raised wider questions about how social media companies react to alleged misinformation.
Separately, Hunter Biden announced in December 2021 that his tax affairs were subject to a federal criminal investigation, and The New York Times reported in March 2022 that his foreign business dealings are also under scrutiny.