Hunter Biden, the son of President Joe Biden, claims that he does not remember if he left his laptop with a computer repairman in Delaware.
Last October—just weeks ahead of the 2020 presidential election—emails and images from a laptop allegedly belonging to Hunter Biden were reported on by The New York Post. John Paul MacIsaac, the owner of a laptop repair store in Delaware, said that an unidentified man—whom he believed was Hunter Biden—left the computer with him and never returned for it. Former President Donald Trump's personal attorney and friend Rudy Giuliani gave the information from the laptop to The Post and federal investigators reportedly took possession of the laptop.
In an interview broadcast on Monday morning by CBS News, Hunter Biden—who is promoting his new memoir, Beautiful Things—was asked whether the laptop was actually his.
"The serious answer is that I truly do not know the answer to that," he said. "But whether or not somebody has my laptop, whether or not it was a—I was hacked, whether or not there exists a laptop at all, I truly don't know."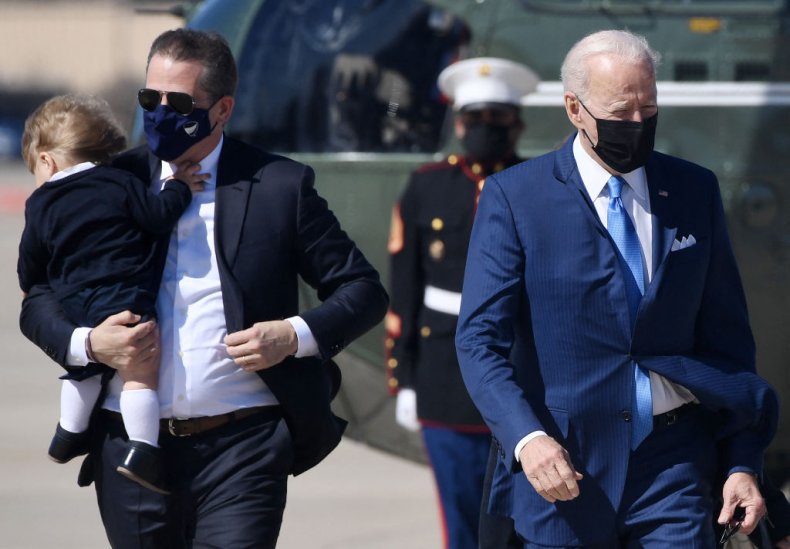 Hunter Biden, who has struggled with drug addiction, pointed out that there were a lot of things he does not remember from that four-year period of his life.
"You know," he said with a laugh, "read the book and you'll realize that I wasn't keeping tabs on possessions very well for about a four-year period of time."
Trump and his Republican allies raised questions about Hunter Biden's foreign business dealings, pointing to his work for the Ukrainian energy company Burisma and business deals in China while his father served as vice president under former President Barack Obama. Critics of the Biden family alleged that Hunter Biden was working in a corrupt way to enrich himself and that his father was profiting as well.
The Bidens categorically deny these allegations and no evidence has emerged to implicate President Biden in any type of corruption. However, Hunter Biden is currently under federal investigation.
In a statement released by President Biden's transition team back in December, Hunter Biden said, "I learned yesterday for the first time that the U.S. Attorney's Office in Delaware advised my legal counsel, also yesterday, that they are investigating my tax affairs. I take this matter very seriously but I am confident that a professional and objective review of these matters will demonstrate that I handled my affairs legally and appropriately, including with the benefit of professional tax advisors."
The transition team also said at the time that President Biden is "deeply proud of his son" and called attacks from Trump and other critics "vicious." Although some have raised alarms that President Biden could intervene in the federal investigation to protect his son, the administration has repeatedly vowed that the Justice Department will operate independently and that President Biden will not interfere.
Newsweek reached out to the White House for comment, but did not immediately receive a response.