Instagrammer Details Sitting Next to Gabby Petito at Restaurant During Chaotic Scene
A woman named Nina Celie Angelo has detailed the chaotic experience she witnessed when she sat in a Wyoming restaurant next to Gabby Petito and Petito's fiancé, Brian Laundrie.
On August 27 between 1 and 2 p.m. local time, Angelo and her boyfriend, Matthew England, ate at Merry Piglets, a Tex-Mex restaurant in Jackson Hole, Wyoming. Angelo and England were in town for a wedding, Fox News reported.
In an Instagram Story, Angelo claimed that she witnessed Laundrie yelling at the restaurant's hostess.
"We were at this restaurant, you guys—sitting right next to them!" Angelo said in her video.
"They like left abruptly, and [Petito] was standing on the sidewalk crying and [Laundrie] walked back in and was, like, screaming at the hostess and then walked back out," Angelo continued. "And then he walked back in, like, four more times to talk to the manager and to, like, tell the hostess off."
"My first thought was like they were displeased with the service and they were walking out or they were trying to get out of paying their bill," Angelo added.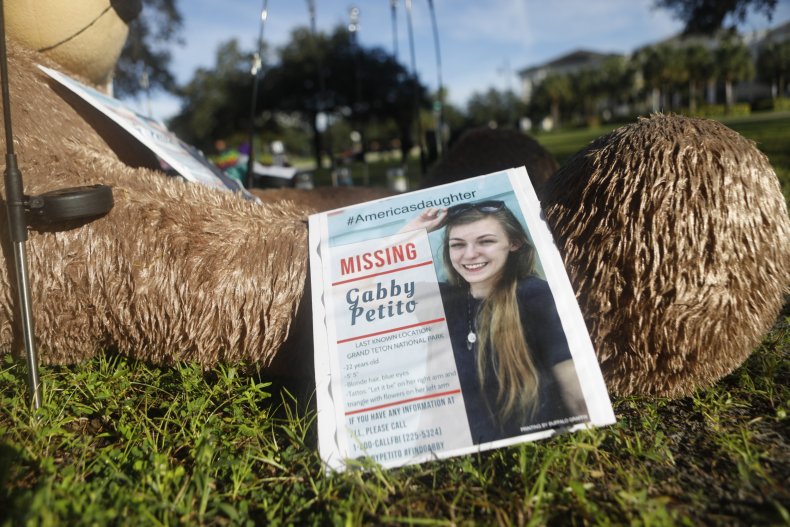 Angelo later told Fox News that Laundrie wasn't screaming and didn't appear intoxicated. "But it was kind of like a scene," she added. Laundrie reportedly yelled at a waitress, a hostess and the manager. All of them were women, the outlet noted.
"[Petito was] crying. And [Laundrie was] like, more angry," Angelo said. "Like, you could tell like, it's more sadness for her and she's crying for some reason. I don't know the reason. I don't know if she was embarrassed or what...This happened right before she died."
The restaurant confirmed to Newsweek that Petito and Laundrie were present on the day in question. The restaurant provided no additional details.
Angelo said that England later remembered the restaurant scene after seeing online bodycam footage of Laundrie interacting with police from Moab, Utah.
"He goes, 'Nina, that was the couple fighting at the restaurant,'" Angelo told Fox News. "And it stopped me in my tracks. I felt like the blood left my body. I was like, 'Oh my God, I completely forgot about that incident.'"
Angelo said that she has since contacted legal authorities about what she witnessed. She mentioned on Instagram that she didn't share her story for fame. Instead, she said she hoped that her story could help authorities piece together a timeline to help understand Petito's disappearance.
Petito's family reported her missing on September 11 after Laundrie returned home from a weeks-long road trip in the couple's van without her, on September 1. The last time the family heard from Petito, she and Laundrie had been visiting Grand Teton National Park in Wyoming.
Her body was discovered on September 19. Two days later, the FBI ruled her death a homicide following an autopsy.
A major search is underway for Laundrie, who hasn't been seen since September 14. His parents told police that he had said he was going hiking in the 24,500-acre Carlton wildlife reserve near the family's Sarasota County home. Laundrie is considered a "person of interest" in the case but hasn't been charged with any crimes.