FBI Searches Florida Nature Reserve for Brian Laundrie as Petito Family Says He's 'Hiding'
Law enforcement officials announced Saturday morning that they are searching for Brian Laundrie, the fiancé of missing 22-year-old Gabby Petito, in a Florida nature reserve.
"The North Port Police Department, FBI, and agency partners are currently conducting a search of the vast Carlton Reserve for Brian Laundrie. His family says they believe he entered the area earlier this week. More details when available," Florida's North Port Police Department tweeted just after 10:30 a.m. on Saturday.
The Carlton Reserve is a 24,565-acre area in Venice, Florida, with over 90 miles of trails, according to a website run by the Friends of the Carlton Reserve.
On Friday, North Port Police said they, along with the FBI, were searching for 23-year-old Laundrie after his family said they hadn't seen him for three days.
"The attorney for the Laundrie family called FBI investigators Friday night indicating the family would like to talk about the disappearance of their son. The family now claims that they have not seen Brian since Tuesday of this week," police wrote in a statement.
North Port police said that they "understand the community's frustration," and that they too are frustrated.
"For six days, the North Port Police Department and the FBI have been pleading with the family to contact investigators regarding Brian's fiancé Gabby Petito," authorities said, noting that Friday is the first time they had spoken with police "in detail."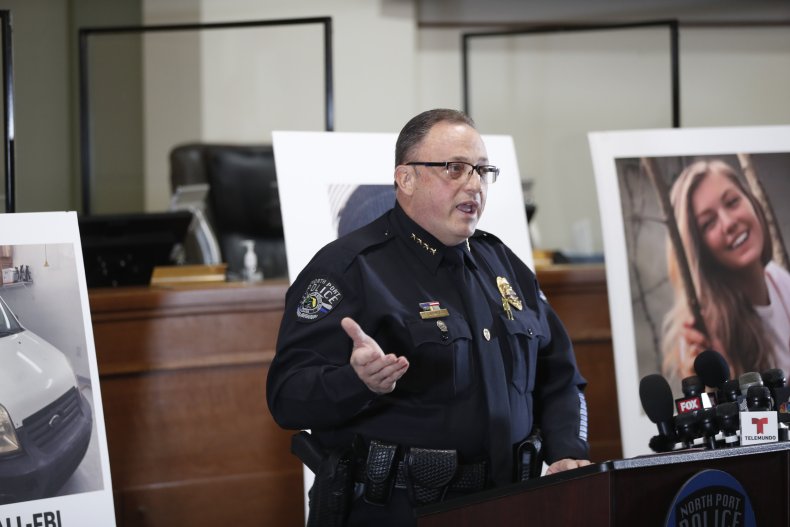 In recent days, there have also been protests outside the home of Laundrie and his parents in North Port. But police added it's "important to note" that while Laundrie is a person of interest in the case, "he is not wanted for a crime."
"We are not currently working a crime investigation. We are now working a multiple missing person investigations," they stated
On Friday, Petito's family said that Laundrie isn't missing but "hiding."
"All of Gabby's family want the world to know that Brian is not missing, he is hiding. Gabby is missing," a statement from the law office of Richard Stafford, who is the family's attorney, read.
Fox News reported Saturday afternoon that police are prepared "for the worst" as they search the area for Laundrie, including a possibly agitated encounter with the man.
"I think you always prepare for the worst and hope for the best," North Port Police Department spokesperson Josh Taylor told Fox. "You have to have your guard up, you have that potential."
WFLA reported that 50 officers from five local agencies are participating in the search at the reserve, and that vehicles, air units, drones and K9s have been deployed.
Police also told Fox News Saturday that they had spoken to a TikTok user, Miranda Baker, who claims that she gave Laundrie a ride after seeing him hitchhiking on the side of the road in Grand Teton National Park on August 29. The park is the last place where Petito was confirmed to be seen.
"We have spoken with her and are potentially utilizing her info into our timeline," Taylor told Fox News.
In June, Petito and Laundrie left on a cross-country trip in a van. Laundrie returned to the couple's home in North Port, 10 days before Petito's family reported her missing, on September 11.
Police announced Wednesday that Laundrie was a person of interest in the case.
North Port Police Chief Todd Garrison said at the time that the "lack of information from Brian is hindering this investigation."
Newsweek has reached out to the FBI and the North Port Police for any updates about the search.
Updated 09/8/2021, 2:30 p.m. ET, with new information reported by Fox News and WFLA.