'Where is She?' Message Placed on Stop Sign Near Neighborhood of Gabby Petito's Fiancé
While law enforcement officials continue to search for Gabby Petito, a 22-year-old woman who was reported missing earlier this month, letters spelling out "WHERE IS SHE?" were placed on a stop sign near the Florida neighborhood of her fiancé, Brian Laundrie, on Thursday.
The stop sign in North Port has since been replaced, according to television news station WFLA, which first reported on it.
In June, Petito and Laundrie embarked on a cross-country trip in a van. Laundrie returned to the couple's home in North Port 10 days before Petito's family reported her missing, on September 11.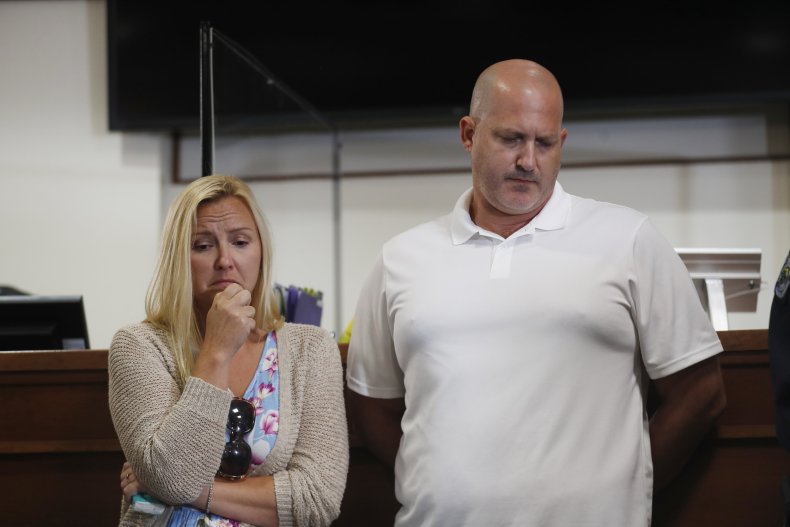 Petito's last communication with her family occurred in August, according to police, and before that she is believed to have been in Grand Teton National Park in Wyoming.
In a statement on Wednesday, police in North Port said that Laundrie was a person of interest in the case. North Port Police Chief Todd Garrison added that the "lack of information from Brian is hindering this investigation."
On Thursday, Petito's family wrote a letter to Laundrie's parents, urging them to help them find their daughter.
"We understand you are going through a difficult time and your instinct to protect your son is strong. We ask you to put yourselves in our shoes. We haven't been able to sleep or eat and our lives are falling apart," the letter stated.
"We believe you know the location where Brian left Gabby. We beg you to tell us. As a parent how could you let us go through this pain and not help us. As a parent how could you put Gabby's younger brothers and sisters through this," the family added.
On Thursday, protesters gathered outside the home of Laundrie and his parents in North Port. WFLA reported Thursday that several people have stopped by the Laundrie home with signs.
"For whatever reasons, this guy wants to lock himself in the house and not help find her. It's heartbreaking, it's sad, it's disrespectful, it's horrible," Jason Sternquist told the television station.
People also drove by in golf carts holding signs, Fox News reported.
"We're standing up for somebody who's lost that's in our city, and we're a big family in our city, in North Port. And we are definitely going to do whatever we can to help the family find this missing daughter," a protester told Fox.
"We all have children. If it were our child, we would want everyone to gather up and help us find our child too. So we're going to do whatever it takes."