Institutional Buyers Snapping Up Bitcoin During Price Dip
Bitcoin briefly dipped below $45,000 Friday as bond yields rose, giving some investors the jitters. But major institutions appear to be buying on the dip to increase their holdings, a show of faith in the future value of Bitcoin and likely building the foundation for a future rebound.
The world's leading cryptocurrency dropped to $44,180 in early trading, CoinDesk reported. It recently fetched $47,981.09, down 17.4% from Sunday's all-time high of $58,332.36.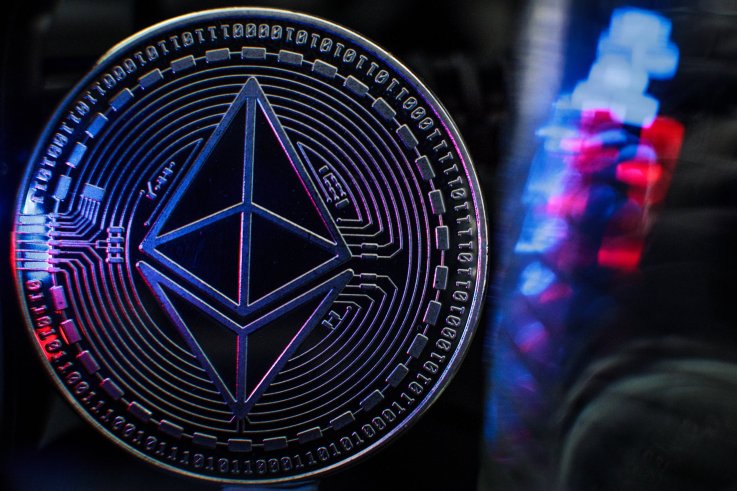 This file photo shows an illustration of the Ethereum cryptocurrency on April 25, 2018 in London, U.K.
Jack Taylor/Getty Images
Other major cryptocurrencies were also lower in mid-day trading, including Ethereum, XRP and Stellar. But Cardano was up 5.75% to $1.22, CoinDesk said.
Investors may have developed a case of the shakes over mixed inflation signals and rising bond prices. However, major companies, including Tesla, MicroStrategy and Square, have invested heavily in Bitcoin. Many investors see Bitcoin as an inflation hedge.
Crypto Exchange Plans IPO
Coinbase Global plans to go public and list its shares on Nasdaq. No date for the deal has been set.
The company's IPO registration statement filed with the U.S. Securities and Exchange Commission offers an insight into the risks of cryptocurrency and how the digital currency exchange believes the market will develop.
The San Francisco-based company said the world's current financial system is "cumbersome, inaccessible, expensive and regionally isolated."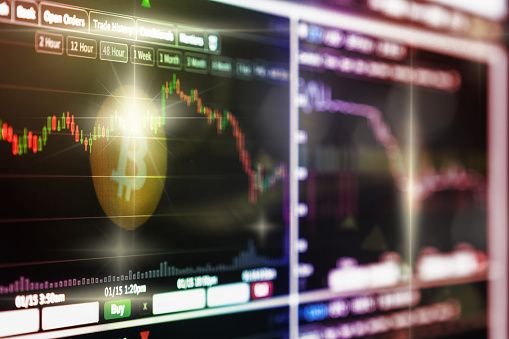 Cryptocurrency trading screen, Bitcoin exchange screen of trading information, Block chain technology of Crypto concept, Business and market trade concept.
Getty Images
"Our mission is to create an open financial system for the world," the statement said. "We are building the cryptoeconomy—a more fair, accessible, efficient, and transparent financial system for the internet age that leverages crypto assets: digital assets built using blockchain technology."
The company said it integrates about 15 blockchain protocols and handles about 90 crypto assets for trading or custody. Coinbase said market capitalization of crypto assets grew to $782 billion on December 31, 2020 from less than $500 million on the same date in 2012, a compound annual growth rate of 150%.
The number of institutions using the company's services has grown to 7,000 from about 1,000 in 2017. Coinbase said it had 43 million verified users at the end of 2020, including 2.8 million who made monthly transactions. Bitcoin and Ethereum trades generated 56% of the company's revenue last year.
Revenue totaled $1.3 billion in 2020, and the company earned $322.3 million. The company reported a loss of $30 million on revenue of about $534 million in 2019.
"Our operating results have and will significantly fluctuate due to the highly volatile nature of crypto," the company warned. "A majority of our net revenue is derived from transactions in Bitcoin and Ethereum. If demand for these crypto assets declines and is not replaced by new crypto asset demand, our business, operating results, and financial condition could be adversely affected."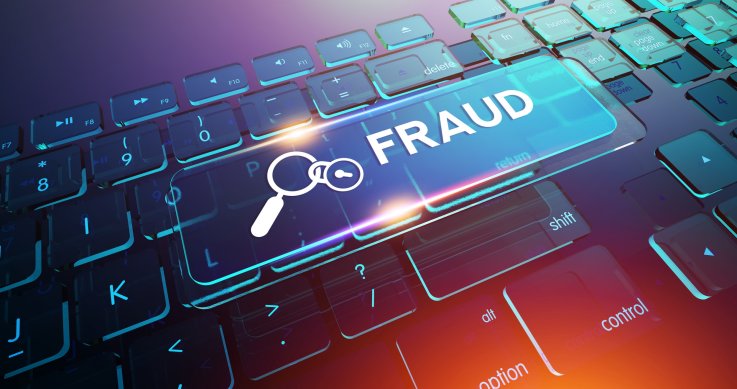 Though GoFundMe turned over the scammer's IP addresses to police, they were unable to locate a suspect.
Getty
Hacking or other illegal activity could result in significant financial loss. In 2014, Mt. Gox, then the largest crypto asset platform in the world, filed for bankruptcy after an estimated 700,000 Bitcoins were stolen. In May 2019, Binance was hacked and coins valued at about $40 million were stolen.
But fabricated trading volume may be the real threat to development of the cryptocurrency market.
"In addition, there have been reports that a significant amount of crypto asset trading volume on crypto asset platforms is fabricated and false in nature, with a specific focus on unregulated platforms located outside the United States," the company warned. "Such reports may indicate that the market for crypto asset platform activities is significantly smaller than otherwise understood."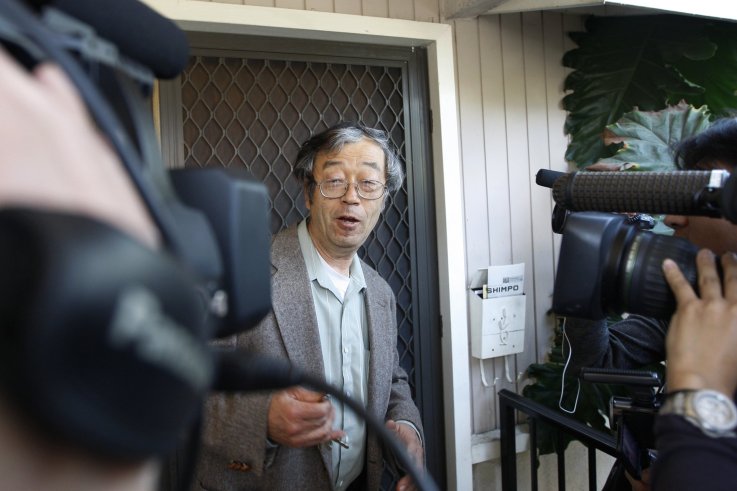 The man Newsweek reported was Bitcoin currency founder Satoshi Nakamoto is surrounded by reporters.
David McNew/Reuters
The company said it plans to use a direct listing rather than a traditional IPO. That means investors and employees will convert their stake in the company to shares to trade under the symbol COIN. Spotify used a direct listing in 2018 and other tech companies, including Slack, Palantir and Asana, have followed.
In a witty aside, Coinbase said it planned to send a copy of its registration statement to Satoshi Nakamoto, the reputed creator of 21 million Bitcoins in 2009. The smallest fractional unit of a Bitcoin that can be owned is called a "satoshi," equivalent to 100 millionth of a Bitcoin, and is named for the cryptocurrency creator.