Will David Beckham's MLS Team Have to Change Name?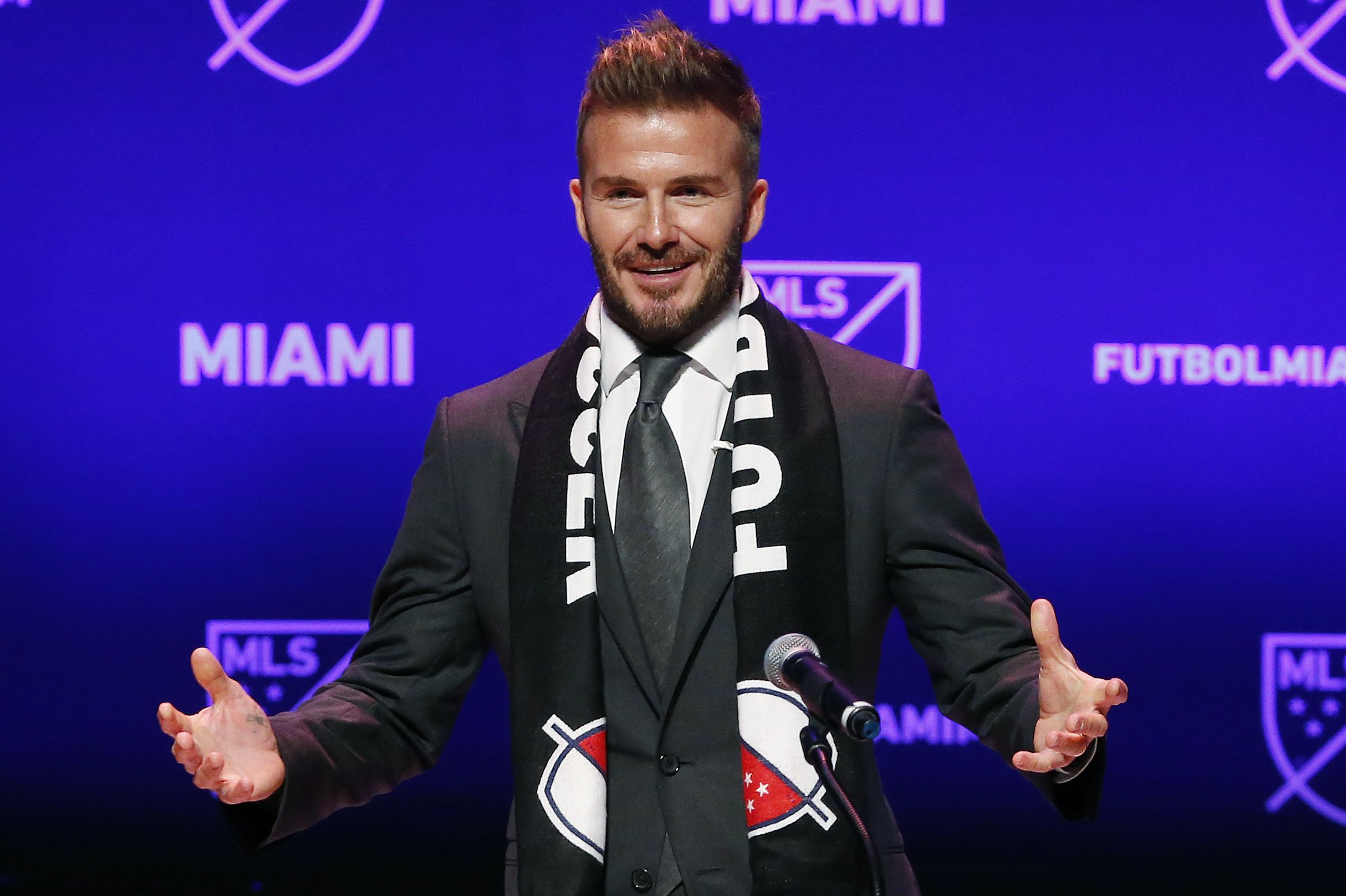 David Beckham's MLS franchise may have to consider changing its name, should it fail to reach a settlement with Inter Milan over its trademark application.
Inter Miami CF are due to become Major League Soccer's 25th franchise in 2020, but a legal dispute over the club's name arose last month when it emerged that Inter Milan had filed a trademark application in 2014 over the usage of the word "inter."
The Italian giants' official name is FC Internazionale Milano—which translates into International Milan—but the 18-time Serie A winner are colloquially known as Inter in Italy and as Inter Milan in English-speaking countries.
Four years ago, the club filed a U.S. Patent and Trademark application to ensure the abbreviated version of its name was considered an exclusive brand, which would prevent MLS's nascent franchise from marketing itself as Inter.
While the full name of Miami's club is Club Internacional de Futbol Miami, last month the MLS filed an opposition to Inter Milan's claim.
According to a legal document obtained by ProSoccer USA, the league argued that "No one soccer team can claim exclusive rights to the term Inter, therefore Milan has no exclusive rights to the term Inter."
However, should Inter Milan's claim be successful, the implications for the MLS's new entrant could be far-reaching.
"Unless there is an agreement between the parties regarding use, this could prove to be very problematic for MLS with regard to use of the team name Inter Miami," Nora Fowler, chartered trademark attorney at intellectual property law firm EIP, told Newsweek.
"Inter Milan would attain the right to claim considerable damages in the US if the club can prove that another business has infringed its registered trademark rights. Therefore, Inter Miami would potentially have to consider changing its name.
The owner of a registered trademark enjoys several important benefits linked to that registration and one of the most important ones is the owner's exclusive right to use the registered trademark.
In its notice of opposition, the MLS argued that the word "Inter" should not be associated with a particular team as it is used by a number of clubs such as NK Inter Zaprešić and FC Inter Turku, who play in the Croatian and Finnish top flight respectively.
German's fifth division side Inter Leipzig and U.S. amateur club Inter Nashville F.C. also include the word Inter in their names.
However, because registered trademark rights are jurisdictional, clubs outside the U.S. would not be impacted by the ruling.
"A U.S. trademark registration for Inter owned by Inter Milan would give the Italian club exclusive rights over the trademark in the U.S. in relation to the goods and services it is registered for," Fowler said.
"It would not prevent other clubs such as FC Inter Turku from using the mark in other parts of the world, for example Finland or Europe."
When Beckham unveiled the name of the club last September, the former Manchester United and Real Madrid great said it had been chosen to celebrate "one of the most exciting cities in the world—one that is diverse, passionate and ambitious."
Speaking to the Miami Herald earlier this month, Inter Miami co-owner Jorge Mas echoed Beckham's sentiments.
"The issues raised are a testament to our city and our team that we are already recognized as a global brand before kicking off," he said.
Despite the ongoing legal dispute, Fowler suggested the MLS and Inter Milan were likely to reach a settlement, possibly even before the U.S. Patent and Trademark Office delivers its response by May 4.
While each settlement is different and will depend heavily on parties' priorities and business strategy, a coexistence agreement setting out strict terms defining how each party may use the mark and geographical restrictions regarding use or registration are a possibility.
However, there could be another, more drastic outcome.
"One team could agree to change its name potentially in return for financial settlement," Fowler added.
The prospect of a protracted legal battle between the MLS and Inter Milan appears less likely.
Fighting the case through to a decision at the Trademark Trial and Appeal Board is expensive and time consuming and it could cause considerable damage to both brands.
"Proceedings before the TTAB can be lengthy, and can often run for well over a year," Fowler explained.
"Uncertainty as to outcome can hold up critical marketing plans so that it is often not in the interest of parties for matters to drag out for too long."
When contacted by Newsweek, Inter Miami CF stated it would provide a formal update on the issue in due course.