Support for an impeachment inquiry into President Donald Trump is on the rise as a result of the Ukraine scandal, a poll released Thursday showed.
The internal poll by progressive nonprofits showed that most respondents already backed impeachment proceedings. But when they were asked about their support for an impeachment inquiry after being asked, among other things, about the allegations Trump may have used military aid to pressure Ukraine to investigate former Vice President Joe Biden and his son, Hunter, and the allegations that he tried to cover-up his efforts to influence a foreign country, the number of people who said they supported an investigation increased significantly.
"The survey suggests that the new Ukraine scandal has fundamentally different dynamics than the earlier debates over the Mueller Report and the 2016
election, and is likely to pose a much bigger threat to Donald Trump and his administration," the authors of the study wrote.
The poll was commissioned by two liberal groups that oppose Trump's policies, Stand Up America and Need to Impeach, which used polling firm Greenberg Quinlan Rosner Research (GQR) to conduct the study.
The survey found that 52 percent of voters initially backed impeachment proceedings and 48 percent did not. However, when voters were questioned about the Ukraine scandal and then again about an impeachment inquiry, the number of voters who said they supported impeachment proceedings increased, and the gap between those who did and did not widened by as much as 10 points.
That's a significant difference since June, when most voters were focused on the Mueller report and most sided with Trump over its findings.
The implications, the authors said, is there are "four major elements of the new Ukraine scandal that particularly concern voters."
The authors urged activist groups that have mobilized to drive Democrats to support impeachment proceedings to focus on four primary messages they say the survey shows can help them in that effort. The talking points, which were distributed to dozens of progressive activist groups Thursday morning, also largely align with accusations levied by House Democrats in recent weeks since the Ukraine revelations were brought to light by a whistleblower and prompted the launch of an official impeachment inquiry:
Trump thinks he's above the law.
The president tried to get a foreign nation to interfere in a U.S. election.
Trump and U.S. officials and associates used military funding to pressure Ukraine.
Trump and U.S. officials tried to cover-up the request to Ukraine.
The poll differed widely—unsurprisingly—from that of an internal GOP poll released last week that suggested swing district voters believe Democrats are "too obsessed with impeaching" Trump.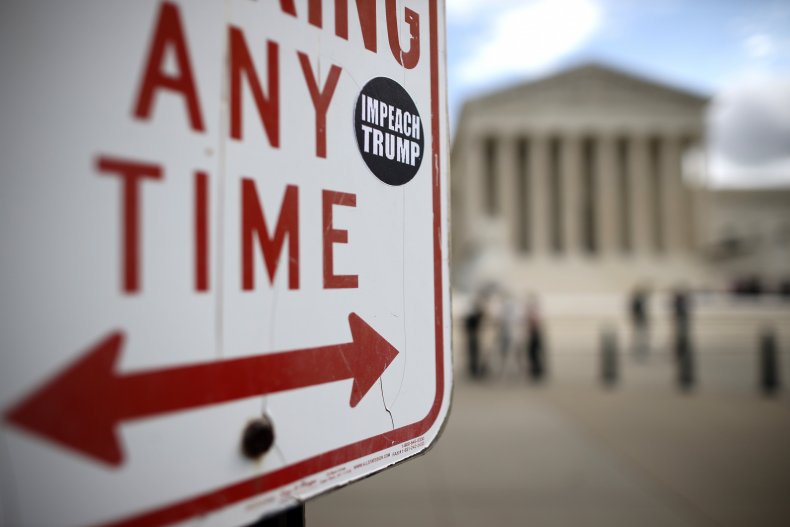 The strongest messaging points that resulted from the survey results showed the top two reasons to pursue impeachment proceedings for voters were the beliefs that aid was withheld from Ukraine (19 percent) and that the alleged quid pro quo was purposely shielded from discovery by Trump and his officials (17 percent). Respondents indicated their top concerns from the Ukraine scandal were that Trump believes he's above the law (22 percent) and that he tried to use a foreign government to influence a domestic election (20 percent).
Several other public polls, too, in recent days have shown the support for Democrats' inquiry and Trump's ouster from office has rapidly grown since the Ukraine scandal emerged. Surveys have shown that a majority of voters now back the impeachment inquiry but are more evenly split when it comes to whether Trump should be removed from office.
The Stand Up America and Need to Impeach survey was conducted from September 30 to October 3 online among 1,200 registered voters. Because it was conducted online, there was no margin of error.