Swing District Voters Say Democrats Are 'Too Obsessed with Impeaching' Trump, Internal GOP Poll Claims
Results of a poll by House Republicans' campaign arm, the National Republican Congressional Committee, show that a slight plurality of voters in key districts oppose impeachment proceedings—findings the NRCC says bolster their claim that the ongoing impeachment inquiry will hurt Democrats come 2020.
The survey showed that voters in swing districts held by Democrats oppose the House's ongoing impeachment inquiry, with 47 percent saying they opposed it and 44 percent who support it, according to a one-page memo of the results from NRCC Polling Director Caitlin Reed. In swing districts represented by Republicans, voters said they opposed the inquiry, with 49 percent responding in the negative and 46 percent in the affirmative.
The difference in opinions are within the poll's margin of error—plus or minus 3.46 percent—but the NRCC made clear they believe that, based on their results, impeachment proceedings are a losing campaign topic for House Democrats.
The memo stated their poll found that roughly two-thirds of voters in battleground districts "agree that Democrats in Congress are too obsessed with impeaching the President." Across the country, however, polling shows that a majority of voters support the impeachment inquiry, while outright ousting President Donald Trump from office is a split issue.
Previous hesitance from House Speaker Nancy Pelosi stemmed from the notion that backing impeachment proceedings without enough evidence of potential wrongdoing could place vulnerable Democrats in danger. But since learning that Trump pressured a foreign counterpart to investigate one of his Democratic political rivals, Pelosi and dozens of fellow House Democrats have backed an impeachment inquiry.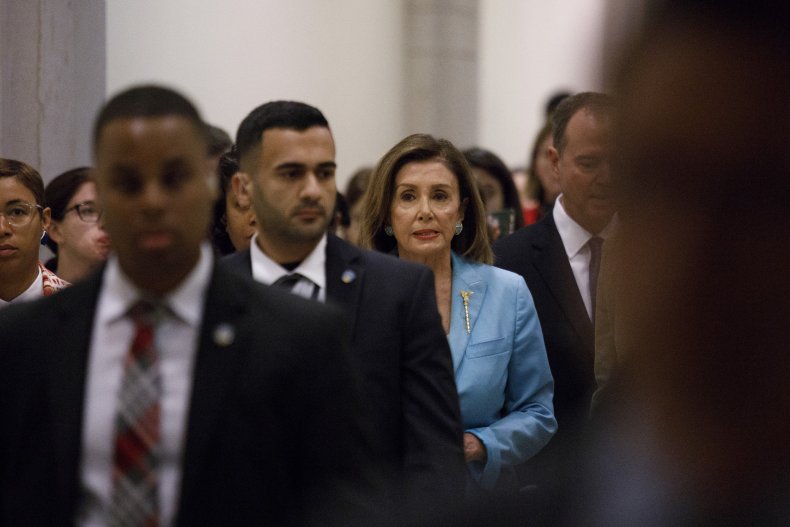 The language and results of the NRCC memo fit the narrative of congressional Republicans, who've either remained steadfast in defending Trump or remained mum on the revelations he asked Ukrainian President Volodymyr Zelensky on a July phone call to investigate former Vice President Joe Biden and his son for their former involvement in a Ukrainian gas company. No wrongdoing has been found to have occurred on the Bidens' behalf.
Congress is in the midst of a two-week recess, with only select committee members in Washington to handle sensitive matter and witness depositions related to the anonymous whistleblower, who first sounded the alarm on Trump's summer call with Zelensky. Some of the contents of the phone conversation were made public by the White House through the release of a partial transcript.
The brief hiatus for lawmakers has also allowed GOP members an opportunity to escape reporters' questions about the matter, as they have largely refrained from rebuking Trump for seeking a foreign entity's help in domestic political matters.
The NRCC's question to voters—and the basis for its poll results—was, according to Politico: "Below is a statement on the impeachment inquiry. After you've read it, please select whether you generally agree or disagree with that particular viewpoint: Speaker Nancy Pelosi and the Democrats in Congress are too obsessed with President Trump and instead should be working on the issues they were elected to do like funding our military, improving the nation's infrastructure, lowering cost of prescription drugs, or caring for our nation's veterans."
The survey was conducted among 800 respondents in swing districts held by both Democrats and Republicans. It also found that 80 percent of Democratic voters support the impeachment inquiry, while 51 percent of Independents in Democratic-held swing districts oppose, leading the NRCC memo to claim that "Democrats are only consolidating their own... while alienating independents."
Voters said they were less likely to vote for a congressional candidate who backs the impeachment inquiry, according to the poll, with 46 percent in Democratic-held swing districts stating as such.