International Community Views Russia's Putin and China's Xi More Favorably Than Trump, Poll Says
Significantly more people around the world say they have "no confidence" in the leadership of President Donald Trump than they do in the leadership of Russian President Vladimir Putin and Chinese President Xi Jinping, according to a new poll.
In a new Pew Research Center survey, which was published Wednesday and polled nearly 37,000 people across 33 countries, 64 percent of respondents said they had "no confidence" in Trump to "do the right thing." Meanwhile, 57 percent said that they had the same negative perception of Putin, while only 43 percent said they lacked confidence in Xi.
Just 29 percent of respondents said they had "confidence" in Trump, lower than Putin (33 percent) as well as German Chancellor Angela Merkel (46 percent) and French President Emmanuel Macron (41 percent).
The study was conducted between May and October of last year, meaning that Trump's impeachment by the House of Representatives and the recently escalated tensions with Iran would not have factored into respondents' answers. While the international community showed a strong lack of confidence in Trump, it still viewed the U.S. largely favorably, with 54 percent saying they had a "favorable" perception of the country and just 38 percent having an "unfavorable" perspective.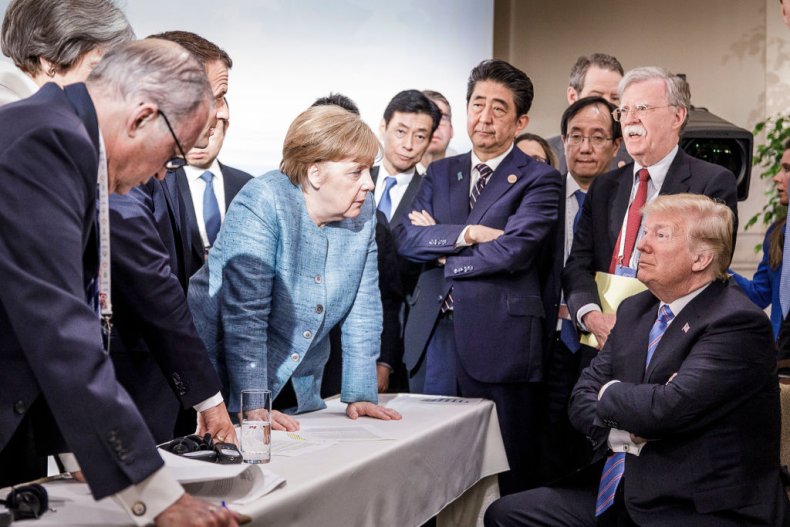 Notably, confidence in the U.S. presidency dropped dramatically after Trump took office in 2017. The results of a previous survey, released by Pew Research in June 2017, showed that international confidence in America's president had dropped from 64 percent at the end of Barack Obama's tenure to just 22 percent at the beginning of Trump's term. Views of the U.S. had dropped significantly as well, from 64 percent viewing the country favorably down to just 49 percent.
As the new survey shows, when compared with the former one, international perception of the U.S. has improved somewhat (up 5 percent) over Trump's three years in office, while his favorability has remained low, albeit improved (up 7 percent).
Perhaps unsurprisingly, several of Trump's major foreign policy initiatives are also deeply unpopular around the world, according to the latest survey. More than 50 percent of respondents disapproved of the president's decisions to withdraw from the Iran nuclear deal and to allow fewer immigrants into the U.S. Additionally, Trump's decisions to withdraw from the Paris climate accord, build a wall on the southern border with Mexico and increase tariffs on international imports were viewed disfavorably by 60 percent or more of those surveyed.
Trump's unpopularity is especially high among nations in Europe, while respondents in Israel and the Philippines expressed the highest levels of "confidence" in Trump's leadership. (Both countries were above 70 percent.) Meanwhile, 85 percent of Germans said they had "no confidence" in the current U.S. president, while 81 percent said the same in Sweden, 78 percent in France and 67 percent in the United Kingdom.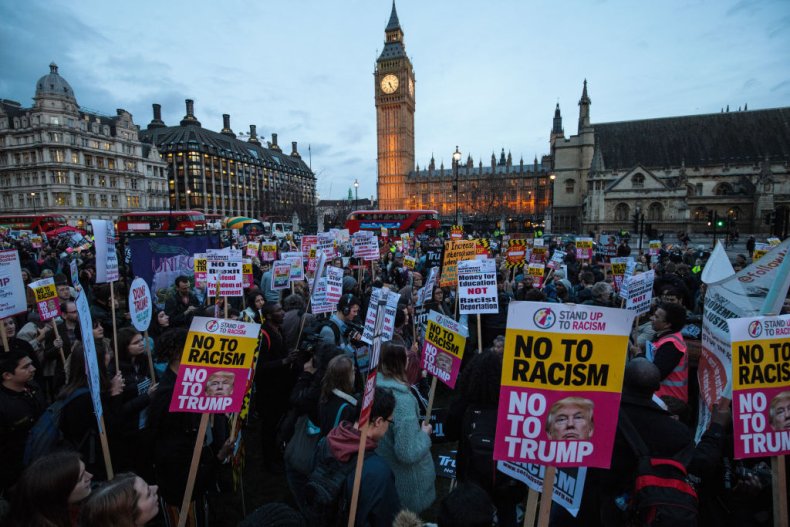 Those surveyed in Mexico, however, gave Trump the worst rating, with 89 percent lacking any confidence in him. Notably, 84 percent of those in Turkey said they had "no confidence" in Trump, while more Ukrainians (44 percent) viewed Trump with "confidence" than Russians (20 percent).
The Pew Research Center results appear consistent with another recent survey of Germans, which was commissioned by German news agency DPA. That YouGov poll found that 41 percent of German respondents viewed Trump as the "greatest threat to world peace." Following Trump, North Korean leader Kim Jong Un was viewed as the greatest threat by 17 percent of respondents, while just 8 percent said the same of Putin and Iran's supreme leader, Ayatollah Ali Khamenei. Only 7 percent viewed Xi as the "greatest threat."
Within the U.S., Trump's approval rating remains below 50 percent. An average of recent national polls by Real Clear Politics shows that about 45.1 percent of Americans approve of the president, while 52.6 percent disapprove.