Iran's Supreme Leader Ayatollah Ali Khamenei suggested Wednesday that Iran would take further steps to escalate tensions with the U.S., saying military strikes carried out against bases housing U.S. troops in Iraq were not enough.
"They were slapped last night, but such military actions are not enough," Khamenei wrote in a tweet.
However, the Iranian leader's post appeared to counter previous remarks by Iran's Foreing Minister Javad Zarif, which suggested that his nation did not plan to further retaliate against the U.S. at the present time.
"Iran took & concluded proportionate measures in self-defense under Article 51 of UN Charter targeting base from which cowardly armed attack against our citizens & senior officials were launched," Zarif posted to Twitter. "We do not seek escalation or war, but will defend ourselves against any aggression," he noted.
Iran's Islamic Revolutionary Guard Corps (IRGC) launched more than a dozen missiles at U.S. bases in Iraq Tuesday, a retaliatory move after President Donald Trump ordered a controversial military strike to kill Qassem Soleimani, who led the IRGC's elite Quds Force, last Friday. Iranian leaders had vowed to take revenge, but Zarif had repeatedly said the response would be "proportional" and not an effort to escalate tensions further.
The U.S. Department of Defense has not reported any casualties. But Trump tweeted optimistically about the strike on Tuesday evening, writing: "All is well!"
"Assessment of casualties & damages taking place now. So far, so good! We have the most powerful and well equipped military anywhere in the world, by far!" he added. "I will be making a statement tomorrow morning."
"At approximately 5:30 p.m. (EST) on January 7, Iran launched more than a dozen ballistic missiles against U.S. military and coalition forces in Iraq. It is clear that these missiles were launched from Iran and targeted at least two Iraqi military bases hosting U.S. military and coalition personnel at Al-Assad and Irbil," Pentagon spokesperson Jonathan Hoffman said in a Tuesday statement.
"We are working on initial battle damage assessments," he added.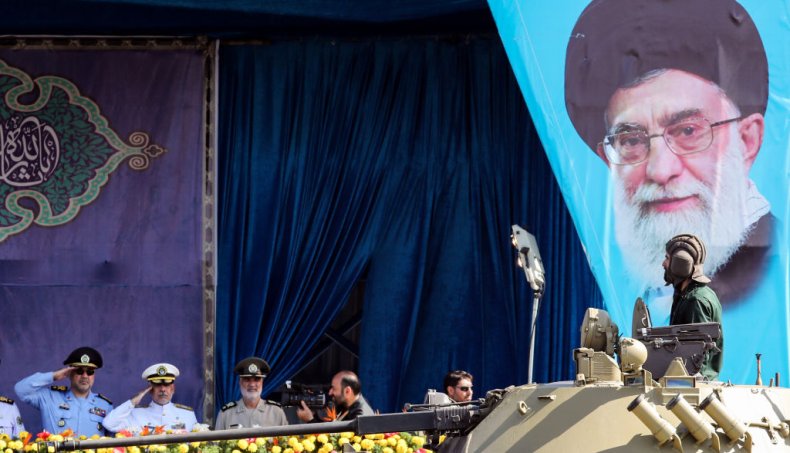 In a Wednesday morning speech, Khameini argued that the U.S. presence in the region "must end."
"The U.S. has caused wars, division, sedition, destruction, and the demolition of infrastructures in this region. Of course, they do this everywhere in the world. This region won't accept the U.S. presence. Governments elected by nations won't accept the presence of the U.S." he said, according to Iran's Islamic Republican News Agency.
William Banks, a professor of law, public administration and international affairs at Syracuse University, cautioned against further escalation in comments emailed to Newsweek.
"This is an escalation for sure but retaliation, revenge, or reprisals are unlawful at international law, not that Iran abides by international law," Banks said. "The risks are that the U.S. will play along and some escalatory act will be disproportionate to the circumstances, leading to something far worse," he said.