Republican Senator Rand Paul strongly criticized Donald Trump's policy toward Iran in a Tuesday interview with Fox News, warning that the president's order to kill Iranian general Qassem Soleimani last week has brought the U.S. closer to another conflict and makes it "much more likely" that Americans will be attacked.
"I think there is much more likely to be attacks now with his death," Paul, who represents Kentucky, warned during a segment of America's Newsroom.
The lawmaker went on to explain that Trump's decision had significantly reduced the possibility that diplomacy could now be used to resolve tensions with Iran, lamenting the president's previous decision to withdraw the U.S. from the Joint Comprehensive Plan of Action (JCPOA). That treaty, commonly known as the Iran nuclear deal, was signed by Barack Obama's administration.
"The Iran agreement wasn't perfect, and I was a critic of the Iran agreement," Paul noted. "However, I think it was a big mistake to pull out of the Iran agreement. We should have tried to build upon the Iran agreement."
The senator then laid out the steps the Trump administration had taken against Iran since withdrawing from the JCPOA, arguing that the president's actions have only made the situation worse. "I think it is the death of diplomacy," he said, "and I see no way to get it back started again until sort of the revenge of the Iranian people is somehow sated."
He continued: "I hate this. I hate that this is where we are going.... There was much less killing, much less violence after the Iran agreement."
Under the nuclear deal, "we were heading to a much more stable situation with Iran," the senator said.
"And now it's gone, and I think it might be gone for a lifetime."
White House press secretary Stephanie Grisham responded to Paul's criticism in a later segment of America's Newsroom. She suggested that diplomacy was still an option.
"I don't know if I agree with that. The president has said that Iran—he is welcome to talking to them, with no preconditions," she said.
Trump had long criticized the JCPOA and withdrew from the international agreement in May 2018, despite consistent reports from U.N. inspectors showing that Iran was complying with its obligations under the deal. The JCPOA, which was also signed by the European Union, France, Germany, the United Kingdom, Russia and China, provided Iran with sanctions relief and international investment in exchange for curbing its nuclear program.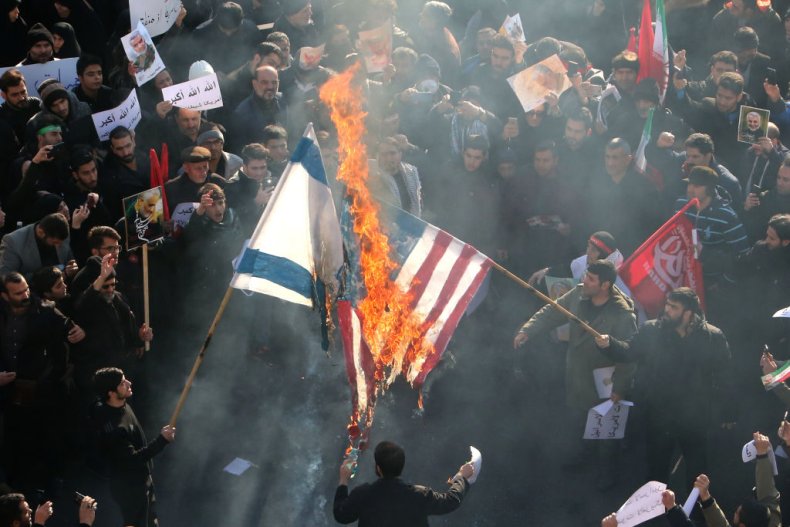 Iran remained committed to the nuclear agreement for one year following Trump's withdrawal, even as it suffered under renewed U.S. sanctions. To salvage the treaty, Iranian leaders negotiated with the deal's other signatories, which had criticized the U.S. exit. But in May 2019 Iran said it would begin walking back from its commitments under the JCPOA. Following the killing of Soleimani, a popular military leader who led the elite Quds Force, Tehran announced on Sunday it would no longer abide by the deal.
Meanwhile, Iranian leaders have vowed to take revenge for Soleimani's killing, with Foreign Minister Javad Zarif telling CNN on Tuesday that the attack amounted to state-sponsored "terrorism." He warned that Iran would retaliate militarily, noting that it would be a "proportional" response.
"We will respond lawfully. We are not lawless people like President Trump," he said.
Trump has warned that any Iranian retaliation would bring a severe response from the U.S. He tweeted on Saturday that his administration has compiled a list of 52 targeted sites in Iran.