Iranian Foreign Minister Javad Zarif blasted President Donald Trump and Secretary of State Mike Pompeo after it was reported that his visa to attend the U.N. Security Council meeting in New York was denied, saying that the American leaders had threatened a "crime against humanity" and a "war crime" targeting his country.
Tensions between Tehran and Washington have escalated rapidly over the past few days, with Trump's decision to order a drone strike that killed Iranian military leader Qassem Soleimani in Iraq leading Iranian leaders to vow "revenge." Zarif was planning to attend the Security Council meeting scheduled for this week but claims he has been blocked by the U.S. government.
"Denying me a visa in violation of 1947 UNHQ Agreement pales in comparison to: -Pompeo's threat to starve Iranians (crime against humanity) - Trump's bluster about cultural heritage (war crime) - #EconomicTerrorism - Cowardly assassination," he tweeted on Tuesday. "But what are they really afraid of? Truth?"
Newsweek has reached out to the State Department to ask whether Zarif's visa was denied, as the Iranian leader has claimed, but did not receive a response before publication.
In separate remarks on Tuesday, Zarif said American leaders "fear that someone comes to the U.S. and reveals realities," according to Al Jazeera.
Trump and Pompeo have claimed that Soleimani was killed because he was planning imminent attacks against U.S. interests in region. However, The New York Times reported that government officials said the evidence used to justify the attack was "razor thin." Meanwhile, Democratic lawmakers and regional analysts have criticized the decision, warning that it could lead to significant escalation and possibly even war.
The president warned in a Saturday tweet that Iran should expect further attacks if it retaliates to Soleimani's killing. He said that the administration had compiled a list of 52 sites in Iran, including locations important to the "Iranian culture," that could be attacked.
Zarif has repeatedly slammed the threat to attack cultural sites, arguing that such strikes would be a "war crime" under international law. Many Democratic lawmakers have made the same argument, and a spokesperson for British Prime Minister Boris Johnson noted on Monday that such sites are protected by "international conventions."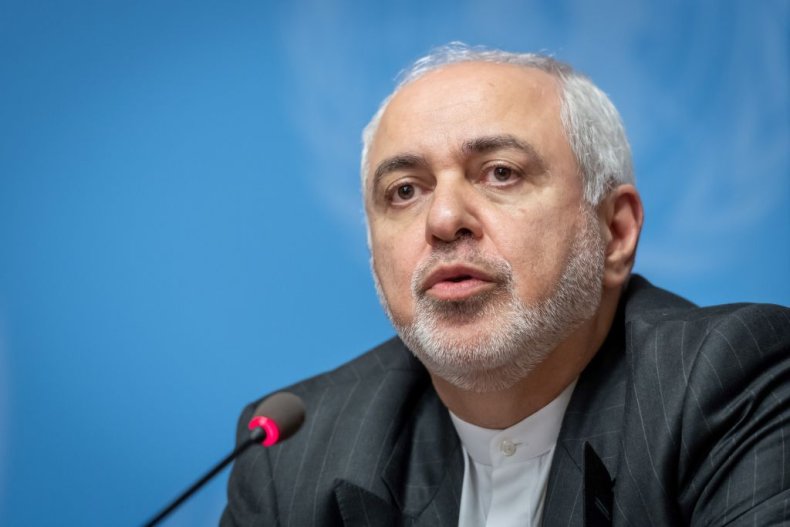 Although Trump doubled down on his threat in Monday comments to reporters, Secretary of Defense Mark Esper later told CNN that cultural sites would not be targeted. "We will follow the laws of armed conflict," he said.
The Iranian foreign minister's criticism of Pompeo was likely a reference to comments the secretary of state made to BBC Persian in November 2018. "The leadership [in Iran] has to make a decision that they want their people to eat," he said in that interview, blaming Iranian leaders for U.S. sanctions targeting their country.
Speaking to CNN on Tuesday, Zarif argued that the killing of Soleimani was an act of "state terrorism."
"This is an act of aggression against Iran and amounts to an armed attack against Iran, and we will respond. But we will respond proportionally, not disproportionally," he said. "We will respond lawfully. We are not lawless people like President Trump."